'I really loved going out there and competing...standing out there and being an Olympic athlete'
'I'm going in with a whole mindset of how do I protect myself'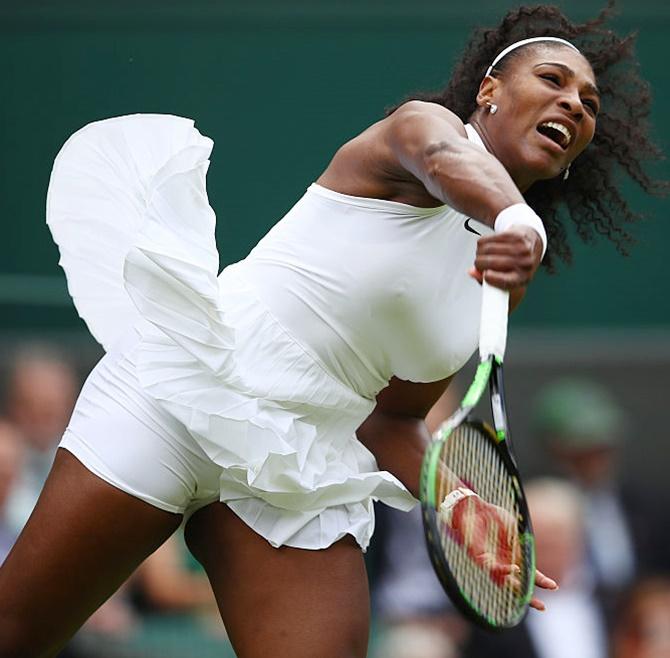 IMAGE: Serena Williams wants to defend her Olympic title. Photograph: Clive Brunskill/Getty Images.
Serena Williams is intent on defending her Olympic titles in Rio and finds it sad that several athletes will miss out on an 'amazing' experience because of worries about the Zika virus.
The 34-year-old American, who won singles and doubles titles at London 2012, beat Amra Sadikovic 6-2, 6-4 in the Wimbledon first round on Tuesday.
"My experience has been really amazing at the Olympics. I really loved going out there and competing...standing out there and being an Olympic athlete," Williams told reporters.
"It is really one of the best experiences that I've had."
Several high-profile athletes have said they will avoid the Olympics because of health fears. World number one golfer Jason Day announced on Tuesday that he would not go to Rio.
"I think for me, the most important thing is knowledge and protection," Williams said. "I'm also going to be super protected and ready, hopefully, to be the best that I can be, and probably beyond that."
The mosquito-borne Zika virus can cause birth defects such as microcephaly in babies which are born with unusually small brains and, in adults, has been linked to the neurological disorder Guillain-Barre.
On Monday top Romanian tennis player Simona Halep said she might not make the trip to the August 5-21 Games, but had yet to make a final decision.
Williams said she understood athletes' fears.
"I think it is sad. But at the same time I obviously understand where they're coming from and how they feel. Part of me feels that way, too, which is why I'm going in with a whole mindset of how do I protect myself."
But she added she looked on the Games as a bonus.
"It's probably one thing I have that I love the most."
Williams, 34, and her older sister Venus, 36, are aiming for a fourth doubles gold in Rio after winning in 2000, 2008 and 2012. Venus also won singles gold in 2000.