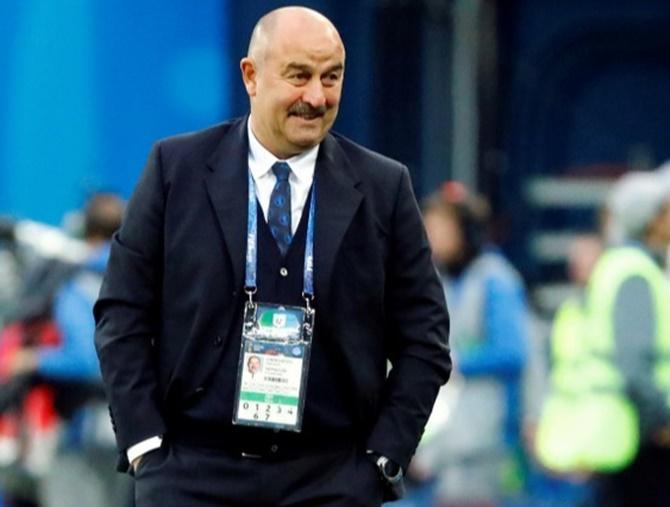 Russia coach Stanislav Cherchesov was in bullish mood ahead of their final Group A showdown with Uruguay on Monday, dismissing suggestions his men under pressure because of their status as World Cup hosts.
With both teams having already qualified for the last-16, Monday's match will decide the group winners. A draw will ensure Russia will finish as group winners due to their superior goal difference.
After Russia, the lowest ranked team at the tournament, surpassed expectations by winning both of their games so far, pressure has been mounting on Cherchesov's men to keep up the winning run.
Cherchesov, however, expects his players will be up to the task.
"They keep asking me about pressure but this is a medical term," Cherchesov told reporters. "We are professional players who are preparing for our game."
"This is the World Cup and the team must be in the optimum condition. We are a team and we must do our job."
Despite securing Russia's first last-16 appearance since 1986, when they qualified as the Soviet Union, Cherchesov does not want his players to drop their guard against Uruguay.
"We are preparing for this game exactly the same way," he said.
"Qualification doesn't mean a thing. Those players who are better prepared will play. Our medical team will also advise us. No special changes are expected."
During a tense news conference, Cherchesov bristled when asked about the number of routine drugs tests his team have faced and also the distances Russian players have run at this tournament.
The topic came up after Russian doctor Eduard Bezuglov said the hosts had given over 300 testing samples to FIFA and other governing bodies - a number he said was twice as many as the England team.
According to FIFA's statistics Russia have covered more ground than any other team, with their opening 5-0 victory over Saudi Arabia seeing them run a collective 118 kilometers.
Although Cherchesov refused to answer the question on doping tests, he did respond to the query on distance covered.
"If nobody has noticed anything other than runs and sprints then we will have to do something else," Cherchesvo said with a smile.
"There is motivation to perform at the World Cup with the public's support."
Forward Fyodor Smolov, who accompanied his coach to the news conference, was also in combative mood.
"After the friendly game with Turkey I stopped following the mass media. Yes, we are probably the worst people in the country," he said sarcastically.
"But now? We are all grown-ups and we are doing what we are supposed to do. It is us who are in first place and we are happy with what we have done."
Whoever qualifies atop Group A will play the runner-up from Group B.
Portugal, Spain and Iran all stand a chance of qualifying from Group B.