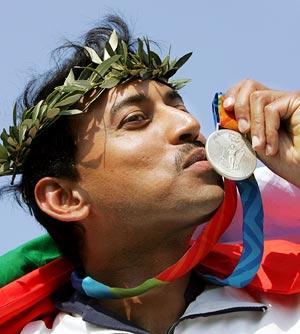 Athens Games silver medallist Rajyavardhan Singh Rathore said the country's performance in the Olympics had come a long way from the time when they felt embarrassed to be called Olympians.

"When I took up shooting, people would refrain from mentioning 'Olympian' in their visiting cards.

"There was a time people would rebuke Indian Olympians saying they were going to the competition just to make fun and not win anything. Olympics was looked down upon," the 2004 silver medallist in double trap shooting said in Kolkata, on Thursday.

"The challenge really egged me on and I took the path without any government support or enough opportunity. There was no coach, system or resource helping me," he said.

"It
was my wife, a doctor, who supported me. I could take a leap based on that foundation.
"The legacy is something that keeps getting better. Just see the difference now. Earlier we were looking for a medal. Now we are gunning for gold medal. I'm sure there would be many more medals at the next Olympics (in 2016)," he added.
Things are looking up since the Beijing Olympics in 2008 as people are now eyeing for gold medals, the former colonel with the Indian Army said.
Rathore took up shooting at 28 and said it was a decision he had taken to fill the void left after he returned from Jammu and Kashmir.
"I was part of the anti-terrorism operation in Jammu and Kashmir during 1994-97 and after coming back from that assignment I felt a void -- something I thought only sport could fulfil. So I decided to take up shooting," he said.