'Why was PKL scheduled bang in the middle of festivals and big film releases?' asks Vanita Kohli-Khandekar.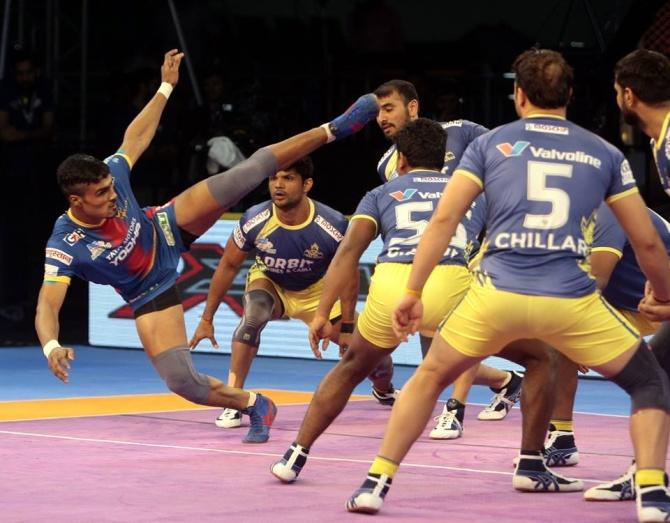 The viewership for the current season of the Pro-Kabaddi League, the hottest sports league after the Indian Premier League, has fallen by almost 40 per cent.
How on earth did the estimated $2 billion Star India, one of India's largest media firms manage this?
And what does it mean?
Star India began its sports push in 2012 with a Rs 200 billion commitment.
About 30% to 40% of this was meant for sports other than cricket.
It was around this time that Anand Mahindra and Charu Sharma's Mashal Sports was looking for a broadcaster that could nurture kabaddi.
They found it in Star which invested not just in the league but developed the game at a stadium, player and infrastructure level.
It also pushed the sport across the network's 52 channels -- about nine of which are currently broadcasting PKL.
As a result, this rustic game is the biggest success story in Indian sports in recent years.
Ever since the first season in 2014, viewership has risen every year to become second only to cricket going by Broadcast Audience Research Council data.
So a 40% drop in the first 78 matches of Season 6 is huge.
You could argue that the overall picture will be clear only once the season ends early in January.
"It was a bit disappointing to see that the ratings in the first four weeks of PKL were not as expected. It was because the audiences were getting split between so many live sports telecasts during the same period. Also, this is not the normal PKL season time, other sports events are on," says Rajesh Shah, co-chairman and managing director, Mukand and owner of Patna Pirates.
That is true.
There are huge question marks on why PKL was scheduled bang in the middle of festivals and big film releases.
It is normally a June-July event.
Also about one-fourth of PKL's viewership comes from Andhra Pradesh and Telangana where the sport gets more than twice the eyeballs that cricket does.
But unlike 2017, the location for the first leg this year was Chennai, not Hyderabad.
Not surprisingly, there has been a drop in viewership from Andhra Pradesh/Telangana.
You could blame several factors -- a firm that is juggling too many things without enough management depth and a core entertainment business that has been under pressure.
Yet team owners believe that Star will fix things.
"Viewership has picked up from week five and is racing ahead higher than the same period of the previous season. Substantial promotional efforts by Star since, should further enhance it," says Shah.
Maybe this flashpoint is just what Star needed to focus.
According to Media Partners Asia, the cumulative investment in PKL is upwards of $100 million (Rs 7 billion).
On an average, Star is investing Rs 1.8 billion to Rs 2 billion on the event every year.
The breakeven is likely by 2021-2022.
That is if Star continues to hold media rights.
For the longest time, PKL's success was attributed to the fact that unlike other sports, Star has end-to-end control.
It is media rights owner, broadcaster and league owner.
But the current situation has created rumblings on the conflict of interest.
Most team owners think media rights, which are up for bidding in 2019 for the 2020 edition, should go to the highest bidder.
In 2013 when Star took PKL on nobody was interested and it got the rights cheap.
The money and effort it spent in building the game are finally paying off and several broadcasters and streaming video firms are now interested in PKL.
The question this raises is, if Star is not able to match the other bids, what happens to breakeven?
Can it make up as a league owner what it can't as the prime mover and media rights owner?
Remember Mashal gets to keep 20% of the central pool of revenues, the biggest chunk of which is media rights.
The remaining 80% is split among the teams.
At some point between this year and next, Star will have to decide which hat it chooses to wear -- that of a media company or a league owner -- while playing kabaddi.