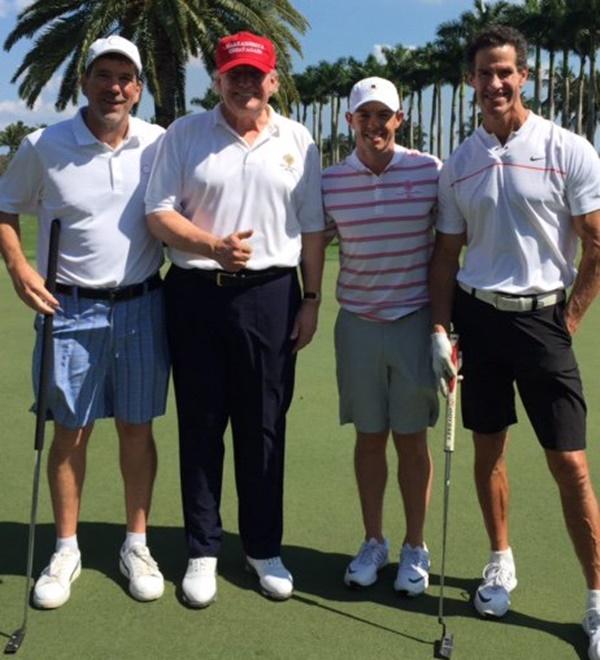 IMAGE: Rory McIlroy tuned-up with a round of golf with US President Donald Trump in south Florida on Sunday. Photograph: Clear Sports/Twitter
World number three Rory McIlroy, eyeing a comeback next week from injury, continued his tune-up with a round with US President Donald Trump in south Florida on Sunday, it was reported.
The Clear Sports & Entertainment company posted a picture on its Twitter feed of Trump with McElroy, former New York Yankees baseball player Paul O'Neill and Clear Sports Chief Executive Garry Singer.
"He probably shot around 80. He's a decent player for a guy in his 70s," McIlroy was quoted saying of Trump by nolayup.com.
The round reportedly took place at Trump International Golf Club in West Palm Beach.
Trump spokeswoman Sarah Sanders said on Monday, "As stated yesterday, the president played golf. He intended to play a few holes and decided to play longer."
Nine days ago, he and Japanese Prime Minister Shinzo Abe played with South African pro golfer Ernie Els, and Trump previously had a round with Tiger Woods.
Northern Irishman McIlroy made it clear during last year's US presidential campaign that he did not want to be drawn into any public support or otherwise of any of the candidates.
McIlroy, 27, has been out of action since early January, nursing a rib stress fracture.
He plans to return next week at the WGC Mexico Championship in Mexico City.
The four-time major winner needs to win the Masters in April to become just the sixth man to complete the modern Grand Slam, after Tiger Woods, Jack Nicklaus, Gary Player, Ben Hogan and Gene Sarazen.