'There were many experts around me,' A Ganesh Nadar discovers at the India-Pakistan hockey game.
'One of them was explaining to his neighbour, that fellow is a good dragger and flicker, that fellow is a penalty corner specialist, that fellow is a penalty specialist, that fellow is a very good defender, etc, freely dispensing with his expert knowledge.'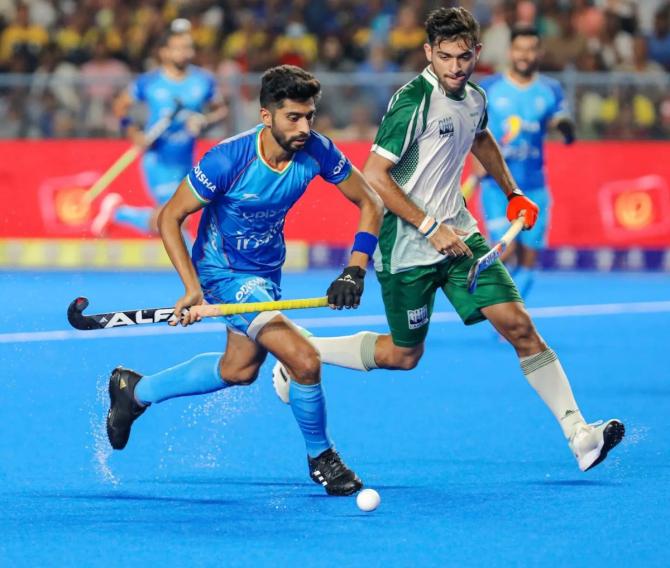 The Asia Champions Trophy had come to Chennai's Mayor Radhakrishnan hockey stadium after 16 years and everyone was happy.
The highlight, of course, was the India-Pakistan face-off on Wednesday, even though India were sitting pretty having won all its matches and qualified for the semis while for Pakistan it was a do-or-die match, having managed to win only one and drawn two matches.
Chennai's crowds have always been sporting, welcoming the opponent teams with warmth, even while reserving their best for the home team. The standing ovation to the winning Pakistan side in 1999, as Wasim Akram and his boys did a victory lap of Chepauk, remains an indelible memory.
To cut to the present, getting tickets to this India-Pakistan match, I found, was easier said than done. The tickets were already sold out -- something I thought happened only for cricket matches in India.
For love or for money there was no way to get the tickets, even calls to all my journalist and influential friends did not prove lucky.
In desperation I even tried my hand, in vain, at a Twitter quiz that promised three tickets to the winner.
And finally, where friends and colleagues failed it was Karan Johar's 'It's all about loving your family' mantra that worked. The family came to my assistance, in the form of my sister's driver who had extra tickets and thus got me into the stadium.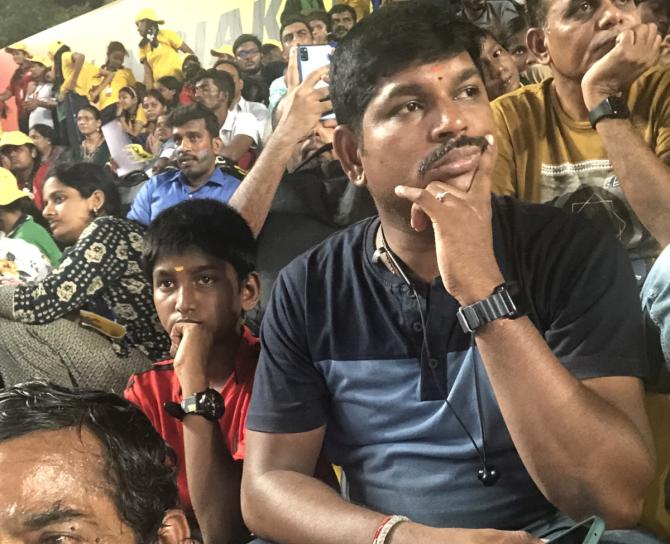 Inside the stadium it was a carnival of sorts with school children producing the raucous cheering that only they can.
Then there was a DJ whose only aim in life clearly was to tell the stadium to make more noise. He even tried find out which was the loudest stand among the South, East and Karunanidhi stands.
Among the other tricks the DJ had up his sleeve was asking everyone switch on their phone torch, and topped it off with the popular song Mustafa, Mustafa, Don't Worry Mustafa from the 1996 film Kaadhal Desam.
And all this was for the Malaysia-South Korea match, so clearly when the two subcontinental giants came on, things would go berserk, I was sure.
And I was not wrong when the commentator announced the face-off, the din loud enough to be heard at Wagah.
By the time the India-Pakistan match started, the stadium was packed to the gills with almost 9,000 noisy fans.
A middle-aged man sitting next to me seemed like a misfit in the over-enthusiastic crowd. "I have never come to watch hockey or any other game. I am the school watchman and as my school is here I came with them," he explained through the noise.
"Uncle, there are four quarters of 15 minutes each with breaks in between. After two quarters they will change sides," a teen patiently tried to explain the game to him.
As the two teams came out and started warm-ups the DJ started playing A R Rahman's Vande Mataram. Surprisingly, no Chak De!, the hockey anthem from SRK's film, I found.
Spotted enjoying the game was Tamil Nadu Chief Minister M K Stalin with his son, Sports Minister Udhayanidhi Stalin.
We stood up for the National Anthem of first Pakistan and then India, with crowds lustily cheering for both, after which it was game on.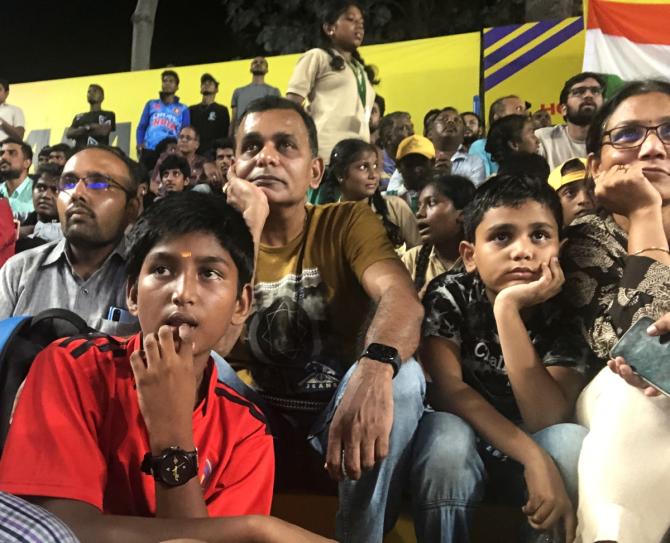 India is ranked fourth in the world and Pakistan 16th, and this disparity showed. It was a washout as Pakistan was outgunned 4-0.
Every time there was a penalty corner, the Indian player who took the corner always signalled to the crowd which started its roar.
Obviously the noise did not affect him, but it must have got on the nerves of the already nervous Pakistani players.
The crowd closely followed the ball wherever it went. The minute it entered the Pakistani side they started screaming, which reached a crescendo if it entered the Pakistani D.
There were many experts around me. One of them was explaining to his neighbour, that fellow is a good dragger and flicker, that fellow is a penalty corner specialist, that fellow is a penalty specialist, that fellow is a very good defender, etc, freely dispensing with his expert knowledge.
For reinforcement there were samosas, chicken puffs, vegetable and chicken burgers, French fries, popcorn, Coke and Sprite in the stands; although expensive, there was no dimming of sales.
Stalin stayed till the end of the game and the DJ not to miss an opportunity to declare, 'We must thank the government of Tamil Nadu for bringing this glorious tournament to Chennai, won't you give them a cheer?' The crowd readily obliged.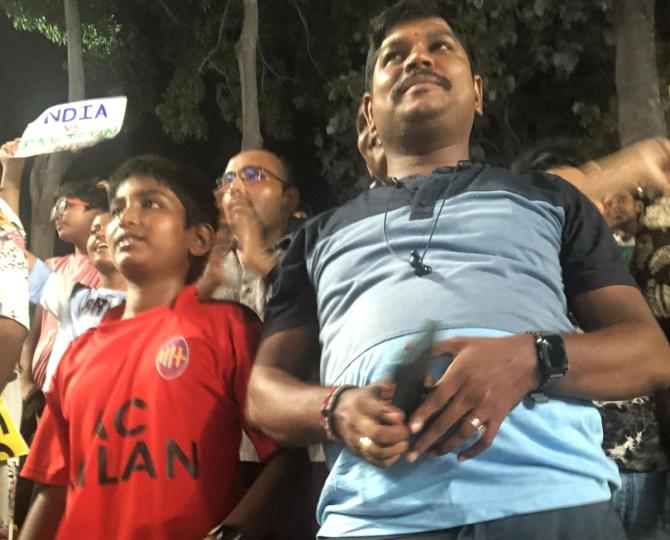 In the fourth quarter when it looked like India would definitely win, the students started moving out.
They were all wearing T-shirts with their school names, caps with Asia Championship written on them and head bands that said 'I Love India'. Many had come with the Indian flag as well.
The students also had placards in gold colour which said 'GOAL'. They waved these every time India scored, with the DJ reminding them if they did not.
The commentator repeated many times that hockey was our national game and we had won six Olympic golds medals.
When I was walking around, I realised that what was missing was a photograph of the one man who had his photograph on every Covid vaccination certificate, on every G20 poster, at the launch of Vande Bharat Express trains. He had clearly overlooked the Asia Championship.
He was not visible anywhere, just like in Parliament.
Feature Presentation: Rajesh Alva/Rediff.com