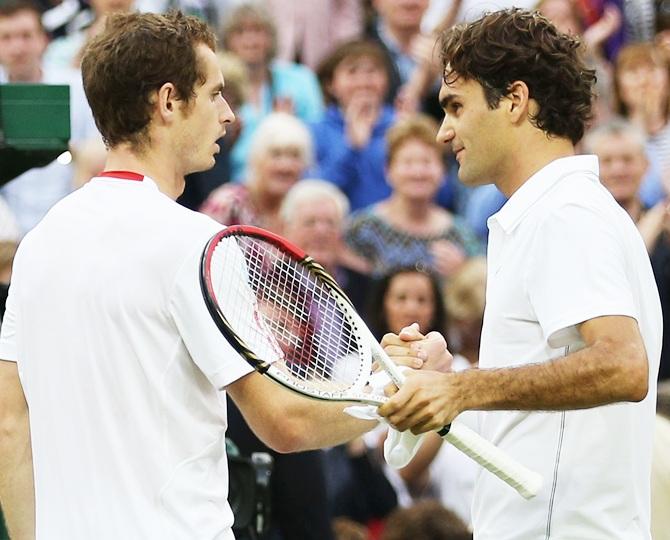 IMAGE: Switzerland's Roger Federer, right, shakes hands with Great Britain's Andy Murray. Photograph: Clive Brunskill/Getty Images.
Swiss tennis maestro Roger Federer poked fun at Andy Murray after scribbling his own signature next to the Briton's face in spot No 2 at an official ATP event in Monte Carlo.
Federer, who is standing third in world rankings, mistakenly signed an ATP ranking board in Murray's place at second spot.
The 28-year-old Murray, who arrived late for the event, had no other option but to sign next to a picture of third-ranked Federer.
Following the incident, Federer took to Twitter to remind the second-ranked player that he should not turn up late in any future events.
"That's what happens when you show up late to the official player's party. #snoozeyoulose," Federer tweeted while mocking unsuspecting victim Murray.
Federer, who will make a comeback with Monte Carlo Masters after undergoing a knee operation in early February, said that this week's tournament would play a key role in deciding his further schedule ahead of the French Open.
The World No 3, who admitted that he was feeling absolutely fit both physically as well as mentally, was scheduled to return at the Miami Open, but was forced to pull out due to stomach flu.