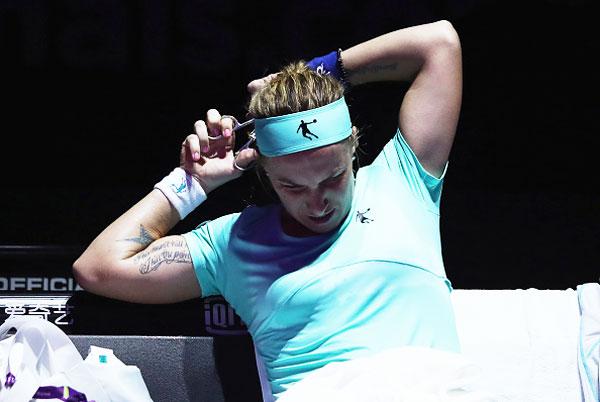 IMAGE: Svetlana Kuznetsova cuts her hair in her singles match against Agnieszka Radwanska during the WTA Finals at Singapore Sports Hub on Monday. Photograph: Julian Finney/Getty Images
Svetlana Kuznetsova had been steamrolled in the second set and was a break down in the decider of her WTA Finals opener against defending champion Agnieszka Radwanska on Monday. So what did the Russian do to turn the match around?
She gave herself a haircut.
- WTA Finals: Tireless Kuznetsova edges Radwanska in Singapore thriller
The world number nine did save a match point on her way to claiming a 7-5, 1-6, 7-5 victory over the Pole but her fortunes appeared to really change after she hacked off half of her ponytail when she was 2-1 down in the third set.
"It was bothering me a lot. I was trying to put it behind my headband but my hair is very thick and heavy," Kuznetsova told reporters, explaining her impromptu snip with a pair of scissors as she sat in her chair at the first changeover of the decider.
"Every time when I was hitting good forehands and coming forward, it would hit my eye and I struggled. So I thought 'Okay, what's more important now, my hair which I can let grow or the match? Okay, I got to go for it right now' and that's it.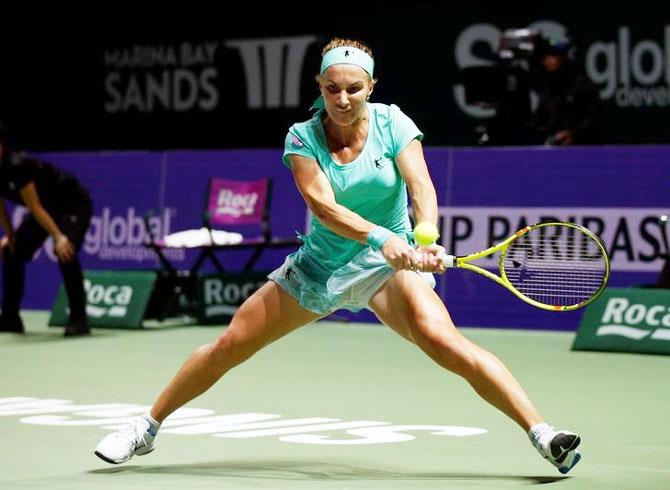 IMAGE: Svetlana Kuznetsova in action against Agnieszka Radwanska. Photograph: Edgar Su/Reuters
"I was just trying to give myself the best chance and remove what was bothering me. At the time, I don't even know how much I cut there."
Kuznetsova's victory was made even more remarkable by the fact that she only arrived in Singapore on Sunday after defending her Kremlin Cup title the previous day in Moscow just to sneak into the eight-woman WTA Finals as the last qualifier.
"I didn't really think about who I was playing on the way here even when I was told the draw for this tournament had been made before I played in the Kremlin Cup final," she said.
"I was taking it one match at a time. When I was flying to Singapore I didn't want to know who I was playing. I just thought I would find out when I got here.
"When I saw the court, I could see it was totally different to the Kremlin Cup but I just decided to go out there and try my best."