Following is a match by match look at the English Premier League's weekend fixtures: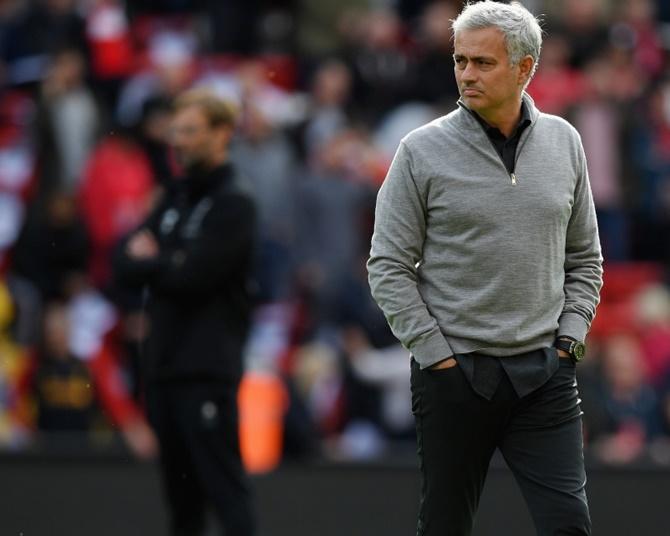 IMAGE: Manchester United vsLiverpool: Will it be battle for second place in the Premier League. Photograph: Manchester United/Twitter
Manchester United v Liverpool
Saturday, March 10 (06:00 PM)
United have won 27 of 51 Premier League meetings with Liverpool, including 15 victories at Old Trafford.
The last three league games between the two teams have been draws, with two of those matches ending goalless.
Jose Mourinho's United have won three out of seven games against fellow Big Six sides in the league this season.
Liverpool striker Mohamed Salah will look to score in his sixth straight league game while his United counterpart Romelu Lukaku is one goal short of 100 league strikes.
Liverpool are third in the table with 60 points. A win for Juergen Klopp's side would take them above United to second.
Everton v Brighton and Hove Albion
Saturday, March 10 (08:30 PM)
Everton have been beaten once in nine league meetings with Brighton. They have won four and drawn four.
The only previous Premier League game between the two sides ended 1-1.
Sam Allardyce's Everton are 11th in the table with 34 points and have lost three of their last five league games.
Brighton are 10th with the same number of points as Everton but have a superior goal difference.
Brighton striker Glenn Murray has scored five goals in his last five league games.
Chris Hughton's Brighton are unbeaten in five league games and come in to the clash on the back of a 2-1 win over Arsenal.
Huddersfield Town v Swansea City
Saturday, March 10 (08:30 PM)
Swansea beat Huddersfield 2-0 earlier in the season. The Welsh side have not done the double over Huddersfield since the 1992-93 season when both teams were in the third tier.
Carlos Carvalhal's Swansea are 13th in the table with 30 points. A 4-1 victory over West Ham United last weekend was their biggest win of the season.
Huddersfield have struggled in front of goal this season, scoring 25 times in 29 matches. They have failed to find the net in 15 league games.
David Wagner's side have lost six out of their last 10 games in the league and are 15th with 30 points.
Huddersfield have let in 50 goals this season. Only Stoke City (54) and West Ham (54) have conceded more.
Newcastle United v Southampton
Saturday, March 10 (08:30 PM)
Southampton have not lost to Newcastle in their last five Premier League meetings. They have three wins and two draws and have scored 13 goals.
Southampton have won 15 out of the 33 Premier League games between the two sides while Newcastle have won 11.
Rafa Benitez's Newcastle have scored 12 league goals at home this season, the fewest alongside Burnley.
Newcastle have two wins in their last 10 league games and are 16th in the table with 29 points while Southampton are a point and a place below them.
Mauricio Pellegrino's side have drawn six out of their last 10 league matches and have one win in that period.
West Bromwich Albion v Leicester City
Saturday, March 10 (08:30 PM)
Leicester have three victories from seven Premier League meetings with West Brom - all away from home.
West Brom are looking to avoid their sixth defeat in a row. They have lost 15 games this season and are bottom of the table with 20 points.
Claude Puel's Leicester are winless in five league games and are eighth in the table with 37 points.
West Brom have won one out of 15 league games since manager Alan Pardew took over at the start of December.
Leicester striker Jamie Vardy has struck the winner in all three of his previous league visits to the Hawthorns.
West Ham United v Burnley
Saturday, March 10 (08:30 PM)
Burnley have won one of their seven Premier league meetings with West Ham.
Burnley snapped a run of 11 league games without victory with a 2-1 win over Everton last weekend.
Sean Dyche's Burnley are seventh in the league with 40 points while West Ham are 14th with 30 points.
David Moyes' West Ham side have lost their last two league games, conceding eight goals and scoring two.
Burnley have scored 24 goals this season, the fewest among teams in the top 10.
Chelsea v Crystal Palace
Saturday, March 10 (11:00 PM)
Crystal Palace have beaten Chelsea three times in their last five meetings, with two wins coming at Stamford Bridge.
Antonio Conte's Chelsea have lost four of their last five league games.
Palace are winless in six matches and looking to end a three-game losing streak.
Roy Hodgson's relegation-threatened side are 18th with 27 points.
Champions Chelsea are fifth with 53 points, five points adrift of Tottenham Hotspur who occupy the last qualification spot for next season's Champions League.
Arsenal v Watford
Sunday, March 11 (07:00 PM)
Arsenal have lost to Watford in their last two Premier League meetings, both matches ending 2-1.
Arsene Wenger's Arsenal have beaten Watford seven times in nine Premier League games.
Arsenal are sixth in the league with 45 points and are looking to snap a run of three defeats. They were beaten 2-1 by Brighton last time out.
Watford are gunning for their third victory in as many games after beating Everton and West Brom.
Javi Gracia's side are ninth in the table with 36 points.
Bournemouth v Tottenham Hotspur
Sunday, March 11 (09:30 PM)
Bournemouth have never beaten Tottenham in five Premier League matches. Tottenham have won four times.
Tottenham are unbeaten in the league since a 4-1 defeat by runaway leaders Manchester City in December. They have won nine of their 11 matches since that loss.
Mauricio Pochettino's Tottenham are fourth with 58 points, two behind third-placed Liverpool.
Eddie Howe's Bournemouth side have lost once in their last 10 games and are 12th with 33 points.
Tottenham striker Harry Kane has scored 24 league goals this season, the same number as Liverpool forward Mohamed Salah.
Stoke City v Manchester City
Monday, March 12 (01:30 AM)
Leaders City handed struggling Stoke their biggest defeat of the campaign earlier in the season, winning 7-2 at the Etihad Stadium.
Pep Guardiola's City have collected 78 points and require four victories from nine remaining games to clinch the league title.
City have won 10 of the 19 Premier league matches between the two sides while Stoke have three wins.
Paul Lambert's side are winless in five games and 19th in the table with 27 points.
Stoke midfielder Xherdan Shaqiri has had a hand in 13 league goals this season, scoring seven and assisting six.