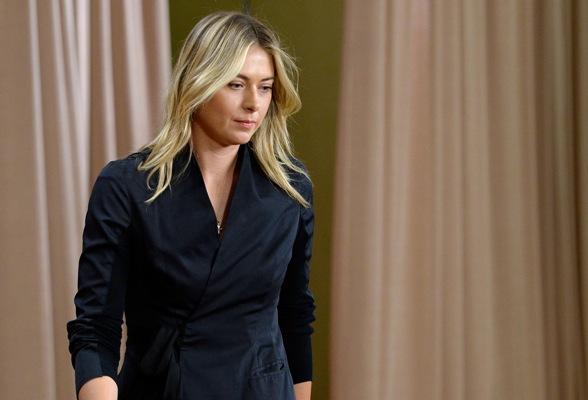 IMAGE: Maria Sharapova prepares to address the media regarding a failed drug test at The LA Hotel Downtown. Photograph: Kevork Djansezian/Getty Images.
Maria Sharapova tested positive for Meldonium, a drug she said she had been taking since 2006, but was only added to the banned list this year.
The ITF confirmed in a statement that the five-time Grand Slam tennis champion had tested positive on January 26 and accepted the finding when she was notified on March 2.
The now 28-year-old Russian burst onto the international scene, giggling and grunting her way to the Wimbledon crown in 2004.
She won the US Open in 2006, the Australian Open in 2008 and French Open in 2012 and 2014.
She has 35 WTA singles titles, more than US $36 million in career earnings and is currently ranked seventh in the world.
Sharapova said she originally began taking Meldonium for a variety of symptoms, including a tendency to become ill often, an irregular EKG heart test and a family history of diabetes.
Meldonium, also known as Mildronate, the name by which Sharapova knew the drug, is used to treat heart trouble, including angina and heart failure.
In adding it to the banned list, the World Anti-Doping Agency said there was evidence it has been used by athletes with the intention of enhancing performance.
Several sports figures have tested positive for it this year, including Russian ice dancer Ekaterina Bobrova, whose positive test was revealed earlier on Monday.
So what exactly is Meldonium?
1. It is used to treat ischaemia: a lack of blood flow to parts of the body
2. It is manufactured in Latvia and not approved by the Food and Drug Administration for use in the United States.
3. It increases blood flow, which improves exercise capacity in athletes.
4. WADA is believed to have found "evidence of its use by athletes with the intention of enhancing performance".
5. The decision to add Meldonium to the banned list was approved on September 16, 2015. The ban on it started January 1, 2016.
6. It is classed as an S4 substance under the WADA code, which addresses hormone and metabolic modulators.