'The AFC looks forward to working with the new-look FIFA and its new President Gianni Infantino in order to reform the world football governing body and to reinstate football's credibility globally'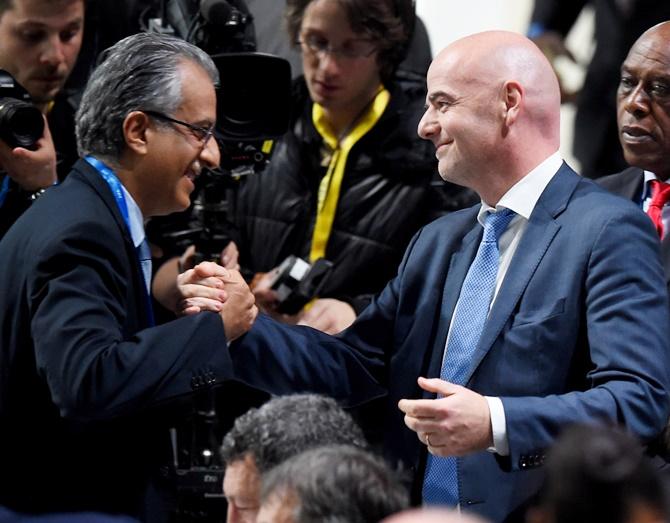 IMAGE: Gianni Infantino, right, is congratulated by Sheikh Salman Bin Ebrahim Al Khalifa after being elected as the new FIFA president. Photographer: Matthias Hangst/Getty Images
Asian football said it was looking forward to working with new FIFA President Gianni Infantino, despite the region's two candidates losing out to the Swiss in Friday's election, and called for unity to help push the reform process forward.
Key developments at Friday's FIFA congress
Infantino beat Asian candidates Sheikh Salman bin Ebrahim Al Khalifa of Bahrain and Jordan's Prince Ali Bin Al Hussein, as well as Frenchman Jerome Champagne, to succeed Sepp Blatter in the vote at FIFA's Congress in Zurich.
The scandal-hit governing body is in the midst of the worst crisis in its 112-year history, with more than 40 individuals and entities, including many former FIFA officials, charged with corruption-related offences in the United States.
However, the election marked an opportunity to begin the long road back to restoring its reputation, said Football Federation Australia chief Steven Lowy.
While Australia had come out in support of Prince Ali ahead of the vote, Lowy described the election as 'the best day FIFA has had in many years'.
"The mood for change was in the air and the Congress voted overwhelmingly to move forward with a new structure and new leadership to implement it," he said in a statement on Saturday.
Lowy added that he and FFA Chief Executive David Gallop had been impressed by Infantino in previous meetings.
"David Gallop and I have met him several times in the past few months and have been impressed with his knowledge, his energy and his determination to lead FIFA into a new era," he added.
"We will now move forward to continue playing a productive role as a member of the Asian Football Confederation and the world football community."
While the Arab region rued yet another squandered chance to help elect their first FIFA president after their two candidates failed to cooperate, Sheikh Salman, president of the AFC, called for unity to help move the reform process forward.
"The AFC looks forward to working with the new-look FIFA and its new President Gianni Infantino in order to reform the world football governing body and to reinstate football's credibility globally," he said on the AFC's website.
"The new FIFA needs to become more inclusive and reflect the diversity of world football. I trust Gianni Infantino will provide the leadership to achieve this, as well as the rest of the reforms that are now urgently needed."
Former FIFA presidential candidate Chung Mong-joon, who pulled out last year after being hit with a six-year ban from the game, congratulated Infantino and looked forward to the Swiss bringing about "fundamental reform".
"I hope that the newly elected president is an impetus for FIFA to regain its honor and to give hope and happiness to numerous soccer fans," the South Korean said in a statement on Saturday.