Key developments and reaction when world football's governing body FIFA elected Gianni Infantino as new president and voted in a series of reforms at its congress on Friday: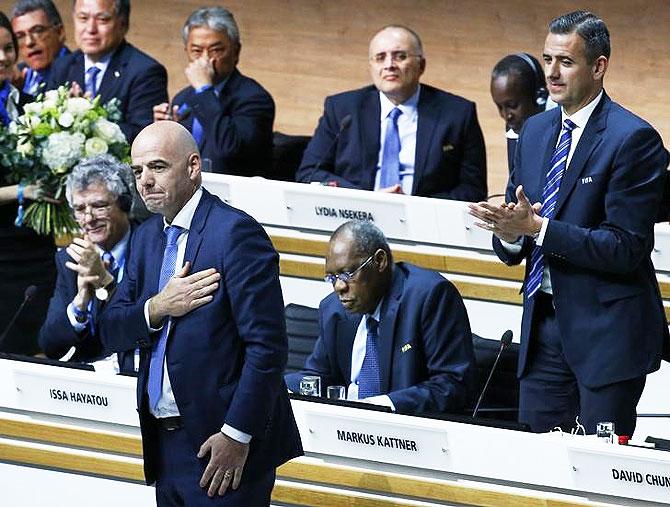 IMAGE: Newly elected FIFA President Gianni Infantino acknowledges applause during the Extraordinary Congress in Zurich, on Friday. Photograph: Ruben Sprich/Reuters
* Infantino succeeds fellow Swiss Sepp Blatter. He is the ninth president in FIFA's 112-year history.
- Quote-unquote: Infantino promises 'to bring FIFA back to football'
- Gianni Infantino replaces Sepp Blatter as FIFA president
* After a year of corruption scandals at the ruling body, a victorious Infantino told the congress: "I will work tirelessly to bring football back to FIFA and FIFA back to football. FIFA has gone through sad times, moments of crisis, but those times are over."
* Infantino, a Swiss-Italian lawyer and UEFA general secretary best known to football fans for presiding over Champions League draws, won a majority in the second round of voting by polling 115 of the available 207 votes.
* That was 27 more votes than the 88 picked up by his closest rival, Sheikh Salman bin Ebrahim Al Khalifa of Bahrain who had been favourite to succeed Blatter.
* Prince Ali Bin Al Hussein polled four votes in the second round and Jerome Champagne none as they finished third and fourth respectively.
* A second round of voting was needed after none of the four candidates won a required two-thirds majority in the first round. Infantino polled 88 votes, Sheikh Salman 85, Prince Ali 27 and Champagne 7.
* Tokyo Sexwale, the fifth candidate, caused a surprise by withdrawing from the race during his final candidacy speech just before the election.
* Congress passes a series of far-reaching reforms designed to make FIFA more transparent, professional and accountable.
* Reforms include publication of the president's salary, a limitation on his spell in office to three terms of four years and a curbing of his influence on day-to-day management of FIFA's affairs.
* An elected FIFA council will replace the executive committee and, to promote the role of women in football, each confederation will elect at least one female representative to the council.