Chennaiyin FC's co-owner reveals his dad's advice at a Chennai school.
A Ganesh Nadar listens in.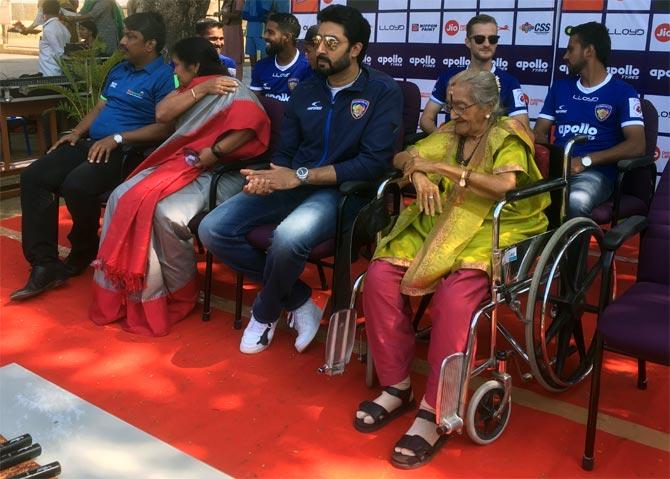 IMAGE: Abhishek Bachchan at the Padmaseshadri Bala Bhavan Co-ed School in Chennai. Photograph: A Ganesh Nadar/Rediff.com
On the lines of the highly successful Indian Premier League, there is an Indian Super League for football fans in India.
Just like the IPL, ISL teams are owned by movie stars like Abhishek Bachchan.
Abhishek, who co-owns the Chennaiyin FC football team along with cricketing icon Mahendra Singh Dhoni, visited Chennai on Wednesday, December 20, to promote his football club at the Padmaseshadri Bala Bhavan co-ed school in KK Nagar.
The school children were in a high state of excitement even before Abhishek's arrival. The school's Road Safety Patrol had lined up on either side of the road to greet the movie star.
Thanapal Ganesh, who sports a Jasprit Bumrah hairdo, is the only Tamil in the Chennaiyin FC team, and predictably received the loudest applause at the event.
When the team owners were announced, Dhoni -- who will return to the Chennai Super Kings for next year's IPL -- got the wildest applause.
The teacher who delivered the welcome address said she wants her students to be good at academics, good at sports and, most important, she wants them to be good human beings.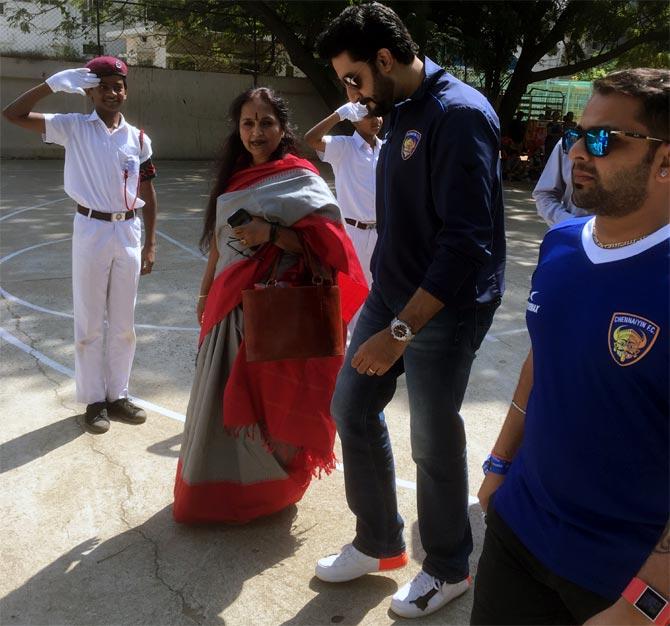 IMAGE: Abhishek gets a salute from the students at the Padmaseshadri Bala Bhavan Co-ed School in Chennai. Photograph: A Ganesh Nadar/Rediff.com
Abhishek started his speech with the Tamil greeting 'Vanakkam' and went on to say how touched he and his team were by the students' warmth and affection.
Abhishek pointed out that he and his partners are very interested in getting youngsters in Chennai to take up football and are ready to train them if given a chance. He said he hopes to see boys from the school playing for Chennaiyin FC some day.
Recalling his school days, he said: "My father always said study hard, play hard, you must do both with total commitment."
He ended the speech with "Romba romba nandri", which means 'Thank you very much' in Tamil.
The event ended with a friendly football game. The Chennaiyin FC stars divided themselves into two teams along with the school children and entertained the gathering.