'These are the moments we worked years and years and all our lives for'
'Watch out (Sania), don't get killed'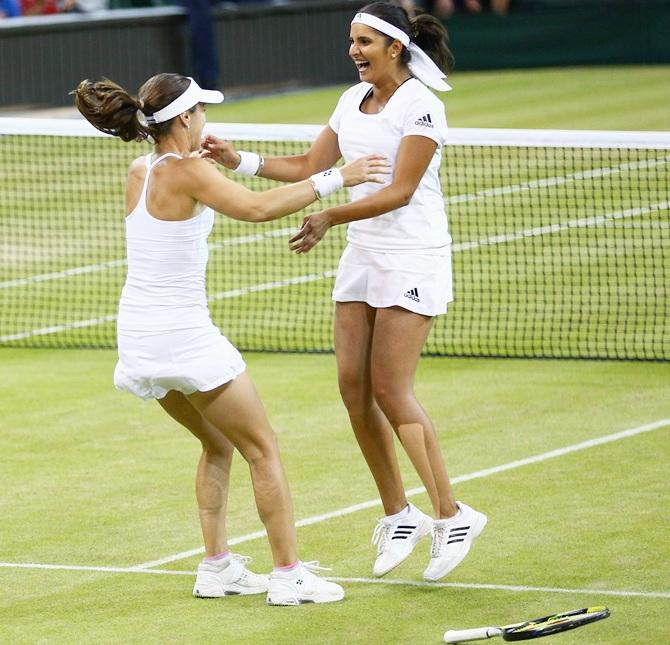 India's Sania Mirza, right, and Switzerland's Martina Hingis celebrate. Photograph: Clive Brunskill/Getty Images
Faced with opponents who had them running for cover with a fierce serve all through, Indian tennis star Sania Mirza and her Swiss partner Martina Hingis said sheer belief pulled them through as they lifted the Wimbledon women's doubles trophy in London.
PM Modi leads the applause for Sania Mirza
Sania seals historic Wimbledon crown with Hingis
Congratulate Sania on winning Wimbledon doubles title
Sania, the first India to clinch the title, and Hingis were seeded top but were pushed to the brink by second-seeded Russians Ekaterina Makarova and Elena Vesnina before prevailing 5-7, 7-6(4), 7-5 in a thrilling final on Saturday.
"For a match like this, the No 1 and No 2 seeds playing, it was the best match you could have asked for the tournament. It was unbelievably exciting," Sania said.
"Even when we were down, we knew we were giving everything we had on the court. These are the moments we worked years and years and all our lives for. This is what we play for. We feel really honored to have won that match," she added.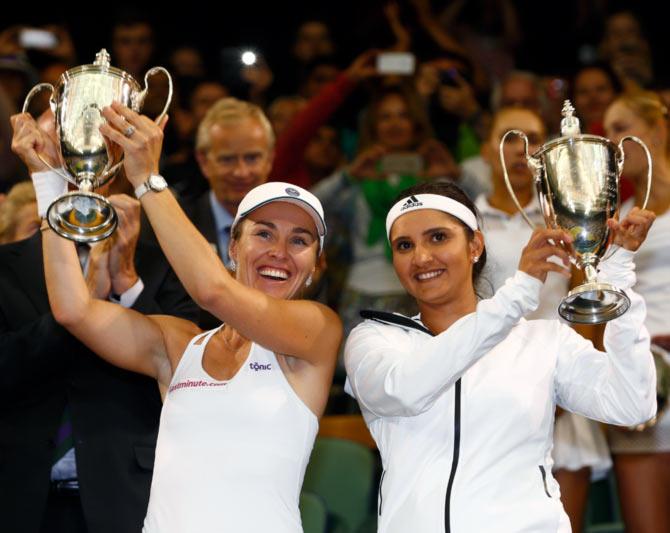 Sania Mirza,right, and Martina Hingis celebrate with the trophy after winning the women's doubles title. Photograph: Julian Finney/Getty Images
Sania said though she and Hingis were doing the catching up for most part, they did have their chances all through.
"We had chances every game. I don't know why, we both believed. Even at 2-5, we didn't feel like we were down and out of the match. It was about one break, and it really was," Sania said.
"All we said to each other was, 'Make them win the match. Let them win the match,' not for us to lose the match, which means we had to put the ball inside the court, do the right things. If they still come out, serving unbelievable the whole match, we knew that at some point hopefully it was going to come down. If it didn't, you say, 'Too good', shake hands," she added.
"It's been one special journey together and we're just getting started." Sania tweeted later.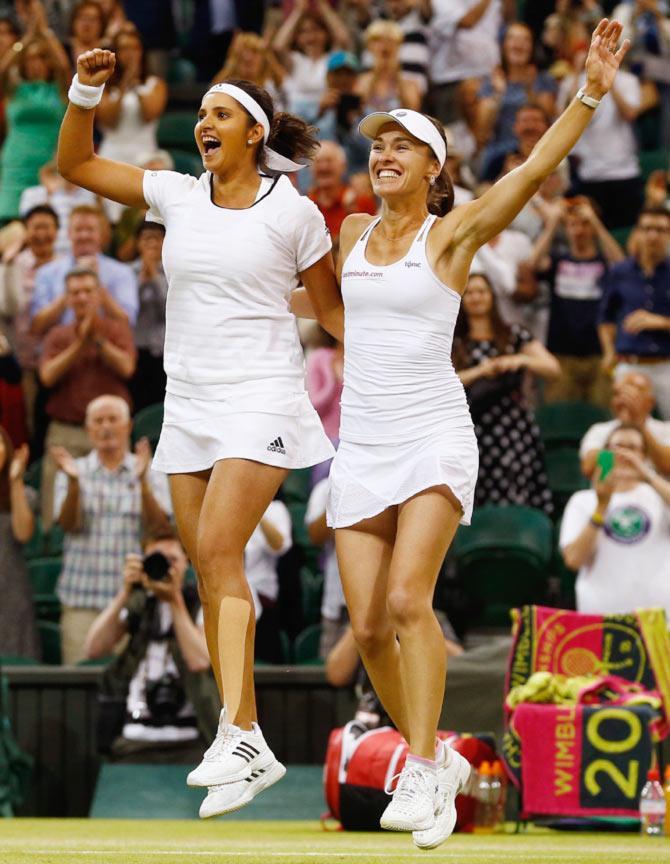 Sania Mirza,left, and Martina Hingis celebrate. Photograph: Julian Finney/Getty Images
Hingis, on her part, said they occasionally waited for the fortunes to favour them as the Russians were serving just too well.
"Sixty-four miles an hour match point second serve, it was like, 'OK, praying for it.' I'm like, 'Watch out (Sania), don't get killed.' She (Vesnina) missed it thankfully. At 40-love, you just hope for putting the balls in and make it happen," she said.