'This one here tonight reminded me more of maybe the 2006 win when I beat (Marcos) Baghdatis in the finals'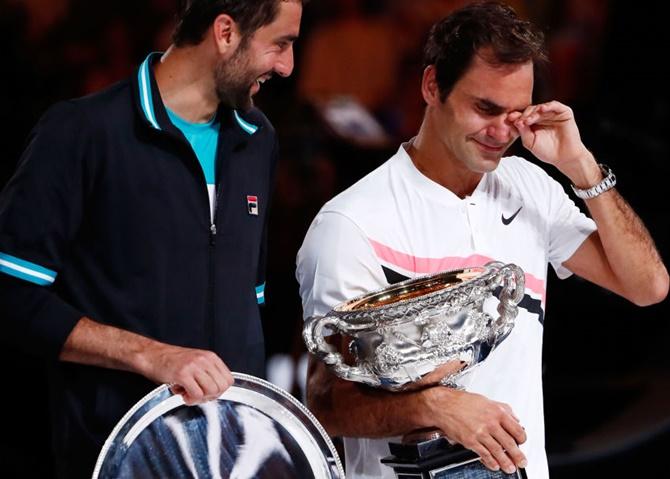 IMAGE: An emotional Roger Federer with Marin Cilic. Photograph: Mark Kolbe/Getty Images
Even after 20 Grand Slam titles, the tears gushing down Roger Federer's cheeks after winning his sixth Australian Open crown on Sunday showed the competitive fires still rage within the 36-year-old Swiss.
Having regained control to put down sixth seed Marin Cilic 6-2, 6-7(5), 6-3, 3-6, 6-1 under a closed roof at Rod Laver Arena, Federer promptly lost it at the end of his victory speech.
"And my team, I love you guys. Thank you," Federer, cradling the Norman Brookes Cup, said with a quivering voice before breaking down in tears.
The show of emotion triggered a standing ovation in the terraces, the tears spreading to his wife Mirka and parents in the players' box.
Tennis great Rod Laver, 79, snapped the moment on his mobile phone for posterity.
Joining Novak Djokovic and Roy Emerson as the only men to win six Australian Open trophies, Federer also emulated Laver by winning his fourth Grand Slam title after his 30th birthday.
"It is a different emotion, clearly. The first (Grand Slam title) is like 'oh my god! I was able to win one'. The rest now doesn't really matter at this point," Federer told host broadcaster Channel Seven in front of hundreds of fans at Melbourne Park's Garden Square.
"This one here tonight reminded me more of maybe the 2006 win when I beat (Marcos) Baghdatis in the finals."
"I had a great run to the finals (in 2006) and was a huge favourite going in ... I was just so relieved when everything was said and done I think I felt the same way tonight."
"That is why I couldn't speak, it was terrible."
Having qualified for an astonishing 30th Grand Slam final, Federer admitted that nerves had got the better of him during a scorching hot day as he waited to take his place for the evening match.
"My thoughts were all over the place. All day I was thinking 'What if I lost? What if I won?' Every minute of the day," he said. "Thank God I slept to 11."
The nerves returned for the Swiss at several stages through the three-hour three-minute clash, and he felt the trophy slipping from his grasp after the fourth set.
He had to save two break points in an epic service game at the start of the fifth set before riding the momentum home as Cilic's power game wavered.
"At the end of the second (set) I got nervous and that is the reason I lost the second set and I couldn't take control of the match," added Federer.
"It got tight and Marin held me out in the third and the fifth. I got lucky tonight."