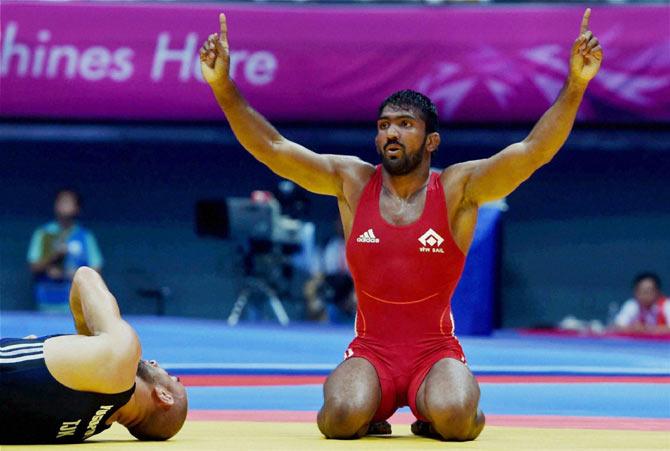 IMAGE: Wrestler Yogeshwar Dutt will be India's top medal hope at Rio Olympics. Photograph: PTI.
Many top athletes around the globe might be pulling out of the Rio Olympics due to Zika virus concern but chef de mission of the Indian Olympic contingent Rakesh Gupta said they are taking every possible step to address any possible risk.
"We are concerned about Zika virus but we are taking every possible precaution for the Indian contingent that will travel to Rio. Whatever advisory we have received from the international body we have forwarded that to the players and federations," Gupta said on the sidelines of an event where Amul became the official sponsor of the Indian contingent.
"We will also provide repellents to the athletes so that they can use them in Brazil. Also we are providing full sleeves T-shirts to the players. None of the athletes have raised any concern so far and I am also hopeful by the time the Olympics gets underway, things will be better."
World number one golfer Jason Day has become the latest to join the growing number of international athletes who have withdrawn from the Games in August because of Zika virus concerns.
Top golfers Adam Scott, Louis Oosthuizen, Charl Schwartzel, Graeme McDowell, Vijay Singh and Rory McIlroy -- all have declared their absence from the Games.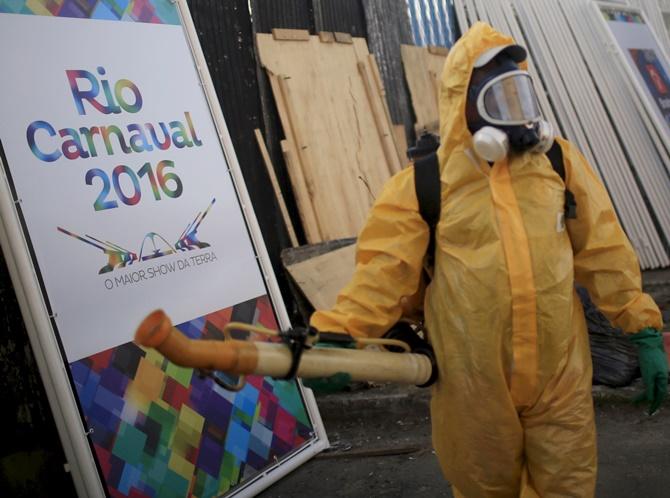 IMAGE: A municipal worker stands next to a banner that reads, "Rio Carnival 2016" before spraying insecticide to prevent the spread of Zika's vector. Photograph: Pilar Olivares/Reuters.
Among others, American cyclist Tejay van Garderen, Basketball star Stephen Curry have also withdrawn from the Games but there are many others who have raised concerns over Zika virus.
Talking about India's preparation for the Games, Gupta said he was hopeful that the country will win more than 10 medals at the Rio Olympics.
"We are hopeful of doubling our medal tally this year. We have lots of hopes from Saina Nehwal in badminton, Jitu Rai in shooting, Vikash Krishan in boxing. Also we hope to get medals in tennis doubles, archery, wrestling and Indian hockey men's team. I am confident we will reach our target," Gupta said.
"Also till now more than 100 Indian athletes have qualified and I am hopeful it will cross 115 to 120 in the run up to the Games. We are hopeful of more qualification in golf, aquatics and athletics."
Ahead of the Olympics, a couple of federations have been making all the wrong news with the Indian Boxing Federation still struggling to put an association in place, while the Wrestling Federation of India (WFI) also found itself in a sticky ground while trying to decide between Narsingh Yadav and Sushil Kumar in the 74kg category.
Asked if it will affect the Rio-bound boxers and wrestlers, IOA secretary general Rajeev Mehta, who was also present at the event, said: "It will affect the morale of the wrestler but we can't interfere as it is a matter of the federation. I am still hopeful of a medal from wrestling."
Gupta added: "Indian boxing federation might not be there but the boxers will fight under the Indian flag. They might have got less exposure before the Games but they won't suffer in this event."
Asked if Bollywood superstar Salman Khan will continue as the Goodwill Ambassador of the Indian contingent after making that "rape" comment, IOA secretary general Rajeev Mehta said: "Yes, he remains our brand ambassador."