Indian national team footballers heaved a sigh of relief after the sports ministry cleared their Asian Games participation while slashing the proposed size of the contingent by over a quarter on Tuesday.

Size of the contingent for any multi-sport event is always a vexed issue in the country and the Indian Olympic Association (IOA) proposed a 942-strong contingent for the September 19-October 4 Games in Incheon, South Korea even though sports ministry officials felt only the medal hopefuls should travel.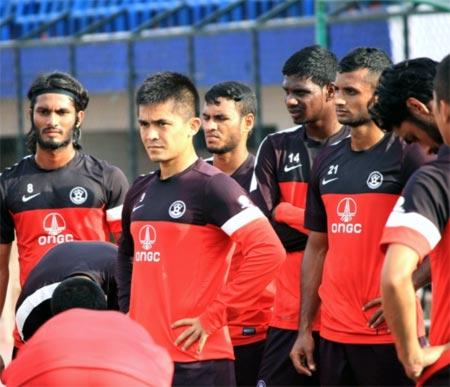 The stand-off left the men's and women's under-23 football teams stranded in Shanghai after completing their tour of China, not knowing whether to head to South Korea or return home.

The wait is finally over with the All India Football Federation announcing it has got the go-ahead for the 20-member men's squad and the 18-member women's team.

The sports ministry said it has cleared a 679-member contingent, including 516 athletes, for Incheon to compete in 28 disciplines, including football and table tennis which had earlier risked missing the cut.

"The exercise was undertaken to ensure that the deserving athletes, coaches and supporting personnel are participating in the Games," the ministry said in a statement.

India will not take part in baseball, bowling, fencing, karate, modern pentathlon, rugby, softball, soft tennis and triathlon because of the athletes' poor standards.

The Board of Control for Cricket in India's reluctance means the reigning 50-over world champions will not compete in cricket either.

India sent a 933-member contingent, including 609 athletes, to the 2010 Asian Games in Guangzhou, China where they won 65 medals, including 14 gold medals, from the 35 disciplines they competed in.

Participating disciplines:

1) Aquatics (Swimming), 2) Archery,3) Athletics, 4) Badminton, 5) Basketball, 6) Boxing, 7) Canoeing and Kayaking, 8) Cycling, 9) Equestrian, 10) Football, 11) Golf, 12) Gymnastics, 13) Handball, 14) Hockey, 15) Judo, 16) Kabaddi, 17) Rowing, 18) Sepak Takraw, 19) Shooting, 20) Squash, 21) Taekwondo 22) Table Tennis, 23) Tennis, 24) Volleyball, 25) Wrestling, 26) Wushu, 27) Weightlifting, 28) Yachting.
Image: The Indian football players during a practice session.
Photograph: AIFF Media