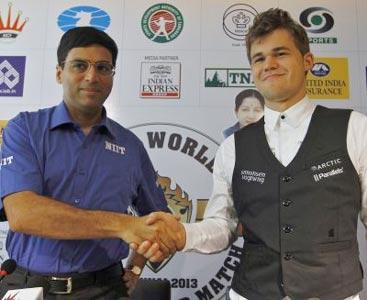 World champion Viswanathan Anand started his title defense in style, holding off world number one Magnus Carlsen of Norway to a draw in quick time in the first game of the World chess championship in Chennai, on Saturday.

Anand, with black pieces, showed the world that he has come well prepared for the challenge.

The Indian gave no chance to Carlsen who started with the Reti opening and got nothing with his first white game.

The quick draw, lasting a mere 16 moves, proved Anand's preparation right as Magnus spent more time on the clock in the opening and still could not get the complicated and
sometimes lifeless positions wherein he famously outplays opposition.

There was much speculation about Anand going for a sharp position and he did not disappoint his backers.

"I know after two moves its Reti, after that I don't know what it is," said Anand in the post match conference.

After Anand's 10th move, Carlsen thought he had no chances and went for the repetition of moves by force. However, the highest rated player in the world does not think he was worse at any point in the game.

"I would not have minded if he (Anand) had continued, my long term prospects are not bad," Carlsen said.

Anand simply repeated the knight moves while Carlsen moved his queen a few times to get the same position three times. The players immediately shook hands.

It was a position akin to the Grunfeld for Anand and he did not opt for a locked structure. His ninth move created the imbalance that the Indian wanted and Carlsen conceded that white had nothing after the tenth move.

The Norwegian superstar said he was quite happy that he could start the match but not with the way it went.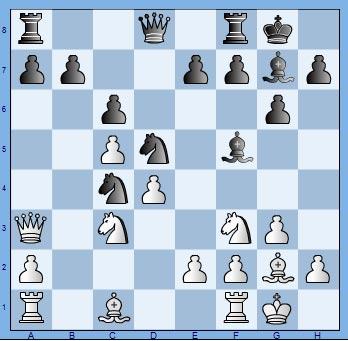 "I am happy that finally the match is on, hopefully we will give you more than one and a half hour," he said mentioning the duration of the game.

With the first match done, Anand will now be playing with white pieces in the second game, on Sunday.
Moves:
1. Nf3 d
2. g3 g6
3. Bg2 Bg7
4. d4 c6
5. O-O Nf6
6. b3 O-O
7. Bb2 Bf5
8. c4 Nbd7
9. Nc3 dxc4
10. bxc4 Nb6
11. c5 Nc4
12. Bc1 Nd5
13. Qb3 Na5
14. Qa3 Nc4
15. Qb3 Na5
16. Qa3 Nc4
(½-½)
Schedule:
| | | |
| --- | --- | --- |
| Dates | Events | Time |
| 09.11.2013 | Game 1 | 03.00.P.M. (IST) |
| 10.11..2013 | Game 2 | 03.00.P.M. (IST) |
| 11.11.2013 | Rest Day | |
| 12.11.2013 | Game 3 | 03.00.P.M. (IST) |
| 13.11.2013 | Game 4 | 03.00.P.M. (IST) |
| 14.11.2013 | Rest Day | |
| 15.11.2013 | Game 5 | 03.00.P.M. (IST) |
| 16.11.2013 | Game 6 | 03.00.P.M. (IST) |
| 17.11.2013 | Rest Day | |
| 18.11.2013 | Game 7 | 03.00.P.M. (IST) |
| 19.11.2013 | Game 8 | 03.00.P.M. (IST) |
| 20.11.2013 | Rest Day | |
| 21.11.2013 | Game 9 | 03.00.P.M. (IST) |
| 22.11.2013 | Game 10 | 03.00.P.M. (IST) |
| 23.11.2013 | Rest Day | |
| 24.11.2013 | Game 11 | 03.00.P.M. (IST) |
| 25.11.2013 | Rest Day | |
| 26.11.2013 | Game 12 | 03.00.P.M. (IST) |
| 27.11.2013 | Rest Day | |
| 28.11.2013 | Tie Break Games | To be decided |
| 28.11.2013 | Closing Ceremony | To be decided |
Image: India's Viswanathan Anand (left) with Norway's Magnus Carlsen
Photographs: Babu/Reuters