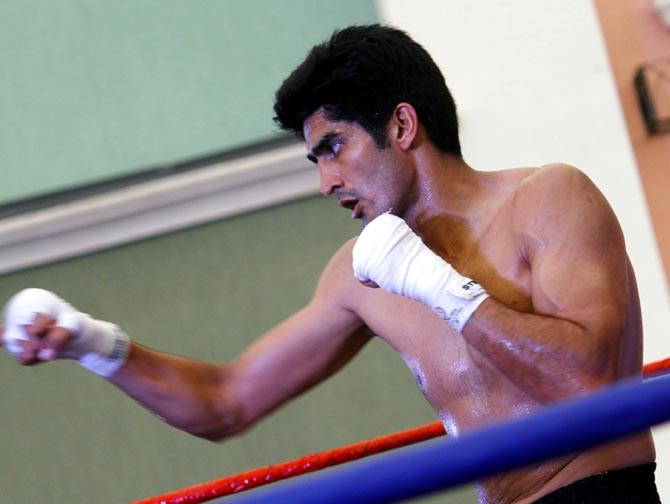 Image: Image: Vijender Singh during a live training session at the Phoenix Market City Mall in Kurla, Mumbai. Photograph: Hitesh Harisinghani/Rediff.com
High on confidence after two knock-out wins, star Indian boxer Vijender Singh will face his most experienced opponent so far when he squares off against Bulgarian Samet Hyuseinov in his third professional bout at the Manchester Arena on December 19.

Vijender has sailed through his first two professional opponents, beating Sonny Whiting in his debut in October and followed that up with a one-round demolition of Dean Gillen in Dublin last month.

The 30-year-old middleweight boxer now takes on Hyuseinov in his quest to become India's first ever professional world champion and end the year undefeated.

Whereas Whiting and Gillen had a combined record of five fights, Hyuseinov has 14 fights under his belt, winning seven and losing the rest.

"This is another important fight for me that I must win so the pressure is on," said Vijender.

"I'm unbeaten and intend to stay that way going into next year where I am looking at my first title fight so I'm not letting Hyuseinov mess up my plans to get my first championship belt," he added.

Vijender said his approach will continue to be aggressive even though he would be up against an experienced fighter this time.

"While I got rid of Whiting and Gillen early, I'll have to see what Hyuseinov brings to the ring on the night. If I feel that I can take him out early I will go in for the early knock-out and get the job done nice and quick," he said.

"He's very experienced though and with 14 fights and 68 rounds he's got the advantage over me in that department. It's a step up for me though and if I can deal with him before the end of the four rounds then I know that I'm improving.
"I am also looking at ending year 2015 with a win," added the former 2008 Olympics' bronze-medallist