'I feel sorry India has picked Vijender to fight me. Vijender looks scared already.'
India's boxing sensation Vijender Singh will defend his WBO Asia Pacific title against Tanzanian Francis Cheka, who has lost all his bouts away from home.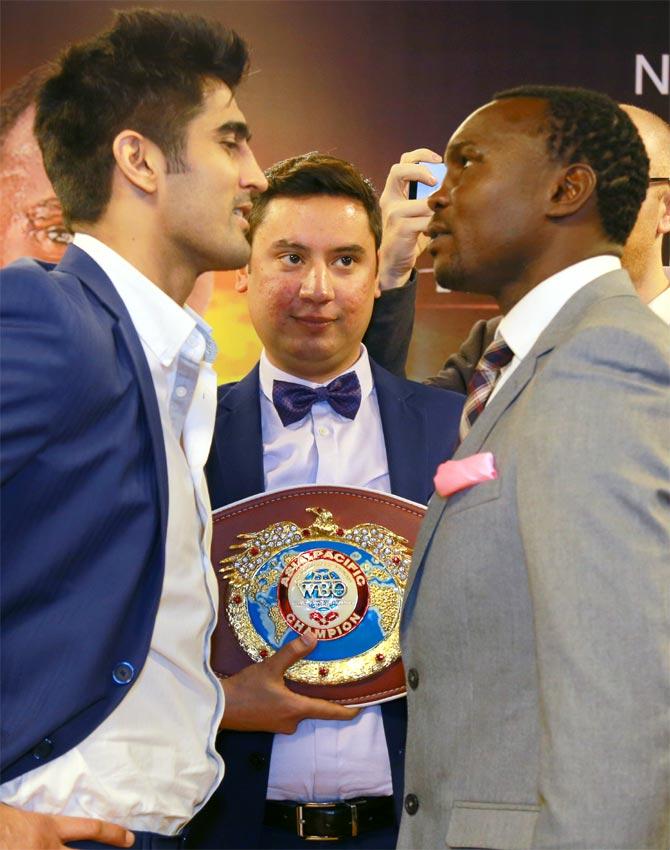 IMAGE: Vijender Singh, left, with Francis Cheka during the pre-event face-off in New Delhi, on Monday.
One-upmanship is a pre-requisite in ProBoxing.

But Vijender Singh's next WBO Asia Pacific challenger Tanzanian Francis Cheka took it to another level by undermining India's first Olympic medallist in the sport.

The bust-up at a pre-event face-off more than a decade ago between Mike Tyson and Lennox Lewis in Memphis set the template for the kind of brouhaha, which is mandatory for promotion of a marquee bout.

And if Cheka's off-the-ring verbal volleys are anything to go by, the Olympic bronze medallist has a fight in hand.

"Vijender's Olympic medal is nothing. I am a World Champion and inter-continental champion. On December 17, Vijender will know why I am a world champion. I feel sorry India has picked Vijender to fight me. Vijender looks scared already. India will be ashamed on Saturday," Cheka said through his interpreter in New Delhi on Tuesday as the smirk on Vijender's face refused to leave.

The Tanzanian, though, has lost all his bouts away from home.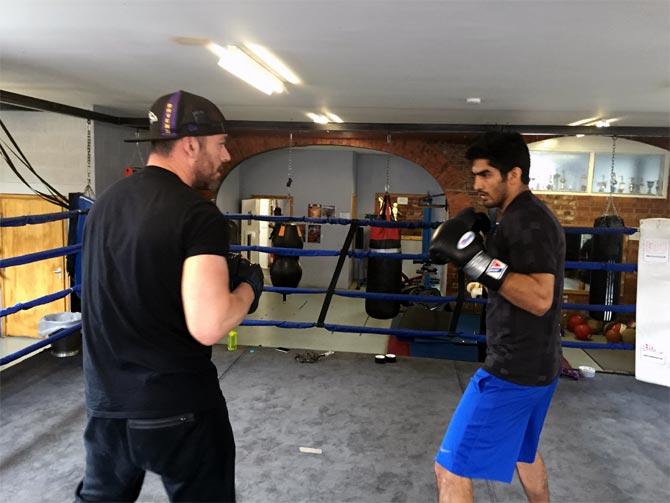 IMAGE: Vijender Singh with his trainer Lee Beard.
Pro Boxing does not mind tall claims, but Vijender was more guarded in his reaction.

"December 17 night will decide the kind of training that I and Lee Beard (trainer) had put in. I don't care who my opponent is. I am 110 percent ready. I will show him who is the best," said Vijender.

Even as Cheka shoved him during the customary 'Face-Off' photo-op, the Indian showed restraint.

One could be forgiven for thinking at times that Cheka's attempt to spice up things didn't quite work as Vijender would have none of it.

The fight's promoter IOS's Neerav Tomar was asked about the logic behind a Tanzanian being the challenger for an WBO Asia-Pacific bout and he said: "He has come up having won Super Middleweight title in the African region. Anybody can be a challenger. Every six months, Vijender will have to defend his title. If he loses the bout, the WBO Super Middleweight title becomes vacant."

Tomar said despite the sponsorship crisis that arose due to demonetisation, they have been able to garner enough sponsors for the fight.

"We have around 8-10 sponsors and we are talking to a few more. Despite the crisis there has been very good response," Tomar said.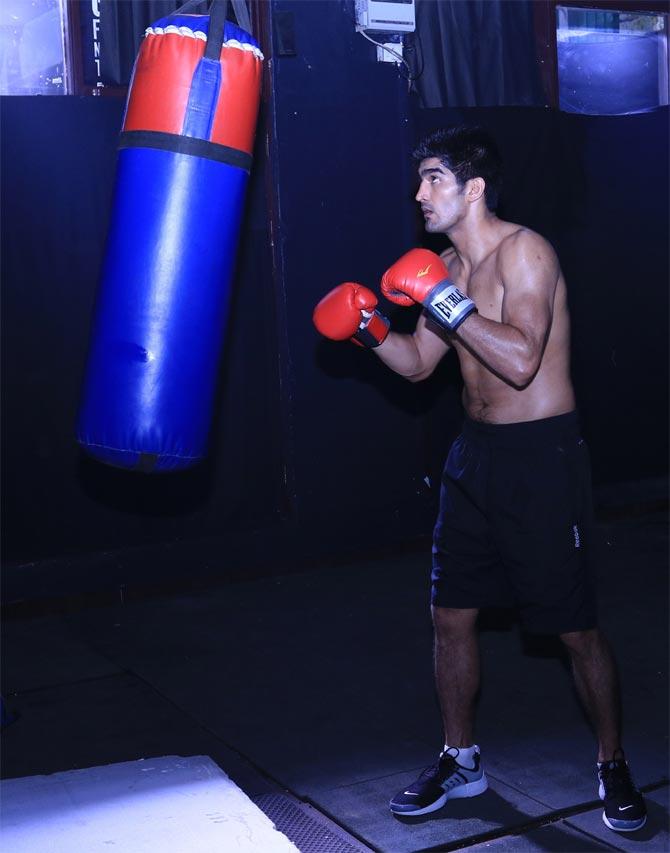 IMAGE: Vijender Singh during a training session.
Tomar also informed that they are set to open a Pro Boxing School and have zeroed in on 30-odd fighters.

While his promoter may have had his challenges due to demonetisation, Vijender gave his thumbs up for the move.

"Everybody should appreciate the move by PM Narendra Modi. I would term it a knock-out punch on corruption. There would be long-term benefits for sure," said Vijender.

There will be five Under-card bouts on the same day even though Olympians Akhil Kumar and Jitender Kumar will be missing out as they failed to procure permission from the Haryana police.

Following are the Undercard bouts on December 17:

Welterweight (Indo-Australia): Pardeep Kharera vs Scott Edwards (Aust)

Lightweight (SE Asia): Kuldeep Dhanda vs Egy Rozten (Indonesia)

Cruiseweight: Dharmendar Grewal vs Abasi Kyobe (Uganda)

Welterweight (SE Asia): Deepak Tanwar vs Sutriyono Bara Boys (Indonesia)

Lightweight (Inter-Continental): Rajesh Kumar vs Mubaraka Sseguya (Uganda).