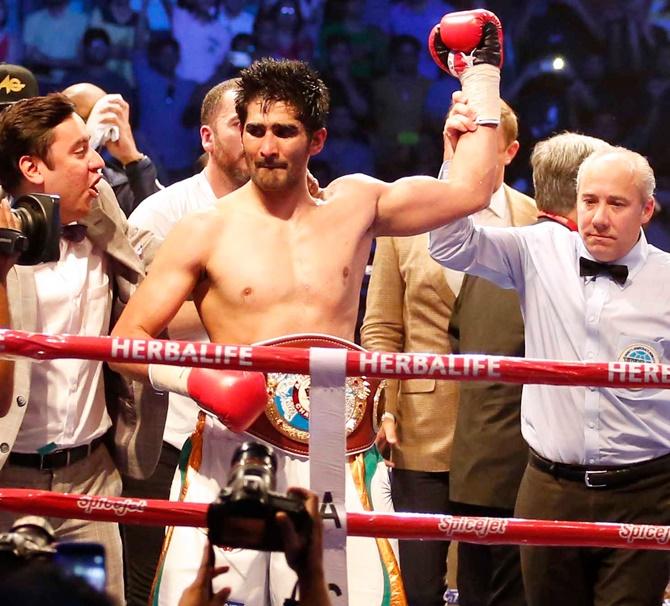 IMAGE: India's Vijender Singh, centre, celebrates. Photograph: PTI.
Elated and exhausted in equal measure after being crowned the WBO Asia Pacific champion, Indian boxing star Vijender Singh says he will savour the triumph for a while before looking at the possibility of a showdown with Pakistan-origin British star Amir Khan, who is keen for a face-off with him.
The 30-year-old clinched his seventh straight win and the Super Middleweight title by outlasting former WBC European champion Kerry Hope in a 10-round contest, cheered vociferously by delirious home fans on Saturday night. The victory propelled him to the 15th spot in the WBO rankings and he will have to defend his title in the next two months.
Dedicating the triumph to the late Muhammad Ali, Vijender got just a few moments to celebrate with his team before being asked "what next"?
"My world ranking will be in the top 15. I will get harder fights now but I am ready for it. I will work with my coaches and my team and we will go for it.
"Mine and Amir's weight categories are different. So, in case he increases his weight or I decrease mine then we can work it out. We are thinking about it, so let's see. I hope that when that big fight happens, it happens in India only," said Vijender.
Amir, a former WBA world champion, is primarily a lightweight boxer, who recently tried himself in the middleweight by taking on world champion Saul Canelo Alvarez. However, it ended in disaster for him when he was knocked out in the sixth round.
His UK-based promoter Francis Warren, is also eyeing a possible clash against Great Britain's popular pro boxing star Amir Khan, a former light-welterweight and silver welterweight champion.
Amir had expressed a desire to take on Vijender in India before the showdown with Alvarez but it remains to be seen whether he would give it a shot now after moving back to his original weight category.
"In the long term, we will keep an eye on Amir Khan as well. That fight over here will be phenomenal, it will be a massive fight. We have tentatively talked with Amir's team, I know they want it, I know Vijender wants it," said Warren of the Queensberry Promotions.
Warren, is however, is already making plans to line up Vijender's next opponent which could mostly likely be WBC Silver super middleweight and Commonwealth super middleweight champion -- Luke Blackledge of Great Britain.