In Kerry Hope, says Druv Munjal, Vijender Singh faces a plucky opponent who has the potential to surprise the home favourite.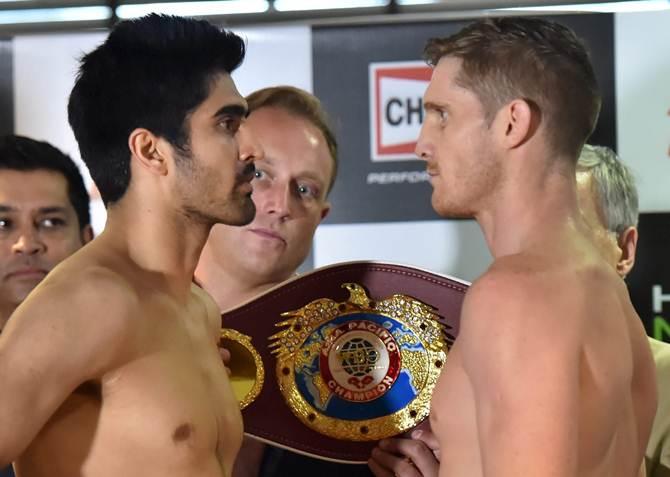 IMAGE: Vijender Singh and Kerry Hope after the weigh-in . Photograph: PTI
There is something savagely beautiful about knockouts.
The sight of one luckless competitor hitting the floor, head throbbing and senses smattered all over the canvas, has forever been professional boxing's exclusive offering. It is a gruesomely alluring spectacle that every once in a while impels fans and ringside luminaries to sit wide-eyed and open-mouthed.
Despite the unmistakable precariousness that they carry, knockouts continue to be professional boxing's signature dish.
In his short six-fight career as a professional super middleweight, Vijender Singh has been stuffing fans with generous portions of that very dish.
Against some middling opponents in the last one year, 30-year-old Singh has outpunched and outthought the other man in the ring, often sending him sprawling to the canvas. Mostly, it has been brisk and brutal.
A 'naught' in the losses column is something that every professional boxer is unabashedly proud of. To register all those wins with lopsided knockouts is an added bragging right that some boxers adore more than the sport itself.
Singh, so far, has managed to deliver unerringly on both those promises.
Fledgling professional boxing careers, however, are sometimes funny business. In fact, they can make for one of those rare and genuinely absorbing university research papers. Silly to the extent that a seemingly unconquerable fighter such as Singh can actually be sent cruelly packing when he meets Australian Kerry Hope for the vacant WBO Asia Pacific Super Middleweight title at New Delhi's Thyagaraj Sports Complex.
There is a chance the impressive 6-0 record coming into the fight may turn out to be a puny, laughable subplot.
In April, IBF World Heavyweight Champion Charles Martin met Anthony Joshua at London's 02 Arena for his first title defence. With 21 knockouts to boast, Martin went into the fight undefeated, but was knocked out cold by the 26-year-old Watford man in just the second round. Singh must avoid meeting a similar fate.
Earlier this week, Hope spoke about Singh being an amateur and 'not in his class,' and how he was expecting to win easily. The 'class'' argument can be written off as utter hogwash, but the former world number three, with his southpaw stance, is a particularly tricky opponent to face.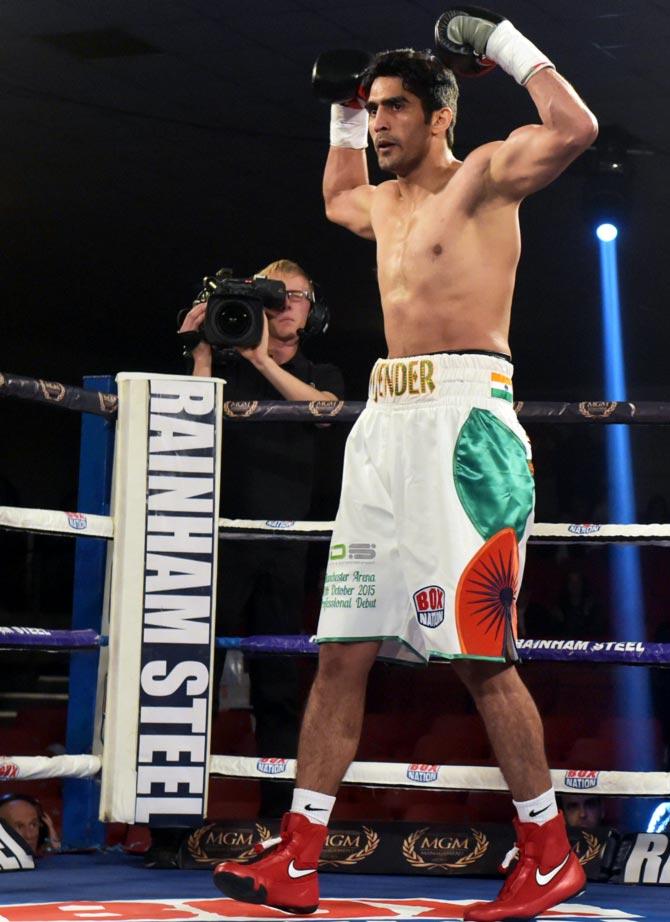 IMAGE: Vijender celebrates winning a bout. Photograph: Charles McQuillan/Getty Images
Singh has just faced one southpaw in his professional career -- Alexander Horvath in his third bout -- and the going against Hope will be incredibly different if not tough.
More surreal will be the experience of fighting 10 rounds for the first time -- Singh hasn't been in a bout that has originally been scheduled for more than eight rounds. In fact, the fifth round is the farthest a Singh fight has gone -- against France's Matiouze Royer in April this year.
The endurance level a 10-round fight demands is something that Singh has never been up against before.
"He hasn't fought in a 10-round bout, but he has been training keeping that in mind. So, there should be no fitness problems," says Lee Beard, Singh's British trainer. "It will be a seventh knockout win for him." Singh echoes a similar sentiment.
"Competing in front of the home crowd will be a great experience. I feel no pressure. I'll look for a knockout early on," he says. Singh has been training with Beard and his team at a Gurgaon gym for the last few days.
Against the 34-year-old Hope, who will look to counter his opponent's speed with experience, Singh's strategy of eyeing an early knockout is a sensible one.
Hope is plucky if not seriously potent, and Singh will do well to avoid getting into a protracted slugfest where Hope will look to eventually tire him out.
"It is easy to forget that Singh was an amateur once. And he hasn't been fighting professionally for too long either. So, the duration can be a problem. The quicker, the better for him," says a former Indian boxer.
Hope's southpaw stance means that Singh's body will be exposed from a variety of angles, something that can be countered more comfortably against an opponent with an orthodox stance. That's why a southpaw like Manny Pacquiao, with dizzying speed and fast jabs, proved to be his opponents' worst nightmare for so many years.
"We have plans for everything. In Manchester, Singh was only sparring with southpaws during practice. So, that shouldn't be a problem," says Beard. Somewhat in contrast to what he has done in his first six fights, Singh might have to sit back a tad against Hope, and quickly pounce on the counter whenever the opportunity arrives.
Hope, on the other hand, is oozing supreme confidence himself. "I don't think there will be a lot of people supporting me, but that's no worry. I have a lot of experience and I will take him out," says the former champion who was born in Wales. Hope, originally a middleweight, has stepped up a weight class to take on Singh.
So often in fights such as these, a partisan crowd helps a frantically oscillating fight tellingly tilt in one man's favour. The Thyagaraj Sports Complex is by no means a colossal arena, nor has it been sold out yet. But for those who manage to be there, they will be hoping that Singh dishes out one of those rousing spectacles. He will start as favourite but Hope can so easily surprise. The capital stands in readiness for its professional boxing debut.