Beijing Olympics bronze medallist Vijender Singh has tested negative for banned substances.
He and four other boxers were subjected to an out-of-competition test for banned substances by the National Anti-Doping Agency earlier this month.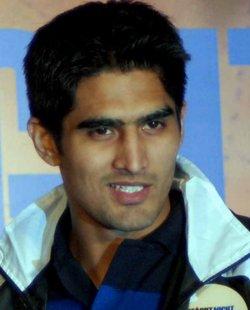 The Ministry of Youth Affairs and Sports, on Tuesday, said a full menu test, which included testing for psychotropic substances, on blood and urine samples was carrried out on the boxers and none of them were found to have used any banned substances in the recent past.
The news came as a huge sigh of relief for Vijender.
The top boxer, who finds himself at the centre of a drug scandal, was not considered for two international events after missing a two-day trial in Patiala.
He has been accused by the Punjab Police of consuming heroin.
The name of Vijender, who won the middleweight bronze at the 2008 Beijing Olympics, cropped up in the scandal when Fatehgarh Sahib Police exposed a drug haul case and arrested his sparring partner Ram Singh, later on dismissed by the Punjab Police, for interrogation.
Ram allegedly told the investigators that he and Vijender consumed heroin supplied by NRI narcotics dealer Anoop Singh Kahlon many times.
Vijender has denied the police's allegations that they have evidence to prove he consumed heroin on 12 occasions.