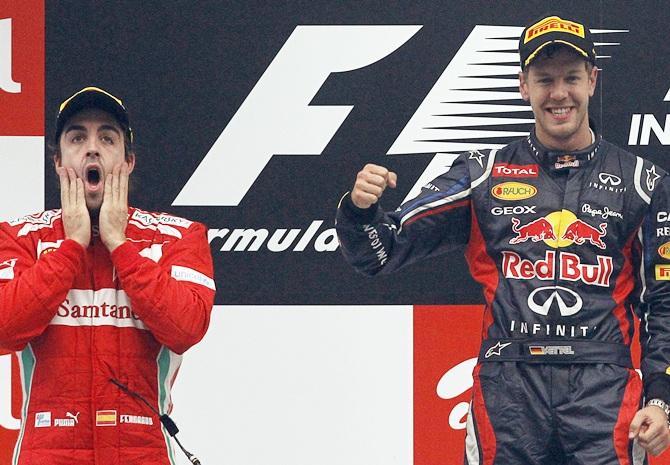 Red Bull Formula One driver Sebastian Vettel, right, with Ferrari's Fernando Alonso. Photograph: Vivek Prakash/Reuters
Fernando Alonso indicated his Formula One future was in his own hands despite Red Bull announcing on Saturday that four time world champion Sebastian Vettel was leaving to join Ferrari.
"It's very open. There are many possibilities. Everything is going according to plan and let's wait and see," said the Ferrari driver after qualifying at the Japanese Grand Prix.
With Suzuka braced for a threatened typhoon that could lash the circuit after Sunday's race, Red Bull kicked up a storm of their own with news ending the sport's most successful recent partnership.
Principal Christian Horner told reporters the 27-year-old German was joining Ferrari, something the Italian team refused to confirm.
The announcement wrong-footed a paddock that had been expecting Spaniard Alonso to set the ball rolling after increasing signs that the double world champion had lost patience after five fruitless years at Maranello.
The 33-year-old has been linked strongly to a return to McLaren, the team he left under a cloud after just one difficult season in 2007 and who will have Honda as their new engine partner next year.
'Just a guess of everybody'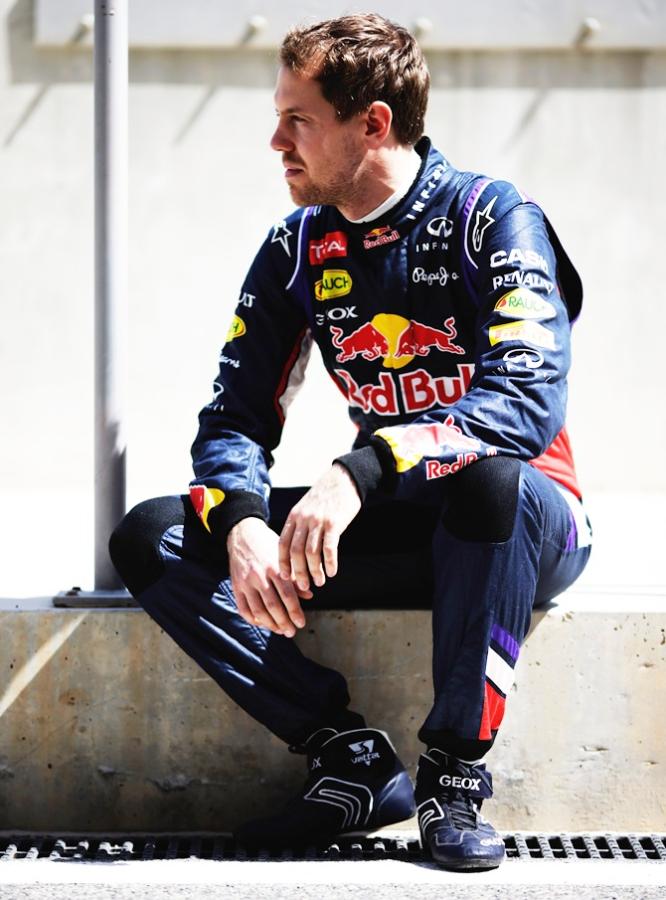 Sebastian Vettel of Germany and Infiniti Red Bull Racing poses. Photograph: Andrew Hone/Getty Images
Professing himself surprised at Vettel's decision, Alonso kept his cards close to his chest while indicating he was still the market maker with others dancing to his tune.
"The news as far as I know is that Sebastian is leaving Red Bull," he told reporters at Suzuka. "The other thing is just a guess of everybody.
"I have still not decided completely. I have a plan in my head. I have my mind set for the last two or three months," continued Alonso. "I have the privileged position because more or less I can choose wherever I want to go at the moment that I want to go.
"So being the decision maker probably some of the movements that we have seen now is an implication of what I am deciding," said the Spaniard. "Let's wait a little bit and when I clear completely my last doubts I will tell you where I go."
Never considered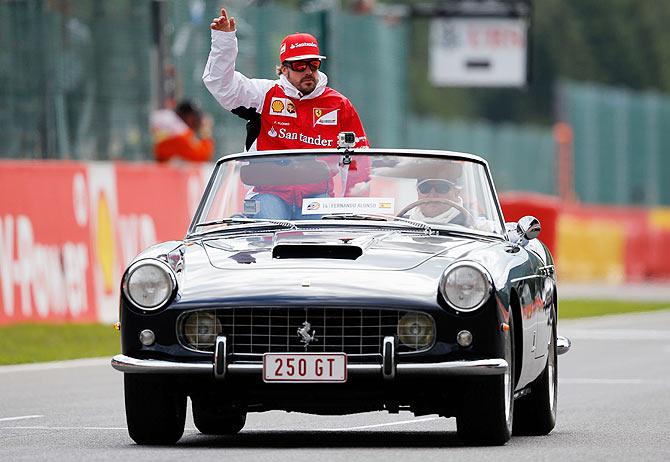 Fernando Alonso of Ferrari waves during the drivers' parade. Photograph: Dean Mouhtaropoulos/Getty Images
Vettel is likely to partner 2007 world champion Kimi Raikkonen at Ferrari, with the Finnish media adamant that their man was staying.
Red Bull have already filled their vacancy by promoting 20-year-old Russian rookie Daniil Kvyat to take Vettel's place alongside Australian Daniel Ricciardo.
Alonso, said Horner, had never been considered.
"Fernando is a wonderful driver, but our philosophy and policy is to invest inwardly, invest in youth and give youngsters a chance," the principal told reporters.
"Daniil is a very exciting talent and it is an exciting new dawn for Red Bull Racing."
With dominant Mercedes having both title-chasing drivers Lewis Hamilton and Nico Rosberg under contract for next year, and Williams confirming Felipe Massa and Valtteri Bottas, McLaren look to be Alonso's best bet.
If the Spaniard does return, mending fences with his former boss Ron Dennis, then Britain's 2009 champion Jenson Button looks likely to be the one who pays the price.
The most experienced current driver in the sport, and now 34 years old, Button is out of contract at the end of the year and likely to be overlooked in favour of young Danish rookie team mate Kevin Magnussen.
Alonso could also decide to walk away from the sport entirely, perhaps to concentrate on the new cycling team he is setting up, but he gave no indication that would be the case.
"I want to do one thing for many months. I want to win, I want to be world champion, I want to work professionally as I did all my career," he added.
"I need to be happy. Many things that if you put together it goes to one direction and that direction probably moved the market as it is doing now."
Kvyat's promotion to the main Red Bull team also leaves a vacancy at Toro Rosso and that could go to another promising member of the Red Bull young driver programme, Spaniard Carlos Sainz junior -- son of the former world rally champion.
Toro Rosso have already announced the signing of 17-year-old Dutch prodigy Max Verstappen as the sport's youngest ever driver.