'I did not beat Usain and Christian... They are some of the most talented and beautiful performers of all time.'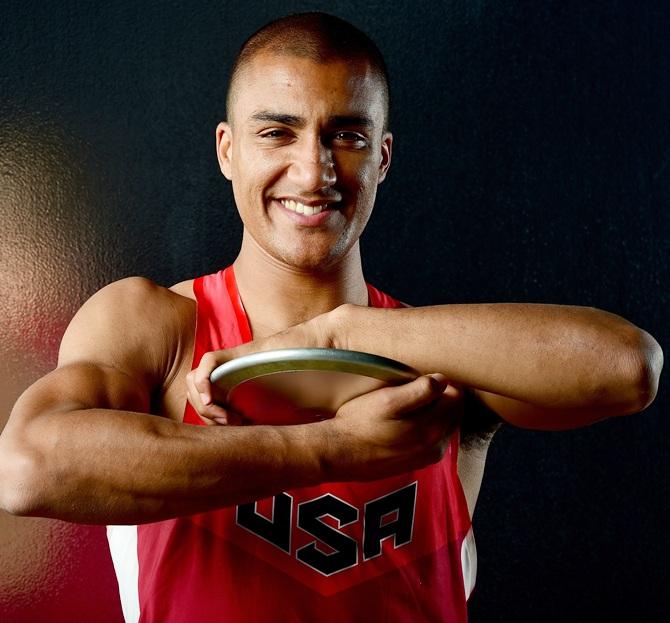 IMAGE: Decathlete Ashton Eaton. Photograph: Harry How/Getty Images
American decathlete Ashton Eaton was named the IAAF's Male Athlete of the Year for 2015 on Thursday, November.
Eaton won the grand prize ahead of Usain Bolt, the Jamaican sprinter who landed his 11th World Championship gold medal this year, and American triple jumper Christian Taylor.
The 27 year old had scored 9,045 points in Shanghai in his first decathlon for two years to beat his own world best mark.
"Athletes spend the most vigorous years of human life, arguably called the 'best years,' working to hone their abilities," he said.
"I'm grateful and thankful to the IAAF for excellent competitions, the canvases that allow us to display our work."
"I did not beat Usain and Christian, my work simply differed in design. They are some of the most talented and beautiful performers of all time. I'm flattered to be among them," Eaton said.
"I accept this award on behalf of all of us athletes who love what we do."
'After narrowly missing out on this award one year ago, I am very proud to be recognised by the fans and experts of our sport'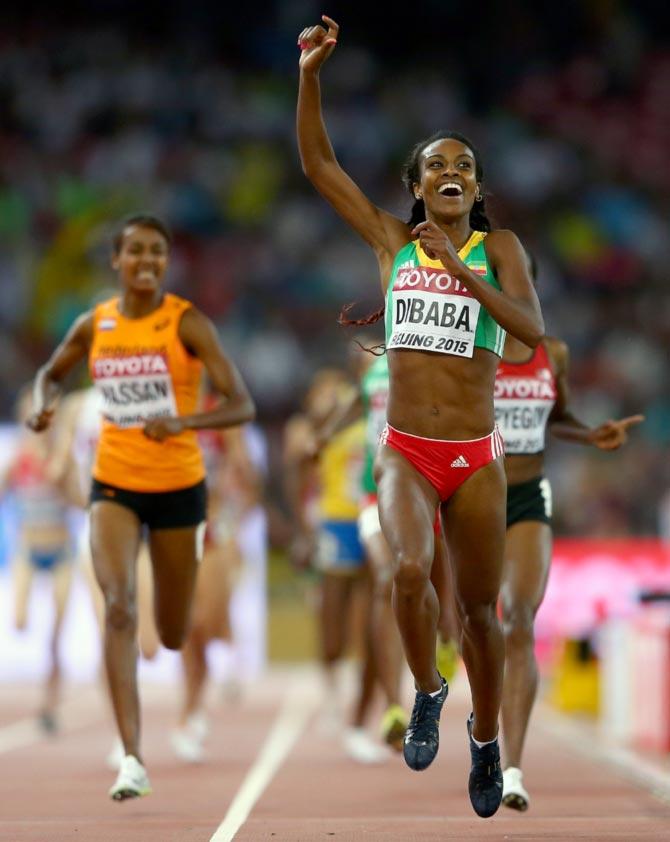 IMAGE: Genzebe Dibaba wins gold in the women's 1,500 metres. Photograph: Michael Steele/Getty Images
Genzebe Dibaba won the IAAF's Female Athlete of the Year award.
The Ethiopian runner broke the 1,500 metres world record in July in Monaco with a time of 3 minutes 50.07 seconds.
She captured the 1,500 world title in Beijing and took the bronze medal in the 5,000.
"I am humbled and honoured to receive this award," Dibaba said. "It feels so good to be the World Athlete of the Year."
The awards are usually handed out at the annual gala dinner in Monaco, but that event was cancelled this year due to doping issues in the sport.
"While the athletics family is not gathering together as usual in Monaco, we rightly celebrate the marvellous 2015 achievements of the athletes," IAAF President Sebastian Coe said.
"I offer congratulations to our World Athletes of the Year, world champions Ashton Eaton and Genzebe Dibaba. Your performances in 2015 are an inspiration and examples of true sporting excellence."