A summary of Wednesday's action at the US Open.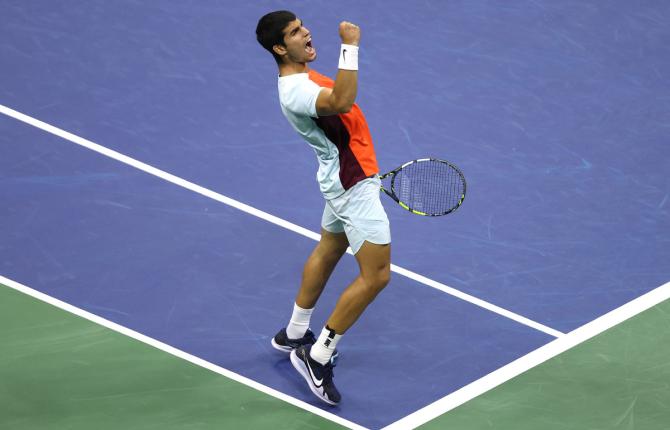 Carlos Alcaraz saved a match point in the fourth set before digging deep in the decider to beat Jannik Sinner in a five-set thriller and reach the US Open semi-finals in the early hours of Thursday in New York.
The Spanish teenager collapsed on his back after the match lasting more than five hours concluded at 2.50am local time, beating the previous record for the latest finish of 2.26am set in three matches in 1993, 2012 and 2014.

The 6-3, 6-7(7,) 6-7(0), 7-5, 6-3 win keeps alive Alcaraz's hopes of winning a maiden Grand Slam title and claiming the world number one ranking.

"Honestly I still don't know how I did it," Alcaraz said in an on-court interview. "The level that I played, the level of the match, the high quality of tennis.

"It's unbelievable."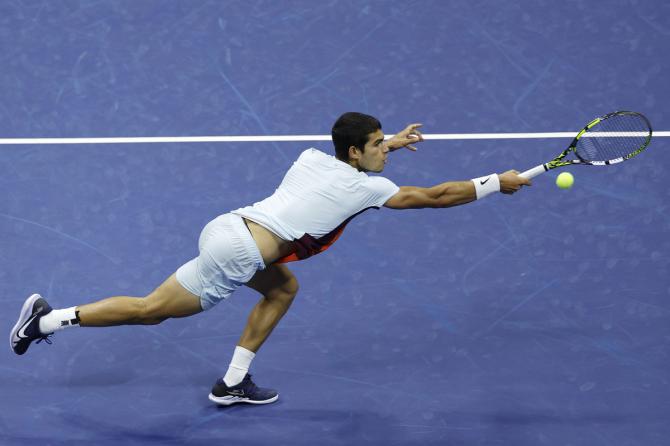 Alcaraz put his finger to his ear in the fifth set after he raced across court to catch up with a Sinner drop shot and fired it past the Italian to set up break point, bringing fans at Arthur Ashe Stadium to their feet.

Alcaraz converted on the next point when Sinner's shot hit the net for a 5-3 lead and then fired a serve into Sinner's body on match point to end the five hour, 15 minutes contest.

"Thank you to all of you," he said to the crowd.

Alcaraz was a human highlight reel all night, sliding and diving around the court and hitting a sensational behind-the-back circus shot that set up a forehand winner in the second set.

If the match was a preview of the future of men's tennis, the sport is in good hands with the 21-year-old Sinner and 19-year-old Alcaraz engaging in one thrilling exchange after another to the delight of the fans.

"Incredible battle @janniksin!" Alcaraz tweeted after the match.

"You really forced me to improve, and I'm sure we'll have many more matches in the future!"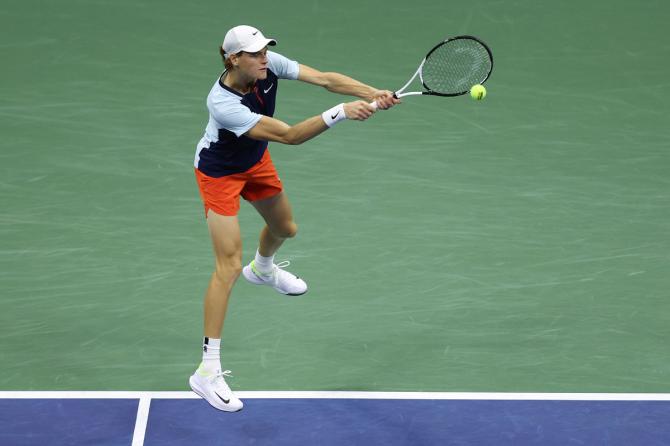 Sinner struggled to sum up the disappointment.

"It's not easy to talk now because I finished the match," he told reporters.

"It was a good match from my side, from his side.... the level was high.

"But very, very tough."

Alcaraz plays American Frances Tiafoe on Friday for a spot in Sunday's final.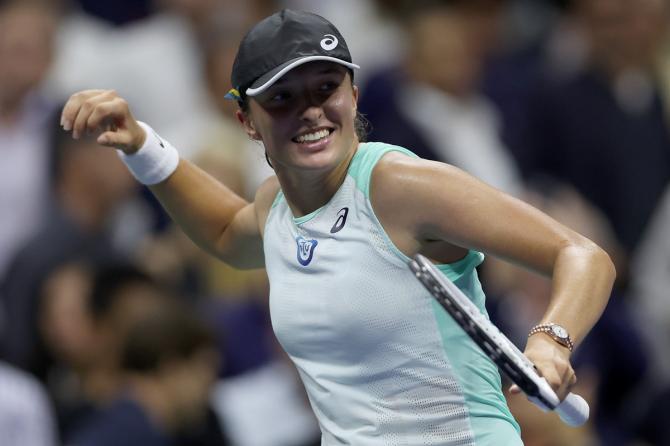 World number one Iga Swiatek overcame a shaky serving performance to beat Jessica Pegula of the United States 6-3, 7-6(4) on Wednesday to reach the semi-finals of the US Open for the first time.
The top-seeded French Open champion dropped her racket and pumped her fist after the victory, which guaranteed that she will remain the world's top player when the tournament ends.
"I wasn't expecting this at the beginning of the tournament," Swiatek said in an on-court interview.
"I'm really working hard and trying to keep my expectations low. Today was such a tough match and I think the level was great, so I'm pretty happy that I handled it."
Despite the victory the Pole is still trying to regain her dominant form from earlier in the year when she went on a 37-match winning streak.
The 21-year-old twice failed to serve out the match in the second set and was broken six times by the eighth-seeded Pegula, who saw her own serve broken seven times.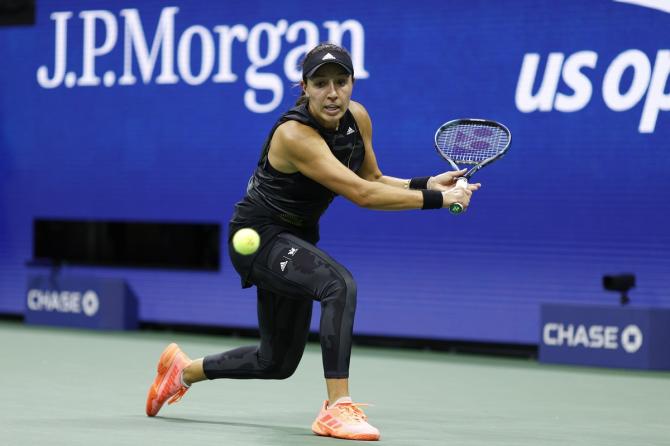 "I knew even though I'm breaking her that it's not like in men's matches where they are going to finish with their serve," said Swiatek.
"I know that. So I was trying to push her back but she's really good at receiving so she put pressure on me, which is why it ended up in a tie-breaker."
Swiatek will meet Aryna Sabalenka in the semi-finals. She holds a 3-1 record against the powerful Belarusian.
"It's going to be tough even though I won the last couple of matches against her," she said.
"I know she's in great shape so I have to be ready for fast serves for sure and for some heavy hitting but I feel like I experienced that today as well with Jessie, flat ball, I'm going to be ready."
Pegula's defeat ended any hope of an American woman winning the tournament in New York, with 23-time Grand Slam champion Serena Williams expected to head into retirement after her third-round loss last week.
"It was really fun when I kept breaking back and I wanted to give them a third set but it wasn't to be," Pegula said."
Sabalenka overpowers Pliskova, makes second straight US Open semi-final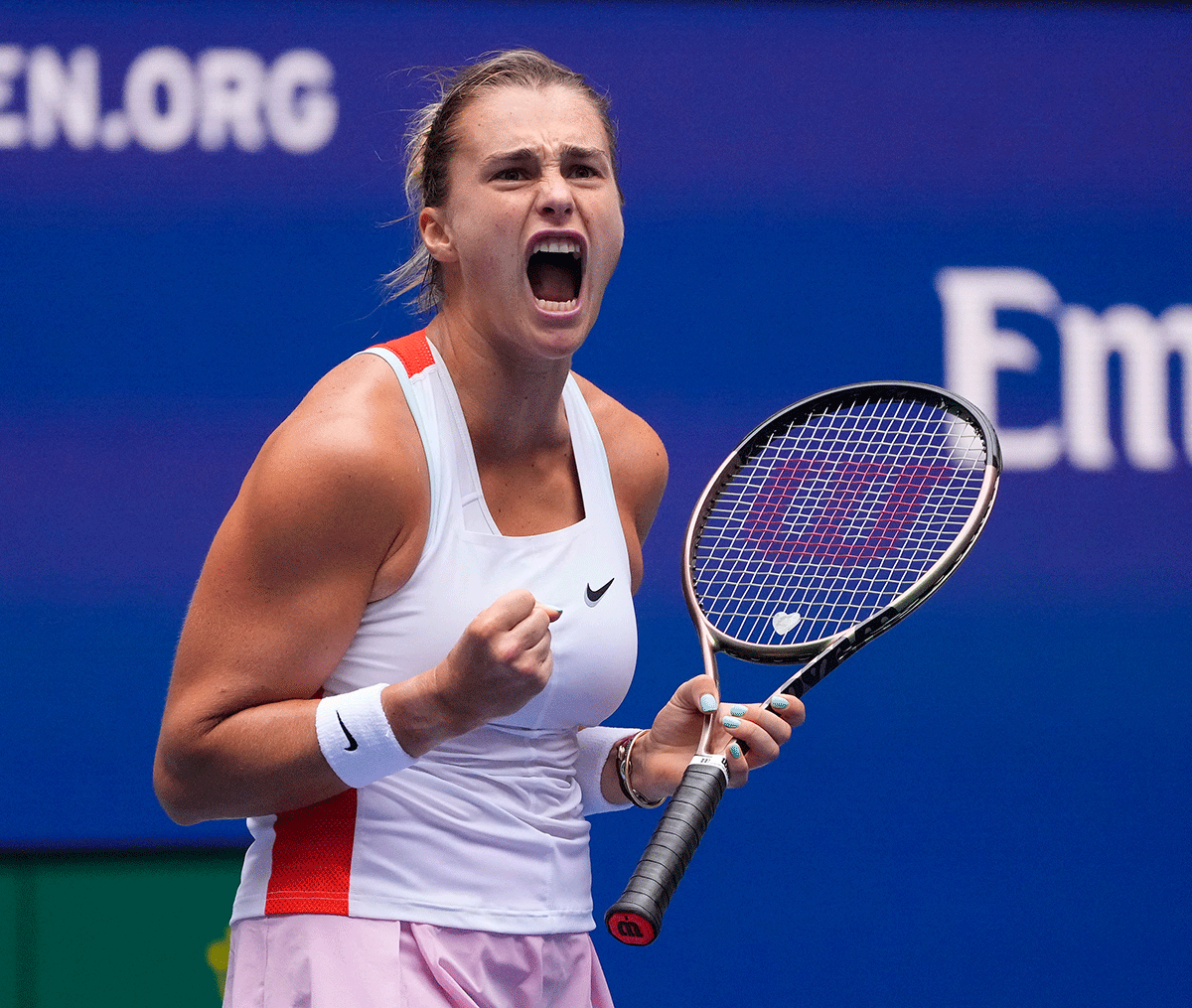 In-form Aryna Sabalenka swatted aside Czech Karolina Pliskova 6-1, 7-6(4) to reach her second straight US Open semi-final on Wednesday.
The Belarusian underestimated her opponent in their two meetings last year, when Pliskova defeated her in the Wimbledon and Montreal semi-finals, but she was in dominant form in New York as she fired down seven aces and never dropped serve.
"Always tough matches against Karolina," said Sabalenka. "The first set was really high level for me and (I) put a lot of pressure on her."
Nothing went right for 2016 finalist Pliskova during the first set as she racked up 15 unforced errors and five double faults in 28 minutes.
But the Czech's form improved considerably in the second set as she fended off the only break point she faced in the eighth game.
Sabalenka kept her cool in the tiebreak and raised her arms in triumph after sealing victory with a forehand winner on her second match point.
"In the second set, I knew she will kind of trying to come back and she will do better. I just tried to hold my serve and try to put her under pressure on her serve," she told reporters.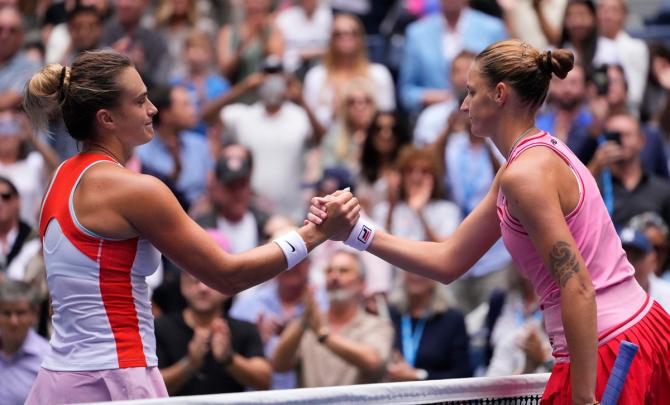 Sabalenka said she completely remodelled her serve before arriving in New York, adding another member to her coaching staff in order to change "biomechanic stuff".
"Right now I'm not going for aces I'm just trying to put my serve on the big targets," she said.
"I'm ready for another fight and I think I just have to stay focused on myself."
Pliskova had appeared to be in good form after taking down twice Grand Slam winner Victoria Azarenka in the fourth round in New York, and told reporters she had little explanation for her struggles in the first set.
"I was not playing at all the way I was playing the last couple of matches, especially the last one with Azarenka," she said.
"She was playing super-aggressive, serving amazing today. I think I never play her in this kind of shape."
Tiafoe keeps American hopes alive by reaching semis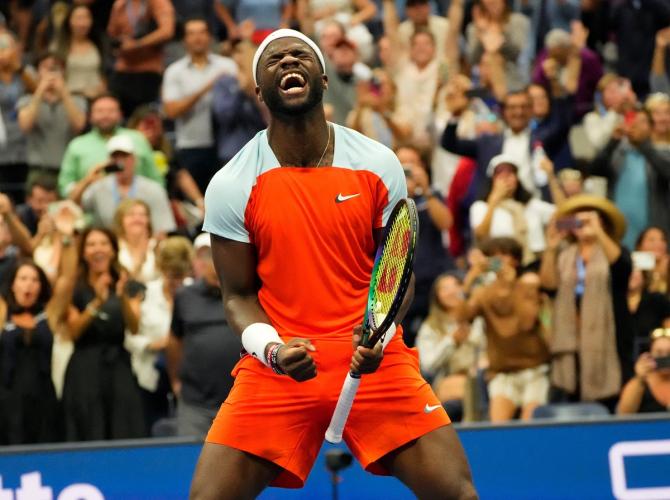 With the hopes of a nation resting on his shoulders, American Frances Tiafoe rose to the occasion by reaching his first Grand Slam semi-final with a 7-6(3), 7-6(0), 6-4 win over Russian Andrey Rublev at the US Open on Wednesday.
Not since Andy Roddick in 2003 has a United States man won the title at Flushing Meadows and the pressure was on for the 24-year-old to build on his stunning win over second seed Rafael Nadal in the fourth round.
He did not disappoint, launching 18 aces and 46 winners in a dominant performance, injecting new excitement among the home crowd after 23-times Grand Slam winner Serena Williams bowed out following what is expected to be her final appearance in the third round.
"This is wild, this is crazy," Tiafoe said. "We've got two more (to go)."
Rublev put up a fight for two sets but his game unravelled as Tiafoe stormed through the second set tiebreak, shouting out in anger and whacking his racket after an ace from the American flew past him.
The Russian bit down on a tennis ball and sat with his face buried in a towel after Tiafoe triumphed in a 16-shot rally to get the only break of the match in the seventh game of the third set.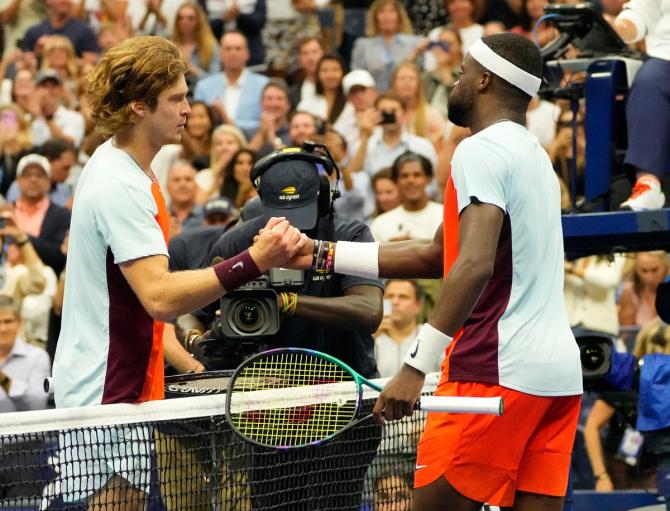 Wearing a bracelet that read: "Why not me?", Tiafoe sealed it with an ace to become the first Black American man to reach a US Open semi-final since Arthur Ashe 50 years ago, playing in the stadium named after the late former champion.
While American women have consistently thrived on the Grand Slam stage, most recently in 2020 when Sofia Kenin won the Australian Open, the men's field has been lacking with the golden years of Andre Agassi and Pete Sampras long past.
"He wants to be a role model, and this is certainly the right thing and the right way," Tiafoe's coach, Wayne Ferreira, told reporters.
"I always tell him, If you want to be a role model, you have to win tennis matches. This is the key to him. If he can win this tournament, he can be an inspiration for a lot of kids."