IMAGES from Day 7 of the US Open on Sunday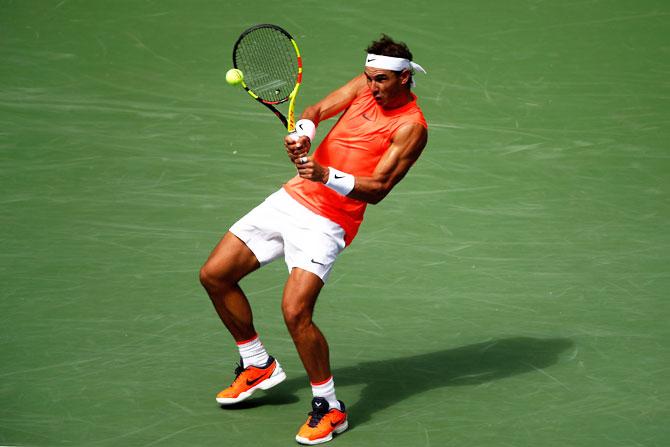 Top seed Rafael Nadal set up an intriguing US Open quarter-final showdown with Dominic Thiem after snuffing out a comeback attempt by Georgia's Nikoloz Basilashvili with a 6-3, 6-3, 6-7(6), 6-4 win on Sunday.
The World No 1 looked like he would cruise to an easy win after pocketing the first two sets but the Georgian stepped up his game to take the third.
The US Open champion would not be denied, however, and fired his seventh ace on match point to end the three hour, 20-minute tussle.
"Two matches in the row that were very tough ones," said Nadal, who had to battle back against Russian Karen Khachanov two days ago.
Nadal praised the 26-year-old Basilashvili, who will break into the top 30 for the first time when the new rankings are released after the tournament.
"He played fantastic. A lot of credit to him. He was playing great, hitting the ball very, very strong," the Spaniard said.
"I'm very happy to be through," added Nadal after setting up a rematch of June's French Open final, when he crushed Thiem in straight sets to win his 17th major.
Basilashvili only managed to convert two of his seven break point opportunities and committed 59 unforced errors to Nadal's 19 on a partly cloudy day at Arthur Ashe Stadium.
Despite Sunday's loss the result is big step forward for Basilashvili, who suffered a 6-0 6-1 6-0 drubbing by the claycourt king when they met at the French Open in June.
Nadal said he will need to raise his game to get past the red-hot Thiem, who reached his first US Open quarter-final when he defeated 2017 US Open runner-up Kevin Anderson in straight sets.
"He's a fantastic player. He's a very powerful player. He's a great guy," Nadal told reporters.
"I have a very good relationship with him. Happy for him that he's in quarter-finals here," he said.
"I'll need to play my best match of the tournament."
Serena survives scare from Kanepi to reach quarters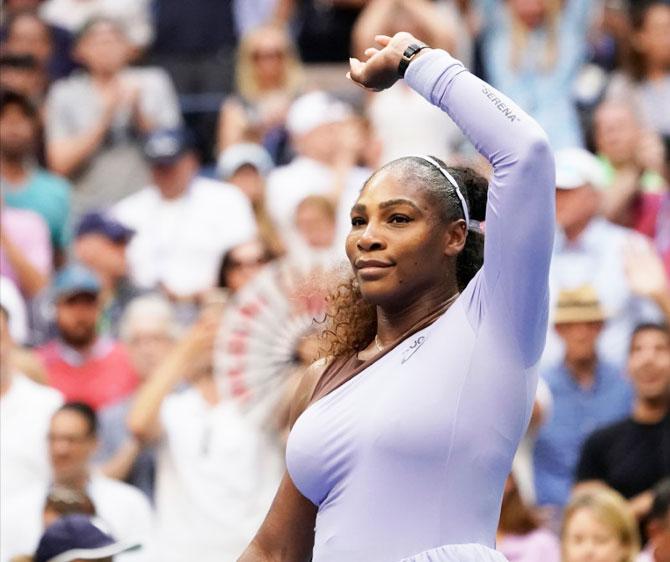 Serena Williams survived a scare from giant-killer Kaia Kanepi to claim a rollercoaster 6-0, 4-6, 6-3 win on Sunday and move into the US Open quarter-finals, a step closer to a record- equalling 24th career Grand Slam title.
"I feel like just getting through it in general was all I'm looking at now and not looking back and just moving towards the next match," offered a relieved Williams, safely through to the last eight at Flushing Meadows for a 15th time.
Following a shock upset of world number one Simona Halep in the first round, the 44th-ranked Kanepi had looked a potential trouble spot for the six-times U.S. Open champion.
Any tension inside a packed Arthur Ashe Stadium, however, was quickly eased as a ruthless Williams stormed through the opening set in 18 minutes for the loss of a measly six points.
It was about as perfect a start anyone could have to match Williams, who was guilty of just two unforced errors while firing 14 winners and converting all three break chances.
But in a bizarre momentum shift, fans suddenly found themselves on the edge of their seats as the Estonian opened the second with a break.
The pressure continued to mount as Kanepi, who had not strung together three consecutive tour-level match wins since her quarter-final run at last year's U.S. Open, broke Williams again to go up 5-2 before holding off a late rally from the 17th seed to level the match.
But having taken her first set against Williams in five career meetings, there would not be a second.
Just as quickly as the momentum swung to Kanepi, it returned to Williams in the third set as the 36-year-old American broke her opponent at the first opportunity and jumped out to a 3-0 lead before cruising to victory.
"It wasn't easy, obviously, I think one thing she did well was change her strategy and started doing just a completely different game and gave me a different look to her game," explained Williams, who laid down 18 aces.
"It's not tough, but I feel like I made one or two crucial errors and that cost me the second set, or at least cost me the first game.
"It wasn't like my level went down tremendously. It was one or two points that made a huge difference in that second set."
Next up for Williams is a quarter-final meeting with eighth seeded Czech Karolina Pliskova who advanced with a straight-forward 6-4 6-4 win over 18th seed Ashleigh Barty of Australia.
Del Potro crushes Coric to make quarters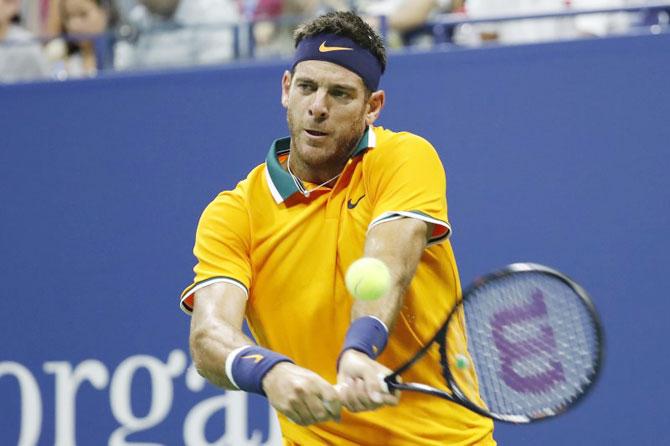 Third seed Juan Martin del Potro crushed Croatia's Borna Coric 6-4, 6-3 6-1 at the U.S. Open on Sunday to set up a quarter-final clash with American John Isner.
The Argentine sent down nine aces and 33 winners to seal a one-sided victory over the 20th seed in just over two hours, with Coric making 30 unforced errors to undermine his own cause.
The Croatian needed a medical timeout in the second set and was then blown away by Del Potro's booming forehand in the third, surrendering the set in just 30 minutes.
Del Potro, champion in 2009, got an early break to go 3-1 up in the first before Coric fought back to level at 4-4, converting the only break point he carved out in the match.
The opener looked to be heading for a tiebreak before Del Potro dispatched a backhand volley to earn himself two more break points in the 10th game.
Coric rallied for deuce but double faulted to give Del Potro another break point opportunity and conceded the set with an unforced error.
"I think that moment was the key of the match," Del Potro said in an on-court interview.
"It gave me confidence."
Both players suffered in the humid conditions under the floodlights at Arthur Ashe Stadium, but Del Potro fed off the energy of the crowd, including a group of his friends who have travelled from his hometown Tandil to cheer him on.
"They are crazy," he added with a smile. "They have to go back to Argentina and work again after this tournament. I would like to keep them singing."
Next up for Del Potro is 11th seed Isner, who won his second five-setter of the tournament to see off Canada's Milos Raonic earlier in the day.
"John is a friend of mine and he deserves to be in the quarters as well," said Del Potro, who has not dropped a set so far in New York.
"He has a big serve and I will try to return his serves if I can. With this crowd anything is possible and we will see what will happen."
Karolina Pliskova downs Barty to reach quarters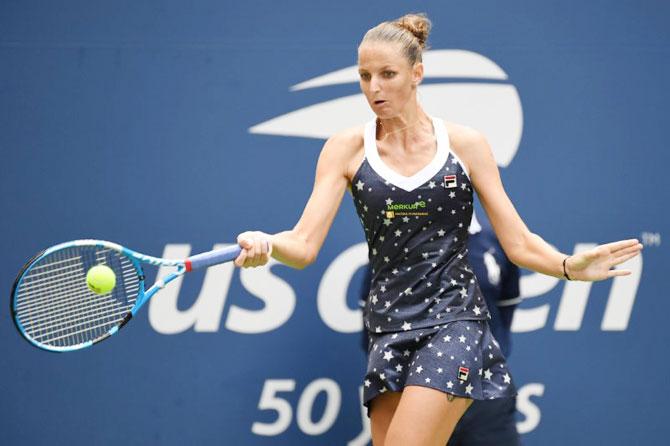 Eighth seed Karolina Pliskova fended off eight break points as she overcame Australia's Ashleigh Barty 6-4, 6-4 to reach the US Open quarter-finals on Sunday.
While the Czech converted both of her break point opportunities, 18th seed Barty was left frustrated time and again as she failed to capitalise on her chances.
Pliskova, who was a finalist at Flushing Meadows in 2016, committed 20 unforced errors to Barty's 30, and closed out the match when her opponent smacked the ball into the net.
"It was very tough even though the score looks easy," Pliskova said in an on-court interview. "I'm very happy to be through."
She added to reporters later: "I didn't have that many chances because of her game.
"I didn't really feel like I had the chance and time to be aggressive.
"She had a lot of break points, so it could (have) gone both ways today. It was really like couple points."
Pliskova will next face Serena Williams.
The last time the players met, Pliskova toppled the American to reach the U.S. Open final in 2016.
Pliskova will be hoping she can draw on that experience to secure her passage into the semis.
"I really was feeling great that year. I'm feeling great now, too. But it was a little bit different story, 2016. I was, like, dark horse. Nobody was expecting me to get that far," Pliskova said.
"I know she has a big game, but I have a big game too. I have a good serve. So I have some weapons too. There is always a chance for me."
Inspired Dominic Thiem makes first US Open quarter-final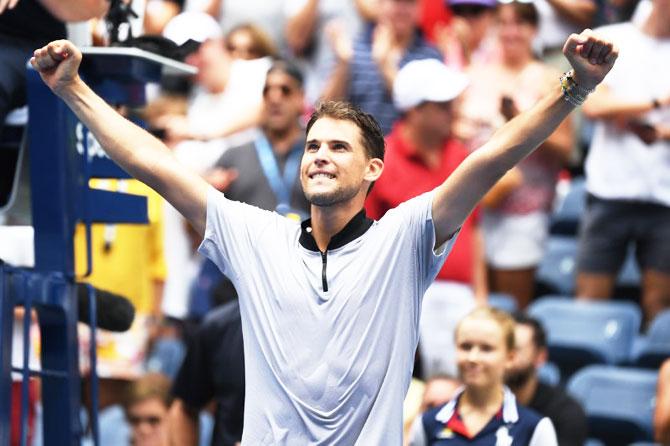 Ninth seed Dominic Thiem stepped up his bid for a first Grand Slam title on Sunday, toppling last year's runner-up Kevin Anderson 7-5, 6-2, 7-6(2) to reach the US Open quarter-finals for the first time.
Thiem, this year's French Open runner-up, neutralised the 6-foot-8 Anderson's blistering serve by standing far beyond the baseline and he chased down everything the South African could throw at him.
The Austrian played a near flawless match, dropping just four points on his first serve and firing 42 winners.
"One of my best matches ever," Thiem said of his dazzling performance in an on-court interview, calling his quarter-final berth "a dream coming true".
Thiem told reporters that his positioning on the court inside the newly-built Louis Armstrong Stadium was critical.
"The court, I think, made a big difference. It's a huge court. I could go very far back like I do on clay usually. So there were some good advantages for me today," Thiem said.
"I also played really safe from the baseline, which is also a big part of the performance today. But against him, still, the most important is to put as many balls back into play as possible."
Fifth seed Anderson had won all six previous hardcourt meetings against Thiem but on Sunday he struggled to get his legs moving against his younger opponent.
Having surivived two five-set thrillers to reach the fourth round, Wimbledon runner-up Anderson ran out of steam and bowed out tamely.
"It's disappointing. I wanted to be here right till the end and put myself in contention of winning my first major. It wasn't meant to be," Anderson told reporters.
"It was definitely Dom's day today. He played a great match."
Thiem will next play world number one Rafael Nadal, who beat Nikoloz Basilashvili in the fourth round.
Isner goes the distance to reach quarter-finals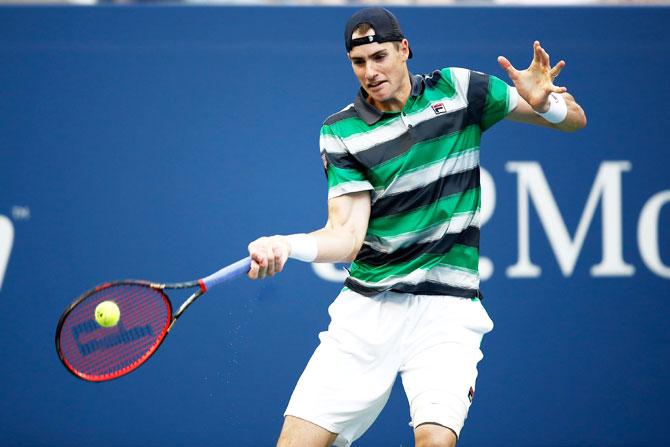 John Isner ground out yet another five-set win at the US Open on Sunday, beating Milos Raonic 3-6, 6-3, 6-4, 3-6, 6-2 to advance to the quarter-finals of his home Grand Slam for the second time.
The American fired 56 winners and 20 aces to down the former world number three in front of a rowdy, elated crowd inside the refurbished Louis Armstrong Stadium.
Isner endured a five-set bout in the second round and a three-hour 26-minute slog in the third but the eleventh seed showed few signs of fatigue.
"This crowd kept me in it -- it was fantastic," Isner said in an on-court interview after another three hours of work against Raonic.
"This is why us tennis players train so hard ... to be in a match like this in front of a crowd like this."
The 6-ft 10-in (208 centimetres) Isner put his powerful serve on display, clocking a 141 mph (227 kph), but said he had finessed other parts of his game.
"There are some matches I've played where I only just rely on my serve. But I think more times than not this year I've shown some other ability," he said.
"That comes from just being relaxed on the court.
"It's not a product of more reps and more practice. The mental part of the game, being able to free up on the tennis court is much easier said than done."
Raonic, who converted only two out of six break points, said Isner, particularly, had been a problem for him.
"I've definitely struggled with him specifically," said the Canadian.
"There are other guys that are big servers that I've played better against. For me, I think the biggest thing is there are not guys that make me hit returns above my shoulders. That's sort of the hardest part for me."
Isner next meets either Croatian Borna Coric or third seed Juan Martin del Potro.