Images from Day 9 of the 2021 US Open in New York on Wednesday.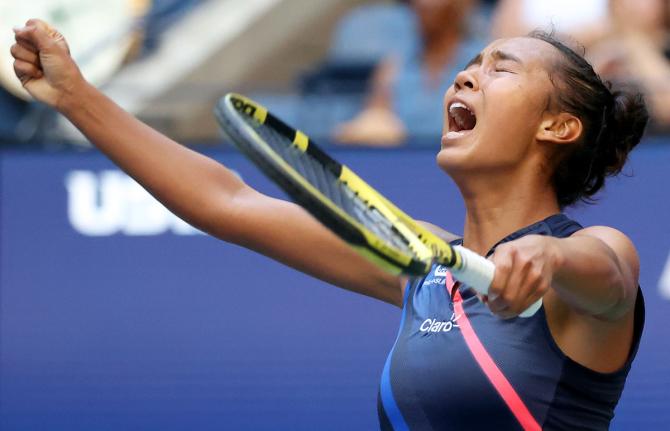 After the COVID-19 pandemic left the stands empty last year, the US Open has welcomed tennis-starved fans back to Flushing Meadows and Canadian teenager Leylah Fernandez has ridden a wave of support all the way to the semi-finals.
Harnessing the energy generated by New York's raucous fans, Fernandez has knocked out a string of big names, including former champions Naomi Osaka and Angelique Kerber.

On Tuesday it was fifth seed Elina Svitolina's turn to be sent packing by the 19-year-old's racquet, Fernandez winning a quarter-final nail biter 6-3, 3-6, 7-6(5) on the sport's biggest stage, Arthur Ashe Stadium.

"Thanks to you guys, to the crowd, to the New York crowd, cheering me on, fighting for me and never giving up for me," she said. "Thanks to you, I was able to push through today."

After a year without spectators, players have said crowds have seemed louder and more engaged.

While at Wimbledon you can hear a pin drop on centre court, a constant buzz provides the background soundtrack on Arthur Ashe and the crowd is never shy about expressing their feelings.

For Fernandez, tapping into the crowd is something she says she has worked hard at, yet it seems so instinctive.

The 19-year-old's natural enthusiasm combined with a fearlessness and attacking style have made her a Flushing Meadows darling.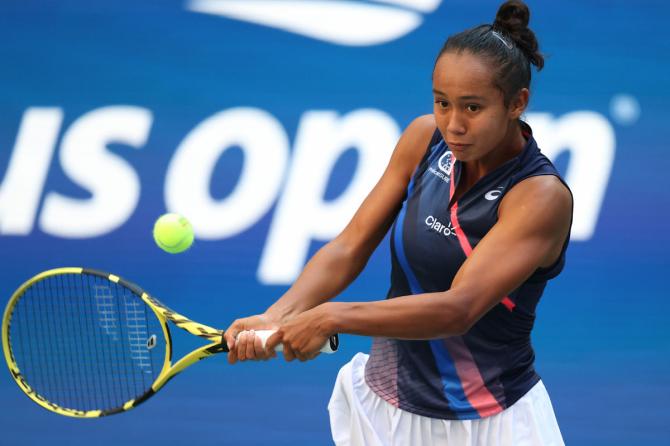 Her fan club continues to grow, with Canadian Prime Minister Justin Trudeau and NBA-great Magic Johnson congratulating and praising her on social media.

"Over the years I've been learning how to use the crowd's energy, how to use it to my advantage even though they're cheering against me, to use it," said Fernandez.

"From a very young age I think it's something from inside of me because from a very young age I've always wanted to be on the first court playing in front of parents.

"Even though they're not watching, I wanted to be in the first court.

"Even in school, apart from presentations in front of the class that I hated, but when I had to ... do a mini play, sing, dance, I would go out there, have fun."

Fernandez has masterfully worked the crowd in each of her matches, asking for their support, windmilling her arms and urging them to cheer when she feel she has given them something cheer about.

A clenched fist thrust into the air after a winning point has quickly become her trademark.

And Fernandez will likely need the crowd on her side more than ever on Thursday when she meets second seed Aryna Sabalenka for a spot in the final.

"Coming to New York one of my goals was to come out of my shell and be more outgoing and I have been improving every day and it shows on court," said Fernandez.

"I was very sad there was no crowd last year."

Alcaraz retires to send Auger-Aliassime into US Open semi-finals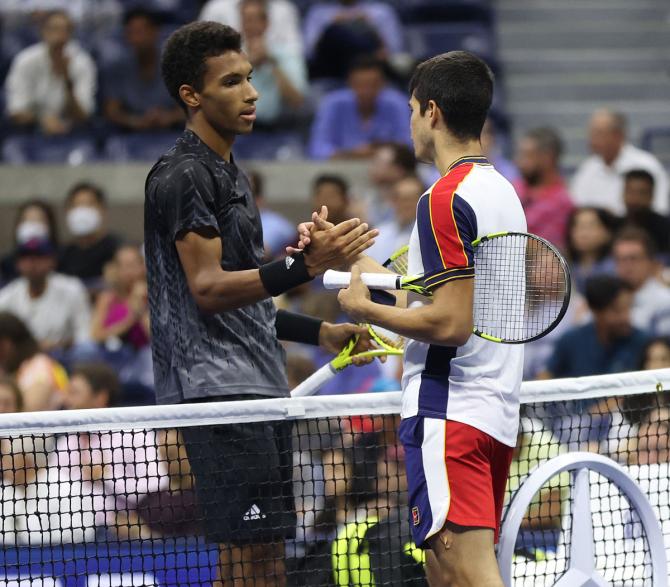 Felix Auger-Aliassime moved into the US Open semi-finals on Tuesday when Spanish teenager Carlos Alcaraz retired while trailing 6-3, 3-1.

The 18-year-old Spaniard showed no signs of distress as Auger-Aliassime took the opening set but after the Canadian broke to open the second Alcaraz slumped.

With Auger-Aliassime building a 3-1 advantage and Alcaraz preparing to serve, the Spaniard turned and indicated he could not go on.

"I don't know what happened, I didn't see it coming," Auger-Aliassime in an on court interview. "I thought we were putting on a good show."

Coming off gruelling back-to-back five-set matches, including a third-round win over Stefanos Tsitsipas, Alcaraz stepped onto the court with both legs heavily strapped and seemed to lack the power and energy that had carried him to the quarter-finals.

The retirement sends Auger-Aliassime into the semi-finals, the same stage as compatriot Leylah Fernandez, who booked her spot in the women's last four earlier in the day by beating Elina Svitolina.
Medvedev reaches third straight US Open semi-final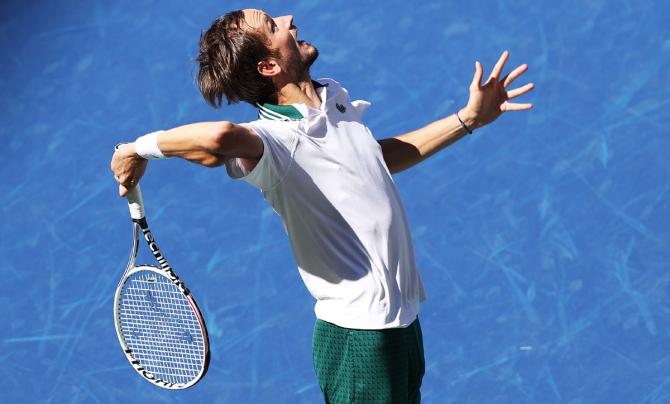 World number two Daniil Medvedev dropped his first set at this year's US Open but eventually overcame Dutchman Botic van de Zandschulp 6-3, 6-0, 4-6, 7-5 to reach his third straight semi-final at Flushing Meadows on Tuesday.

Van de Zandschulp had enjoyed a remarkable run, taking down 11th seed Diego Schwartzman to reach his first Grand Slam quarter-final, where he fired off 20 forehand winners and was the first player here to take Medvedev past the two-hour mark.

The Dutch qualifier outlasted the Russian in a 20-shot rally and then converted on break point in the fifth game of the third set before taking it on Arthur Ashe Stadium, the first sign of weakness Medvedev had shown since arriving in New York.

But the 2019 runner-up, who fired down 13 aces in the match, came roaring back in the fourth set, winning all but two of his first-serve points and never facing a break point.

Van de Zandschulp fended off match point in the 10th game, holding his serve to wild applause from a rowdy New York crowd, but Medvedev responded with a quick hold and a break, helped by a double fault from the Dutchman.

The match was the first real challenge of the tournament for Medvedev, who looked on track to flatten yet another competitor at the start after getting up two breaks through the first five games.

The Australian Open runner-up never faced a break point in the second set, which he wrapped up in a brisk 22 minutes, but struggled in the third set, making 13 unforced errors, and van de Zandschulp pounced.

"First two sets were kind of under control. He was missing some balls, some important points," said Medvedev. "Then third and fourth set was really tough. He played top level, served really big.

"Was breaking the rhythm a little bit, so was really tough set. I'm really happy that in the fourth I managed to, first of all, hold my serve really easily and managed to break him in the end where I had few opportunities to do before also."

Medvedev, who lost in the semi-finals a year ago to eventual winner Dominic Thiem, is one of the main candidates aiming to thwart world number one Novak Djokovic's bid for a calendar Grand Slam - though he is not thinking about facing the 20-times major winner just yet.

"I don't think about him, because as we saw, anybody can beat anybody. If he's in the final, and if I'm there, I'm happy," said Medvedev. He's also happy, I guess."
Sabalenka makes quick work of Krejcikova en route to semis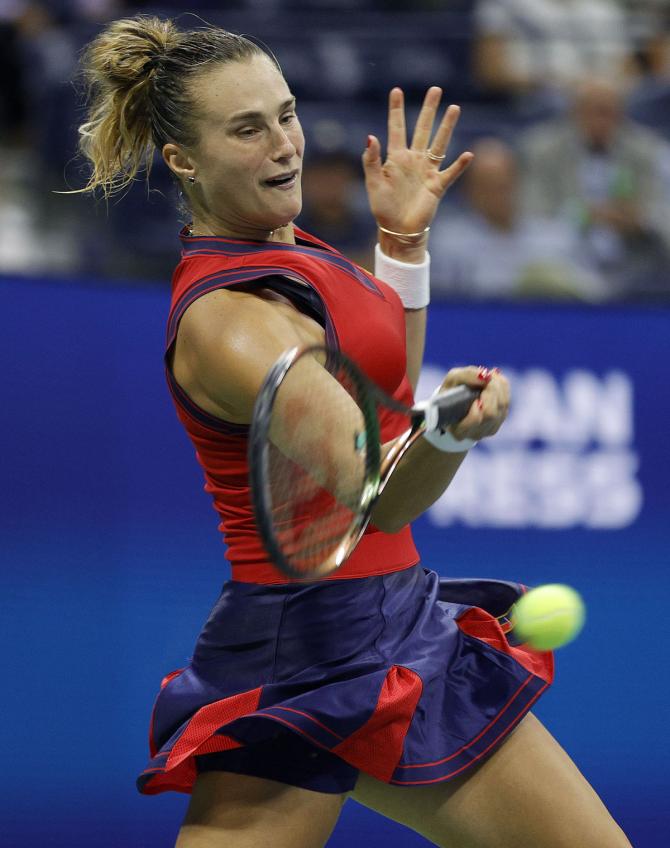 World number two Aryna Sabalenka bulldozed her way past Barbora Krejcikova 6-1, 6-4 on Tuesday to reach the US Open semi-final for the first time.

Sabalenka had three double faults in the first game at Arthur Ashe Stadium but still managed to hold serve, then came back in the second game to break a listless Krejcikova, who had just five winners in the first set and struggled badly with her serve.

Krejcikova, who captured her maiden major at Roland Garros this year, saw her serve broken at the start of the second set and while she got a bit of her spark back as the match went on it was too little, too late.

Belarusian Sabalenka, who reached the semi-final at Wimbledon, won eight of the first 10 points in the second set and did not face a single break point after fending off five of the six she faced in the first set.

She closed out the match after one hour and 26 minutes with an ace and beamed at the cheering New York crowd.

"I'm really enjoying my game here and every second on this court," said Sabalenka

Playing in the US Open main draw for the first time after five failed attempts to qualify, Krejcikova said her "tank is empty" after arriving in New York on the heels of a jam-packed schedule.

"At some point for sure I've got to stop, I've got to rest. It's really hard to say right now because there are just still so many tournaments coming up. I have to find a good schedule," she said.

"Right now I didn't know that the situation is going to be like this, that I'm going to be sitting here, be a top-10 player, have a chance to be in one of the main rooms."

Dissatisfied with elements of her performance, Sabalenka, who won the Madrid Open in May, hit the practice courts after her match before facing the media.

"I needed extra balls kind of a little bit to move, a little bit to feel my legs, to feel the move, to feel the court," she said. "Also my serve was really, I wouldn't say terrible, but was really bad today. I was trying to find the rhythm."

In the semi-final she will face 19-year-old crowd favourite Leylah Fernandez, who has defeated former champions Naomi Osaka and Angelique Kerber, as well as world number five Elina Svitolina, to reach the last four.

"It's nothing to lose for her. She's fighting for every point. The crowd are there and they are supporting her really loud," said Sabalenka.

"I was practicing today, and we didn't really need to watch the score because we heard ... the crowd really yelling."