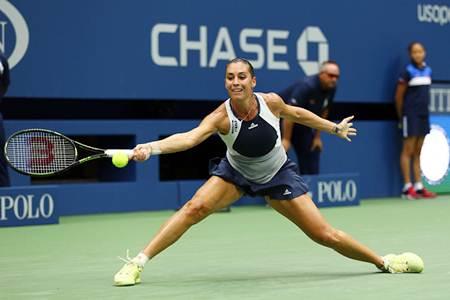 Flavia Pennetta, Italy's newly-crowned US Open women's singles champion, will represent Mumbai Masters in this year's Champions Tennis League along with 1996 Wimbledon men's champion Richard Krajicek of the Netherlands following the players' draft, in Mumbai, on Wednesday.
The second edition of the Champions Tennis League, the brainchild of former India Davis Cup captain Vijay Amritraj, will be played from November 23 to December 6, an increase of four days from last year's ten-day duration, announced Amritraj at a media conference after the players' draft.
Like last year, the tournament will feature six city-based franchises, five of which -- Mumbai, Hyderabad, Chandigarh and new entrants Raipur and Nagpur -- have been identified.
The sixth, a toss-up between Pune, Chennai and Bengaluru, will be named in the next ten days.
The winner's purse is Rs one crore and the runner-up's Rs 50 lakh.
Kevin Anderson of South Africa, who beat Great Britain's Andy Murray before losing to Stanislas Wawrinka in the quarter-finals of the US Open, and Croatia's Ivo Karlovic, who holds a 3-1 career win-loss record against world No 1 Novak Djokovic, will play for new entrants Team Raipur and last year's participants Hyderabad Aces respectively.
Among other notable current men's players who will play in the tournament, to be held in six cities, including Mumbai where the inaugural match is scheduled on November 23, are Andreas Seppi of Italy (Mumbai), Cypriot Marcos Baghdatis (Punjab Marshalls, Chandigarh), along with French professionals Feliciano Lopez (Team Nagpur) and Fernando Verdasco (for the undecided team).
The top women professionals in the fray, apart from Pennetta, are five-time Grand Slam women's singles winner Martina Hinges of Switzerland (Hyderabad), a former world No 1 and current doubles partner of India's Sania Mirza; Serb Jelena Jankovic (Nagpur), France's Alize Cornet (Raipur),
Ukraine's Elina Svitolina (Chandigarh) and Heather Watson of Britain, who will represent the league's sixth franchise.
Each match will be a best-of-five contest. Matches at all centres will be played on hard outdoor courts, barring Raipur, where it could be held on indoor hard courts.
"The schedule, which is more or less finalised, will be announced in 4-5 days. This time players are going to stay for 4-5 days in their home city which is what they desired," Amritraj explained.
The teams:
Punjab Marshalls, Chandigarh: Greg Rusedski (Legend, Australia), Marcos Baghdatis (ATP player, Cyprus), Elina Svitolina (WTA player, Ukraine), Saket Myneni (India).
Hyderabad Aces: Thomas Johansson (Sweden), Ivo Karlovic (Croatia), Martina Hingis (Switzerland), Jeevan Nedunchezhiyan (India).
Mumbai Masters: Richard Krajicek (The Netherlands), Andreas Seppi (Italy), Flavia Pennetta (Italy), Sriram Balaji (India).
Team Nagpur: Alex Corretja (Spain), Feliciano Lopez (Spain), Jelena Jankovic (Serbia), Divij Sharan (India).
Team Raipur: Thomas Muster (Austria), Kevin Anderson (South Africa), Alize Cornet (France), Ramkumar Ramanathan (India).
Undecided Team: Rainer Schuettler (Germany), Fernando Verdasco (Spain), Heather Watson (Britain), Vishnu Vardhan (India).
Image: Italy's Flavia Pennetta executes a forehand return to Roberta Vinci of Italy during the women's singles final at the 2015 US Open.
Photograph: Clive Brunskill/Getty Images