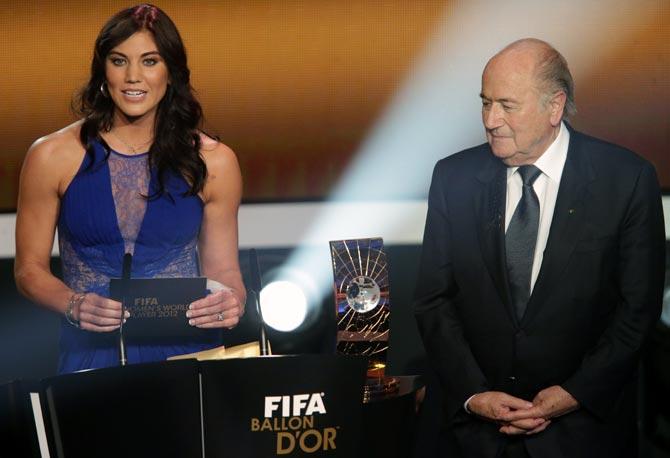 IMAGE: Hope Solo, left, with FIFA president Sepp Blatter during the FIFA Ballon d'Or Gala 2013 in Zurich, on January 7, 2013.. Photograph: Christof Koepsel/Getty Images
US women's team goalkeeper Hope Solo accused former FIFA president Sepp Blatter of sexual harassment, claiming the veteran administrator touched her inappropriately during an event three years back.

"I had Sepp Blatter grab my ass," 36-year-old Solo Portugal newspaper Expresso, adding that the alleged incident took place at the 2013 Ballon d'Or awards in Zurich before she went out on stage to present an award for the FIFA Women's player of the year.
When quizzed as to why she didn't reveal the incident much earlier, Solo replied: "I was nervous for the presentation. It was the Ballon d'Or I was presenting.

"After that I didn't see him and that was kind of bad. I didn't get to tell him directly 'don't ever touch me'. That's the way I've always handled things - directly," the World Cup winner added.

Blatter, who was banned from football for eight years in 2015 -- a term later reduced to six years after appeal, dismissed Solo's allegations.

"This allegation is ridiculous," his spokesman was quoted as saying by BBC Sport.

The 81-year-old, who headed soccer's global governing body for 17 years until he resigned in June 2015, was banned from all football-related activity along with the then European soccer boss, Michel Platini.