The Uruguayan Football Association (AUF) have promised to staunchly defend Luis Suarez after FIFA launched a probe into allegations that he had punched a Chilean opponent during a South American World Cup qualifier last month.
- FIFA probe Suarez for 'punching' player
Argentine referee Nestor Pitana missed the incident during Chile's 2-0 victory in Santiago on March 26 when forward Suarez and Gonzalo Jara tussled in the penalty area at a corner.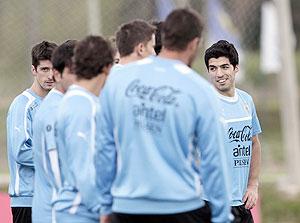 Uruguayan media reports said Suarez, who plays his club football at Liverpool, reacted after Jara, who also plays in England for Championship (second division) side NottinghamForest, grabbed his genitals.
"Once again we feel Suarez is being persecuted by different football leagues, mainly the English, and we think this is unjust because it's a normal action in football," AUF president Sebastian Bauza said.
"We will defend him very strongly. We are working with all the videos and pictures showing Suarez reacted to an initial aggression from Jara," he was quoted as saying on South American governing body Conmebol's website (www.conmebol.com).
The AUF earlier confirmed that soccer's world governing body were investigating the incident and said they would be consulting their lawyers before making their case ahead of an April 17 deadline.
Suarez, who has scored eight goals in the qualifiers, was booked for a separate infringement and is suspended for Uruguay's next qualifier away to Venezuela on June 11.
It was a second yellow card for Suarez, who was booked in a 1-1 draw against Ecuador in Montevideo last September.
Uruguay, World Cup semi-finalists in South Africa in 2010 and Copa America winners a year later, have taken only two points from their last six qualifying matches and are in danger of failing to reach the 2014 finals in Brazil.
Photograph: Andres Stapff/Reuters