Prayag United rode on Ranty Martins's second-half strike to beat defending champions East Bengal and end their 14-match unbeaten run in the final of the IFA Shield in Kolkata on Wednesday.
The purple brigade also avenged last year's defeat in the Shield final, as Man of the Match Martins's 80th minute goal denied overwhelming favourites East Bengal a record 25th title.
In a repeat of last year's final, which East Bengal won 4-2 on penalties, the giants looked like a shadow of their former selves, missing several opportunities while Chidi's injury proved to be a big blow.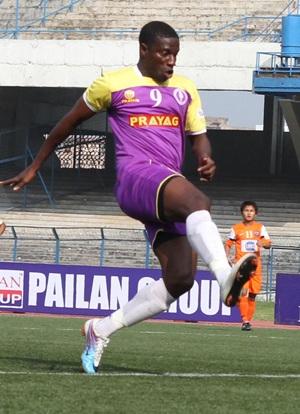 This was United's second big win after their 2010 Durand Cup triumph.
In pursuit of a record 25th title, East Bengal were tentative to start with as they played a watchful game in the first 45 minutes.
Without ace forward Edeh Chidi who was benched because of a hamstring pull, East Bengal clearly struggled.