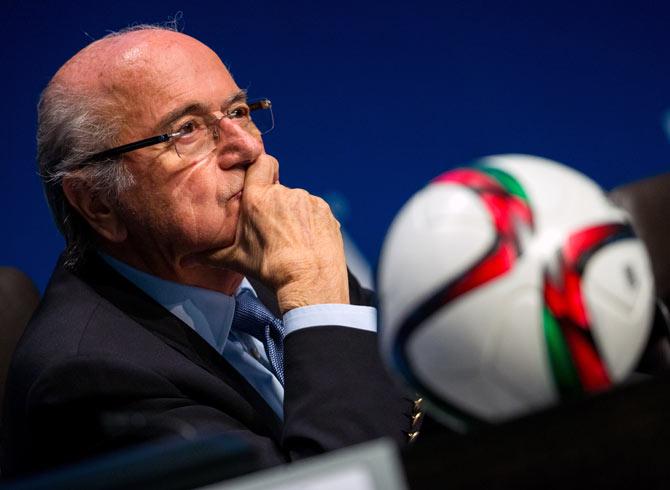 FIFA president Sepp Blatter. Photograph: Philipp Schmidli/Getty Images
FIFA president Sepp Blatter is a master of getting out from tight corners and his federation's initial reaction to Wednesday's extraordinary events in Zurich suggested he has every intention of pulling off another great escape.
- FIFA says Blatter to seek fifth term despite arrests
- Six officials arrested and detained in Zurich over FIFA graft
- FIFA: Swiss open criminal proceedings tied to 2018, 2022 World Cup bids
Soccer's governing body was thrown into disarray when several of its leading officials, including vice-president Jeffrey Webb, were arrested in a dawn raid at the luxury lakeside hotel which for years has pampered FIFA visitors.

They were detained pending extradition to the United States where they face federal corruption charges.

Swiss authorities also opened criminal proceedings against individuals on suspicion of mismanagement and money laundering related to the allocation of the 2018 and 2022 FIFA soccer World Cups to Russia and Qatar.

Blatter, FIFA's president since 1998, was not among them.

It was a day FIFA's detractors had long waited for, after years of corruption allegations which critics say have not been properly dealt with.

The initial outside reaction was that, surely, FIFA's annual Congress could not go ahead as planned amid such turmoil, and even less so the presidential election where Blatter is runaway favourite to see off a challenge from Prince Ali bin Ali Hussein of Jordan.

Yet, within hours, FIFA's head of media Walter de Gregorio was turning the situation on its head.

The raid was a result of action that FIFA had itself taken, he told reporters. Far from being a disgrace, it was an essential, if undignified, part of a cleaning-up process Blatter began in 2011, at the start of his fourth mandate.

And, while Blatter was not in the happiest of moods, the 79-year-old was ready for Friday's election for a fifth term.

De Gregorio said the Swiss investigation stemmed from a complaint that FIFA itself had made to Switzerland's attorney-general's office in November following an investigation by its ethics committee into the bidding process for the hosting of the 2018 and 2022 World Cups.

"The timing may not be obviously the best but FIFA welcomes this process and FIFA co-operates fully with the attorney general of Switzerland and the Federal Office of Justice," he said.

"Of course Congress will take place. One thing has nothing to do with the other."

AMIABLE IMPRESSION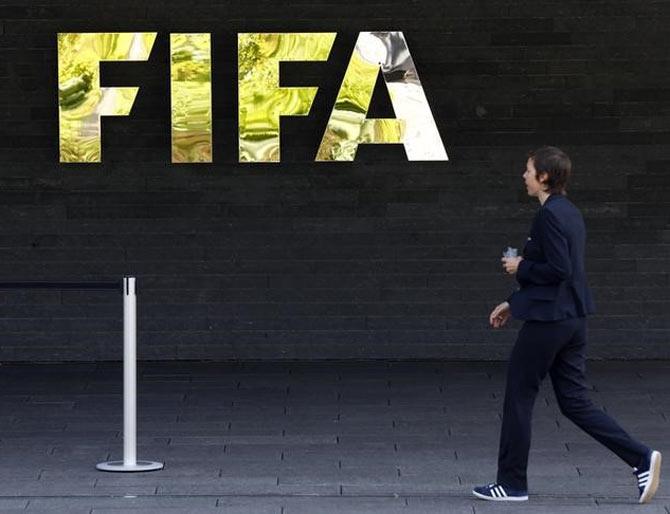 The FIFA headquarters in Zurich. Photograph: Ruben Sprich/Reuters
Blatter comes across as an amiable character with eccentric ideas about football but he has shown in the past that he possesses a ruthless instinct for survival and extraordinary political nous.
- Swiss justice office blocked bank accounts in FIFA probe
- Warner's football tsunami warning finally comes true for FIFA

In 2001, FIFA faced potential financial ruin following the collapse of its marketing partner ISL/ISMM and Blatter was subjected to intense pressure to reveal details of FIFA finances.

He recovered from that obstacle and today his federation boasts reserves of more than $1 billion.

Blatter faced further troubles in 2002 when FIFA's then secretary general Michel Zen-Ruffinen claimed Blatter's 1998 election victory was based on bribery and corruption.

Blatter threatened legal action but never followed up the threat and when he beat Issa Hayatou of Cameroon by 139 votes to 56 in that year's election, Zen-Ruffinen was soon out of a job.

Four years ago, he was elected unopposed after his only rival, Mohamed Bin Hamman, was investigated in a cash-for-votes scandal and forced to withdraw.

Blatter has mastered the FIFA electoral system where the 209 member associations each hold one vote, meaning that tiny American Samoa holds the same voting rights as soccer powers like Brazil or Germany.

FIFA distributes revenue equally among its 209 members, a policy which helped the likes of Cape Verde to reach the African Nations Cup quarter-finals in 2013 and Costa Rica the World Cup quarter-finals last year.

Only Europe, which holds 53 votes, has pledged to vote against Blatter and, although some other associations may break ranks, those would be unlikely to result in more than a small dent in Blatter's majority.

Outside Europe, federations see Blatter as the force which keeps the game truly global in the face of the growing financial power of a handful of elite European clubs and leagues.

"He understands the cultures of different parts of the world that make up FIFA, so it is no coincidence that most of the members would vote for him," said Michel D'Hooge, 68, the honorary president of the Belgian FA and a FIFA executive committee member since 1988, told Reuters in August.

"Of course, you can say that they feel good because they receive a lot of money and grants from FIFA - that is his political behaviour."

Blatter, who has repeatedly said that he does not choose his executive committee, was said to be carrying on as usual on Wednesday and getting ready for Friday's election.