'We are trying to adapt to the climate, that's our basic goal'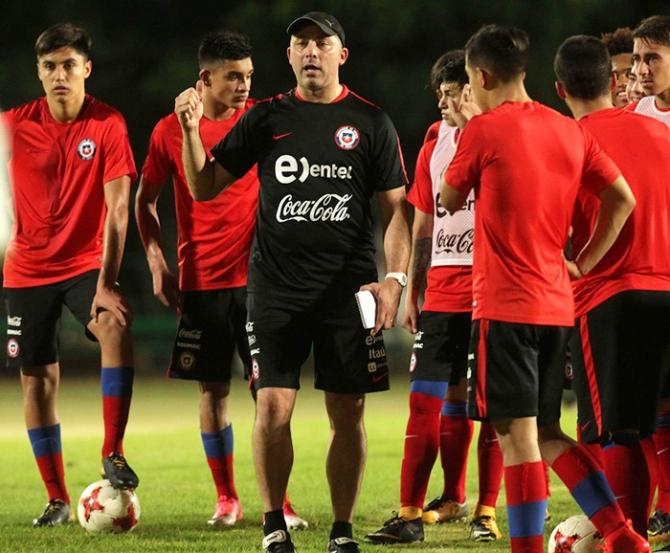 IMAGE: Chile players with their coach Photograph: La Roja/Twitter.
They have been the first to touch base but the Chile U-17 side is yet to come to terms with Kolkata's searing heat and humidity, which could pose a problem during their upcoming World Cup campaign.
In Chile's group, the other teams are Mexico, England and Iraq.
The La Roja juniors' forwards William Gama and Diego Valencia, on Wednesday, said that they are trying their best to adjust to conditions with four days left for their opening group league encounter against England on October 8.
"It's really difficult for not just me but for everyone in the team. But we are trying our best to adapt to the high heat and humid conditions," said Gama, who plays for club side Santiago Wanderers, told reporters after their first official training session.
His strike partner Valencia, who plays for the Catholic University said tackling the weather is their "basic goal".
"We are trying to adapt to the climate, that's our basic goal. The basic difference here is heat and humidity. We are trying really hard each day adapt to the conditions," Valencia said.
Chile had earlier made use of the facility of a private club to train for two days, while they also trained in a sauna-like condition and took Hatha Yoga lesson back home before heading to India.
But gauging their mood, they are caught in the wrong foot by the weather.
"We are doing our best to keep ourselves hydrated throughout the day," a team official said.
Chile would be eyeing a strong start against heavyweights England who have star forward duo of Borussia Fortmund's Jadon Sancho and Manchester United's Angel Gomes on their roster.
But the young Chileans are not intimidated by their presence.
"They both are really good but they are like us only. We don't look them as our enemies but seek inspiration from them," Valencia said.
"Three days left, we are concentrating to play as a unit. The most important part is to play as a team."
Asked whether he is also aspiring to play for English clubs, Valencia said: "I'm not thinking that far. Right now, the focus is on our group matches and qualify for the pre-quarterfinals."
His team-mate Gama also said they are prepared to take on their English opponents.