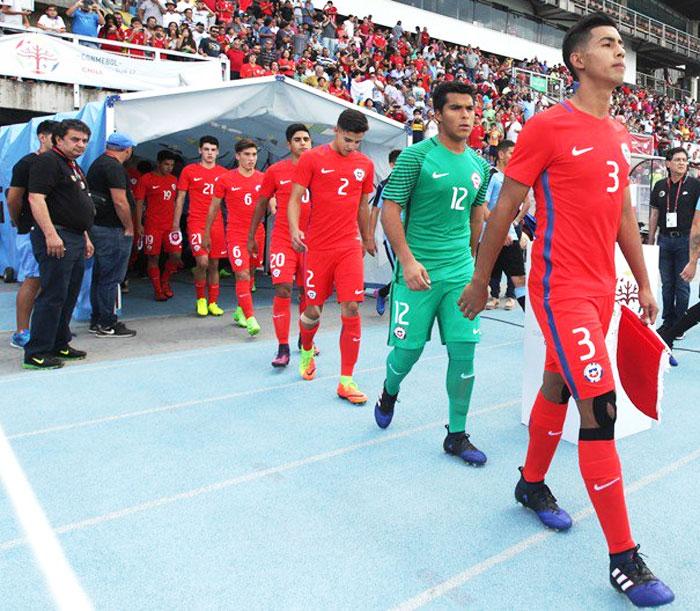 IMAGE: Chile goalkeeper Julio Borquez (2nd from right) walks out of the dugout with teammates. Photograph: FIFA.com/Twitter
A vital cog as their last line of defence, Chile goalkeeper Julio Borquez wants to carry forward his momentum of the South American U-17 Championship into the FIFA U-17 World Cup in India.
Adjudged the best goalkeeper at the South American U-17 Championship in March, Borquez had a clean slate in four games to help his side secure a FIFA U-17 World Cup qualification for the first time since 1997.
"I'm striving to give my best and carry forward the momentum. It's really a big competition, all teams are tough, you need to prepare really hard," Borquez told reporters after their practice at a private club.
"Those clean sheets are not just down to me. It's a group achievement and dependent on everyone doing their job. I did mine and my teammates did theirs."
Chile featured in the 2015 U-17 World Cup by virtue of being the hosts but it was way back in 1997 that they had qualified for the event.
"It's really an honour to represent the team. We work as a unit. It's a proud moment that I'm playing for Chile in the Under-17 World Cup," he said.
He is happy to play an inspirational role among his teammates.
"We all are good friends in the team, each one of us knows their responsibility well. They look up to me for inspiration, and seek advice. I'm happy to help them out."
The teenager picked Manuel Neuer, Claudio Bravo and Thibaut Courtois as his three role models.
"Perhaps I identify a bit more with the first two because of the way they can play with the ball at their feet," he said about the German and the Chilean shot stoppers.
"Neuer is something of an exemplar for the future of goalkeeping."
Chile will open their campaign against England on October 8 in the 5pm match at the Salt Lake Stadium. Iraq and Mexico are the other teams in Group F.
Iran team arrive in Goa for World Cup
A 21-member Iran national team arrived in Margao, Goa, for the FIFA U-17 World Cup, beginning on October 6.
Iran, who are placed along with Germany, Guinea and Costa Rica in Group C, will play their first match against Guinea on October 7.
After failing to qualify for its first eight tournaments, Iran competed at their first FIFA U-17 World Cup at Trinidad and Tobago 2001, where they suffered three defeats and finished bottom of their group.
Eight years later, the Asian side participated in Nigeria 2009, where they advanced from their pool, but lost in the round of 16 to Uruguay, 1-2 after extra time.
At UAE 2013, Iran again reached the knockout stages, but again came unstuck, losing 1-4 to Nigeria, the eventual winners of the competition.
Iran topped Group A at the 2016 AFC U-16 Championship, due to a better goal difference than second-placed UAE. They then made certain of their place at the U-17 World Cup by comfortably disposing of Vietnam (5-0) in the quarter-finals, before beating Korea DPR in the semi-finals via a penalty shoot-out, following a 1-1 draw. In the final versus Iraq, which failed to produce a goal after 120 minutes of football, the Iranians were involved in another shoot out but this time they ended up on the wrong end of the scoreline (3-4).
Abbas Chamanyan coached number of clubs prior to being handed the reins of the Iranian U-20 national team in 2002. The following year he took charge of the U-17 team for the first time, guiding them to a fourth-place finish at the 2004 AFC U-17 Championship.
Although Iran couldn't qualify for the 2005 U-17 World Cup, the 53-year old tactician returned to the helm in 2016 and subsequently oversaw their qualification for India 2017 via the AFC U-16 Championship.