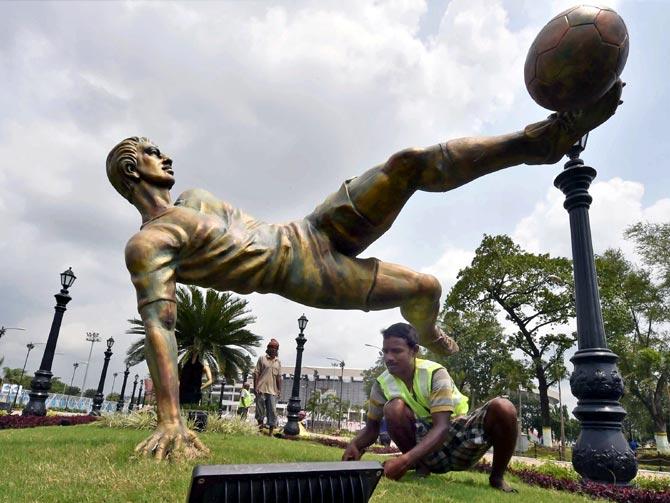 IMAGE: Work underway at the Vivekananda Yuba Bharati Krirangan in Kolkata ahead of FIFA Under-17 World Cup. Photograph: PTI
The upcoming FIFA Under-17 World Cup to be held in the country next month could lead to a massive interest in football if the event gets good exposure in the media, said Manchester United legend Ryan Giggs.

"Well a lot of things have to be right, (like) exposure on TVs. The reporting of the event has to be good and it has to capture the imagination," Giggs said in Mumbai on Friday.

"I know cricket is the number one sport, but also there are a lot of football fans in India. If the exposure is there and people sit down with the families and watch it, then it can have a massive effect," said the 43-year-old Welshman who had turned out for the glamour English Premier League outfit for close to a quarter century until his total retirement from the game.

"In Euro (2016) my country, Wales, had never been to a major championship for 60 years and they got to the semi-final and the impact it had on Wales as a country was huge not only for the next couple of months, but actually a generation," he pointed out.

"So, you have a generation watching Wales in a major championship, exciting the whole family and you will remember that forever. So, if India get it right with the Under-17 Championship, then it will last for a long time, which can only be good for football in India," the former United player added.

Giggs is in the country to play in the second season of Premier Futsal where he leads the Krystal Mumbai Warriors with the first match of the season slated to be played in Mumbai on Friday.

Giggs also believes that futsal can have the impact like T20 had on cricket in India as lesser number of players was required for the sport.

"I think it (futsal) is important because in India, speaking from my last visit, it is very hard to get full-size pitches. With futsal you don't need a lot of space and also you don't need a lot of players," he explained.

Giggs recalled how while speaking on futsal last year he made the reference to T20 cricket.

"Test cricket is the top level, but T20 took the sport on to a different audience, and futsal can do that because technically there is lot of difference. It is more accessible because you only need 10 players," he said.

'Manchester United has the best squad in EPL'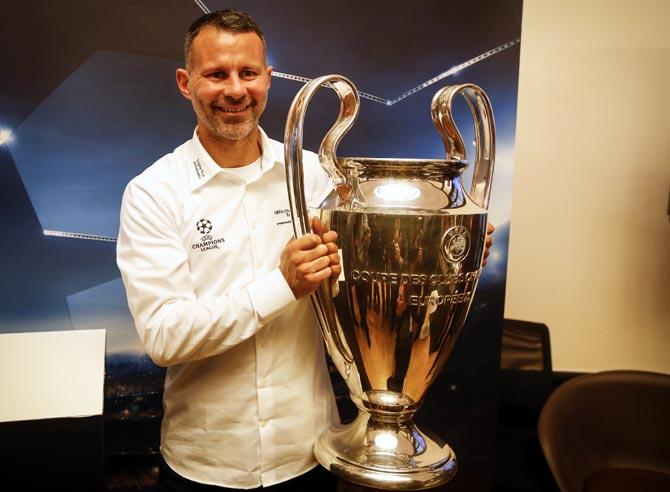 IMAGE: Ryan Giggs with the UEFA Champions League Trophy. Photograph: Srdjan Stevanovic/Getty Images

Backing his former club to the hilt, Giggs said he expects a close fight for the title between his old club, Manchester United, and Manchester City in this season's English Premier League.

"This season will be decided between Manchester United and Manchester City because of the recruitment. It's also (City manager Pep) Guardiola's and (United manager Jose) Mourinho's second season. They have the best squads. City have very good attacking players, probably best in the league, but United's squad is the best," the United legend stated.

"They got the best squad in the league, in Europe and to handle injuries and suspensions. The other clubs - Tottenham (Hotspur), now playing their home games at Wembley, I thought it would be a problem. Chelsea (is) not recruiting like City or United.

"Liverpool also - I don't think they have got the goalkeeper or defenders to win the Premier League. I could be wrong, it's tough to predict," said the 43-year-old former Welshman.

The former Wales star also defended Englishman Wayne Rooney's decision to quit international football and also welcomed his move to his former club Everton.

"It's always difficult when you retire from international football. You have to look at everything because playing for your country is important. He wanted to move to a new club and give his all there. He hadn't become an automatic choice for England. When you play for 15-20 years with a big club and then you play in the Champions League, internationals, you literally don't get any rest," he said.

"I retired at 33 from international football and then I played for another seven years. So for me, it was a massive thing because during that international break, you get a little rest and a little time to recuperate and recharge the batteries. It was huge for me and hopefully, it will be the same for Wayne," he said.