'We told them that this year is all the more important as the World Cup is taking place in Delhi and if there is any situation where pollution levels shoot up, it will be embarrassing for the country.'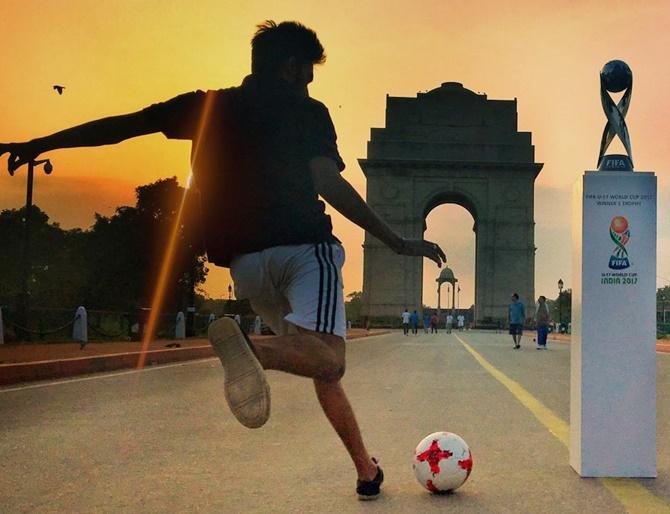 IMAGE: The FIFA Under-17 World Cup promotional event at India Gate in New Delhi. Photograph: FIFA.com
Environment Minister Harsh Vardhan on Tuesday instructed the states in the National Capital Region to take all possible measures to prevent any spike in air pollution levels during the upcoming Under-17 FIFA World Cup in Delhi to save India the blushes.

Keeping the onset of winter in mind, Vardhan held a review meeting with the officials of Delhi, Uttar Pradesh, Haryana, Rajasthan and Punjab at the environment ministry in New Delhi with the issue of biomass burning as the focal point.

"We told them that this year is all the more important as the World Cup is taking place in Delhi and if there is any situation where pollution levels shoot up, it will be embarrassing for the country. It can have an international impact," Vardhan said.

The environment ministers of these states were called for the meeting but no one showed up.

Vardhan downplayed their absence saying soon another meeting will be convened and the ministers will be notified about it well in advance.

Delhi Environment Minister Imran Hussain is on Haj pilgrimage. Chief Secretary M M Kutty represented the local administration.

On the issue of biomass burning in neighbouring Haryana and Punjab, which has been identified as a major source of air pollution in Delhi during the winter months, Vardhan said the states were informed about the possible mitigating measures.

The Council of Scientific and Industrial Research-run plant in Uttarakhand's Kashipur can process 10 tonnes biomass per day to produce 3,000 litres ethanol on a daily basis and the states were apprised of the same, Vardhan said.

All feasible measures to convert the agricultural waste into wealth will be conveyed to the states in the next few days, he said.

"We require thorough coordination amongst the neighbouring states and a multipronged approach where the sources of pollution are dealt with from all angles," Vardhan said.

The Supreme Court-appointed Environment Pollution (Prevention and Control) Authority had also directed the concerned authorities recently to take all possible preventive measures to arrest any spike in pollution.

The 24-team tournament will have eight matches in Delhi Jawaharlal Nehru Stadium between October 6 and 16, just before the onset of winter, when stubble burning in Punjab and Haryana and Diwali fireworks push up pollution levels in the city to alarming levels.