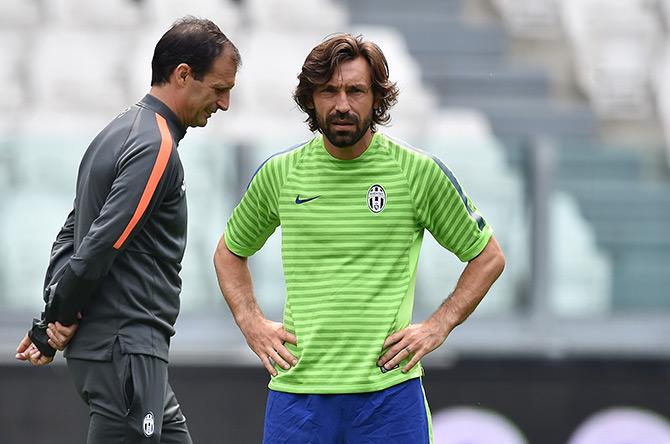 Andrea Pirlo (right) and coach Allegri look on during the Juventus Media Day. Photograph: Valerio Pennicino/Getty Images
When Juventus coach Massimiliano Allegri was greeted with a hail of eggs and spat at on his first day at work he could not have imagined he would lead them to the brink of an unprecedented treble of titles in his first season.
Yet that is what the phlegmatic 47-year-old Italian has achieved since succeeding Antonio Conte in July last year, with Juve already crowned Serie A champions and Italian Cup winners and facing Barcelona in Saturday's Champions League final.
A former coach of Juventus's detested rivals AC Milan, Allegri initially refrained from tinkering too much with Conte's side, which had won three straight scudettos but failed to make much of an impact in Europe's elite club competition.
However, as the season wore on he stamped his mark on the team and Juve are now in a position to win the treble for the first time in their history, matching Jose Mourinho's Inter Milan in 2009-10, the only Italian side to achieve the feat.
Conte favoured a more attacking approach, with a three-man defence and five in midfield.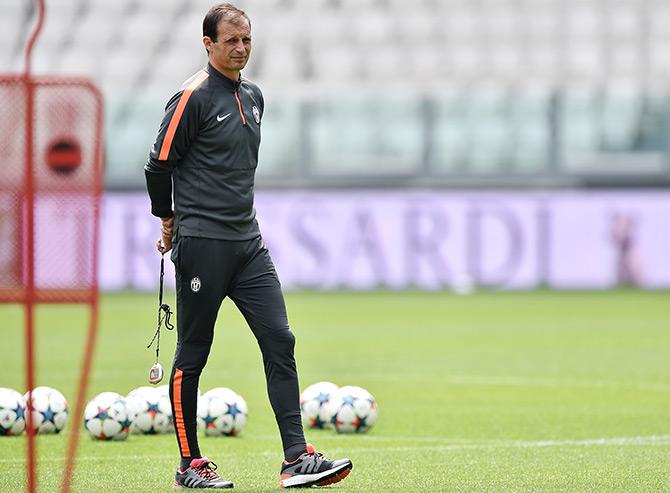 Juventus FC head coach Massimiliano Allegri looks on. Photograph: Valerio Pennicino/Getty Images
Allegri mainly stuck with that system before switching to a more defensive 4-4-2 formation and instructing his players to sit back and hit opponents on the counter attack.
It is a strategy that has clearly worked for Juve this term and they ended the Serie A campaign 17 points clear of closest challengers AS Roma.
Whether it works against a Barca attack featuring Lionel Messi, Neymar and Luis Suarez remains to be seen but the way Juve's defence dealt with Real Madrid's Cristiano Ronaldo, Gareth Bale and Karim Benzema in the semi-finals was impressive.
Allegri earned praise this week from his captain and goalkeeper Gianluigi Buffon, who is returning to the Olympic Stadium in Berlin where he can reflect on happy memories of Italy's triumph against France in the 2006 World Cup final.
"What has impressed me most is (Allegri's) great intelligence in terms of settling in with the squad and trying to find out not just our technical qualities but also the mentality and morale of the whole team and each individual player," Buffon told UEFA.com on Monday.
"Plus, his tactical knowledge is outstanding -- after years of playing a certain system, he managed to get us to try alternatives and to perform even better," he added.
"Even so, he has not tried to completely change how we've played because in some situations or matches we have returned to how we played before.
"So I think this is his biggest achievement. He didn't try to enter the club and change everything, but to make changes step by step based on our needs and the situations encountered."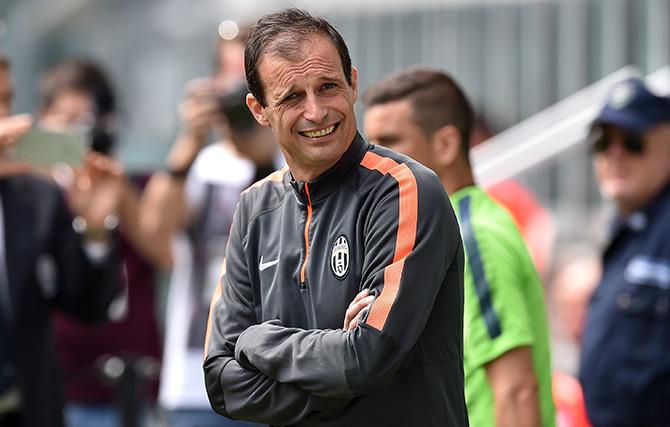 Coach Massimiliano Allegri during the Juventus Media Day in Turin. Photograph: Valerio Pennicino/Getty Images
When Allegri arrived some 300 Juve fans turned up to protest his appointment at their Vinovo training ground and he was pelted with eggs and spat on.
He had been sacked by Milan, with whom he won the Serie A title in 2011, six months earlier and his reputation was tarnished by the seven-times European champions' woes.
However, the former Cagliari and Napoli midfielder has quickly put that phase of his coaching career behind him.
At Milan he suffered Champions League elimination at Barca's hands in two successive seasons, losing in the quarter-finals in 2011-12 and the round of 16 a year later.
Saturday's match will be a chance to exact revenge and achieve something no Juventus coach, or indeed any Italian coach, has before.