Ahead of the UEFA Champions League proper, which kicks-off next month, Bikash Mohapatra/Rediff.com tells football fans what to expect in this year's competition.
The UEFA Champions League draw, held in Monaco on Thursday, offered an interesting concoction of the expected and the unpredictable, with some endearing sub-plots thrown in.
While on the one hand there were, for the first time, five clubs representing a country (Spain), underlining the recent Spanish dominance of European football, on the other was a surprise debutant from Kazakhstan (Astana).
It is imperative here to mention that no team, in the Champions League era (beginning 1992-93), has successfully defend its title. Having said that, it is also fact that it if there's any team that looks capable of breaking this jinx, it is the reigning champions, FC Barcelona.
With competition proper starting next month, and the final scheduled to be held at the San Siro in Milan next May, here's an analysis of what to expect in this year's competition.
Easy pickings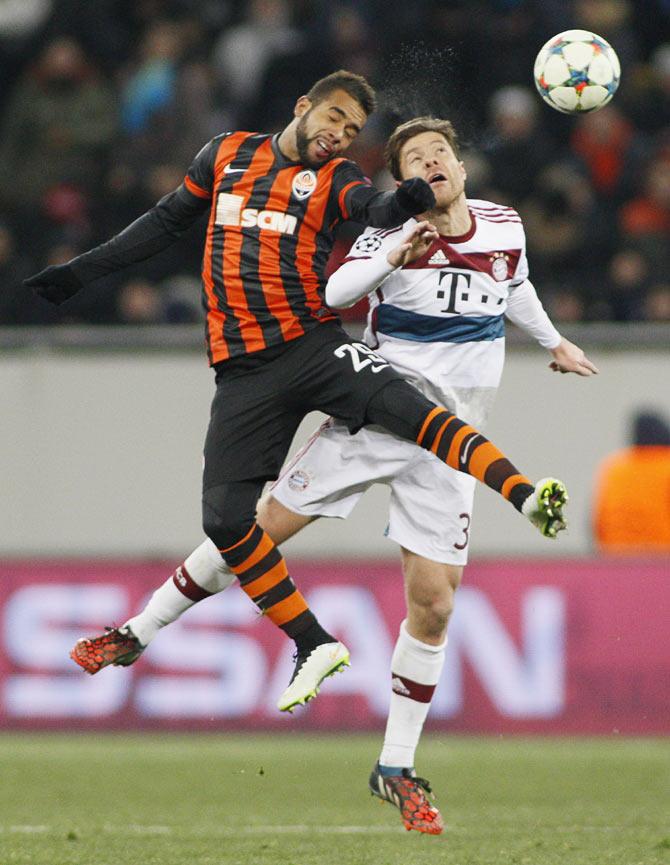 IMAGE: Shakhtar Donetsk's Alex Teixeira (left) challenges Bayern Munich's Xabi Alonso as they vie for an aerial ball during their Champions League round match. Photograph: Valentyn Ogirenko/Reuters
As is the case with most draws, there are a few straightforward groups.
For instance, it is difficult to fathom FC Malmo and Shakhtar Donetsk upsetting the applecart of Paris Saint-Germain and Real Madrid in Group A.
On the contrary, it will be interesting to see if the French champions can cause an upset or two, and finish atop the group ahead of the 10-time champions.
The outcome of Group F can be predicted even before the ball is kicked. Bayern Munich and Arsenal it will be, in most likelihood, in the same order as mentioned.
Likewise, former champions Chelsea and FC Porto should have it easy in Group G.
Up for grabs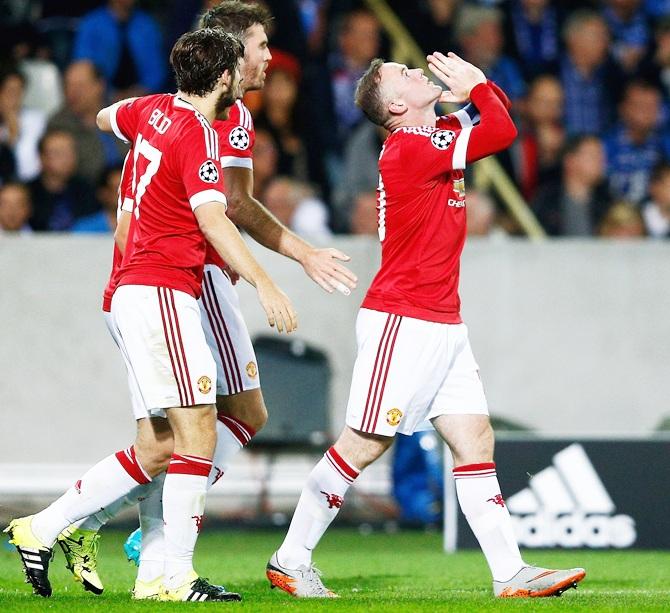 IMAGE: Manchester United's Wayne Rooney, right, celebrates scoring. Manchester United should have it easy in Group B. Photograph: Dean Mouhtaropoulos/Getty Images
These are the more open groups, to be precise.
For starters, holders FC Barcelona should comfortably win Group E. In fact, they couldn't have hoped for an easier draw.
However, the battle for second place will be anything but easy, with two former finalists in contention.
Bayer Leverkusen, perennial underachievers in the German Bundesliga, showed glimpses of their potential in the final qualifying round win over Lazio.
And Roma have probably made the acquisitions they so desperately needed to make a mark in Europe.
In what has been a busy summer in the transfer market, the Rome club has acquired the likes of Edin Dzeko, Mohamed Salah, Wojciech Szczesny, Iago Falque, Lucas Digne and Antonio Rudiger.
Likewise, Manchester United should have it easy in Group B. However, any one of PSV Eindhoven, Vfl Wolfsburg and CSKA Moscow can fit into that second slot.
Atletico Madrid should finish atop Group C, with former champions Benfica and Turkish champions Galatasaray vying for the second slot.
Finally, we have Group H, the most open of all the groups.
Zenit Saint-Petersburg, Valencia and Olympique Lyon will be the one fighting for the honors, with Belgian champions Gent hoping to cause a flutter or two.
So unpredictable are the teams involved that it is impossible to fathom the eventual standings. I predict – and I might be wrong – twice finalists Valencia topping, with Zenit second.
The proverbial 'group of death'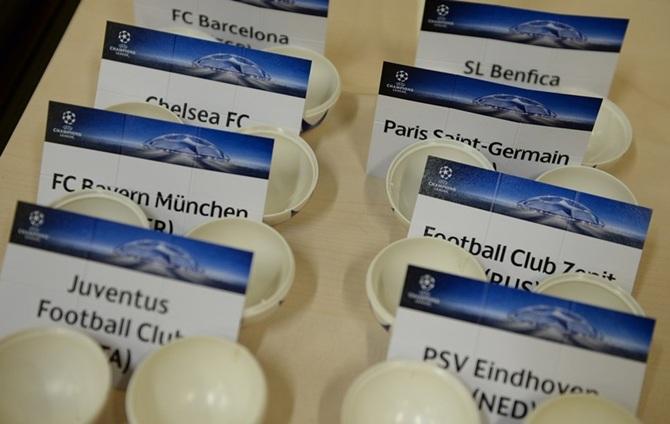 It has to be Group D.
The same has Italian champions Juventus, Europa League winners Sevilla, Manchester City and Borussia Moenchengladbach.
It couldn't have been worse for the Old Lady.
Having lost stalwarts in Andrea Pirlo, Carlos Tevez and Arturo Vidal in the off-season, Juve have done well in the transfer market, signing the likes of Paulo Dybala, Mario Mandzukic, Sami Khedira, Simone Zaza, Alex Sandro, Neto and Juan Cuardado.
That said, they are in a process of rebuilding a side, and that takes time – the loss in the Serie A season-opener to Udinese being a case in point.
After an impressive run to the final last season, and winning a fourth straight Scudetto on the canter, Massimiliano Allegri's would definitely have hoped for a better draw.
Alas, it was not be.
In Sevilla, they have an opponent of European pedigree, the Spanish side having won the UEFA Europa League a record four times in the last decade. Besides, the Andalusian club has strengthened considerably in the off-season, having acquired the likes of Adil Rami, Ciro Immobile, Michael Krohn-Dehli, Yevhan Konoplyanka and Fernando Llorente, the last of them have just arrived straight from Turin. Coincidence, eh!
City have expectedly made significant investments in the transfer market, completing big money moves for Raheem Sterling, Nicolas Otamendi and Fabian Delph. Even as one writes this, the highly-rated Kevin de Bruyne is on his way from Wolfsburg to Manchester.
Moenchengladbach is by far the weakest side in the group, however, definitely not one to be underestimated.
What should work in Juventus's favour is their Champions League pedigree. Besides winning the competition twice (1985 and 1996), they have been runners-up a record six times.
The homecoming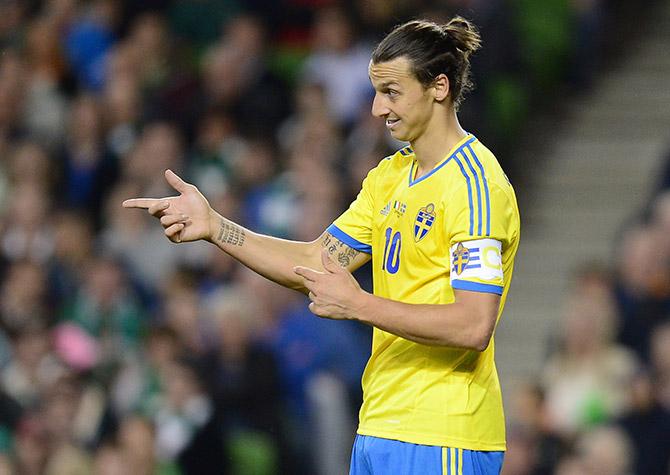 IMAGE: Sweden's Zlatan Ibrahimovic will return to his hometown and first professional club, when PSG visit Malmo. Photograph: Jamie McDonald/Getty Images
There will be quite a few mentions under this head.
To begin with we have the legendary Zlatan Ibrahimovic returning to his hometown and first professional club, when PSG visit Malmo.
In fact, shortly after the draw was made the Swedish club's official website crashed, with fans desperate for details.
Ibra himself had earlier posted a message on his official Facebook account to say it was "a dream" to return to his old club.
Likewise, we have Memphis Depay returning to Eindhoven only a couple of months after making a 25 million pounds move to Manchester.
Louis van Gaal's side will visit the Dutch champions for the Group B tie. The Manchester United coach plotted PSV's defeat on many occasions during his time at the all-conquering Ajax side in the 1990s. He will have to do so one more time.
Finally, we have Jose Mourinho returning to where his success story started.
The Portuguese manager guided FC Porto to Europa League and Champions League titles in successive seasons (2003-04) before embarking on a trip to Stamford Bridge and earning further success.
Now, in his second stint as Chelsea manager, Mourinho will attempt to win the trophy that has eluded him so far during his two terms with the London club.