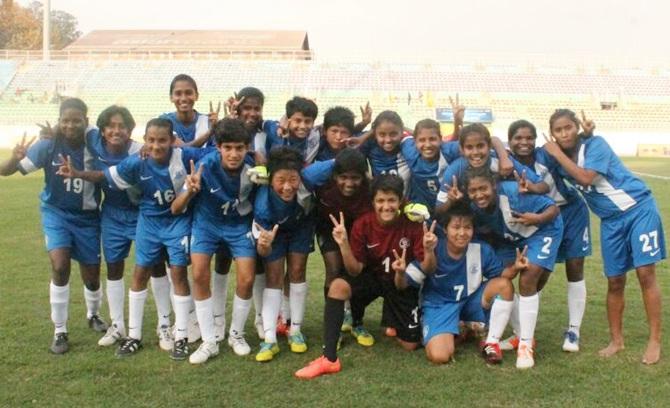 Under 14 girls' team. Photograph: AIFF Media
The Indian Under-14 girls' team landed safely in New Delhi from an earthquake struck Kathmandu, Nepal on Sunday.
The constant tremors sent panic waves amongst the squad. The Indian eves were slated to play Iran on Saturday but the match was cancelled due to an earthquake, which jolted Dasarath Stadium, Kathmandu. The Indian contingent was warming up in stadium, when the calamity struck.
With the wrath of nature continuing throughout the night, the Indian eves were prompted to stay outside of their hotel rooms.
The All India Football Federation was constantly in touch with the Indian embassy present in Nepal and with the External Affairs Ministry to ensure that the U-14 girls get priority in extraction.
With the TribhuvanInternationalAirport shutting down, the Indian contingent sought the help of the Indian Armed Forces, who flew the girls back in a military plane. The Indian Embassy present in Nepal also helped the 23 member contingent, inclusive of 18 Players and 5 Officials.
The head coach Rocky Maymol said: "I thank God for looking after us and for keeping us safe. The earthquake was a frightening experience for everybody including me and obviously the players"
"We were warming up when the calamity struck and we could see the destruction of the buildings and the Stadium gate. It was a horrific scene, but the girls handled it bravely and we all, with God's help, came out of the scenario," she added.
AIFF president expresses gratitude
The AIFF President Mr Praful Patel expressed his gratitude to Nepal Football Federation for helping in the extraction of Indian U-14 girls team from an earthquake struck Kathmandu, Nepal.
"Special thanks to Nepal Football Association. They looked after them (Indian U-14 girls team) like their own children and kept us posted throughout", Patel tweeted.
"Thank god they (Indian U-14 Girls Team) have landed safely in New Delhi and are on the way to IBIS Hotel. Thank you Indian Air Force and Government Of India. Great Feat", the AIFF President tweeted his relief on hearing the news of the safe arrival.
Patel also announced that the All India Football Federation will be donating Rs 11 Lakh for relief of the earthquake victims through the Nepal Football Association.