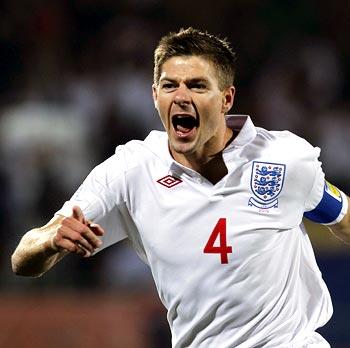 After morale boosting victories against Bulgaria and Switzerland, England skipper Steven Gerrard has said the Three Lions are still a distance away to be a great team.
Victories in both the Euro 2012 qualifiers so far have not lessened Gerrard's World Cup exit pain.
Gerrard said: "Two wins don't make you a good team. What makes you a good team is qualifying for a tournament and then doing well when you get there."
"I've said all along that it's going to take two more years before we'll be able to say that England are back. The first-half performance was everything the manager asked for," The Sun quoted him, as saying.
"We got a bit lazy in the second half, but the result was never in doubt. People have been talking about how Switzerland don't concede many goals and are a difficult team to break down - but we ripped them apart," he said.
Wayne Rooney put England ahead in the 10th minute.
Gerrard said: "We were always comfortable, even when they pulled it back to 2-1. It was a great strike from the kid, but we never felt in danger and the third goal killed them off."
"We showed we are a powerful team. People said we should have beaten Bulgaria but 4-0 was a great result. Likewise, we have beaten Switzerland 3-1 and in all honestly it could have been five or six."