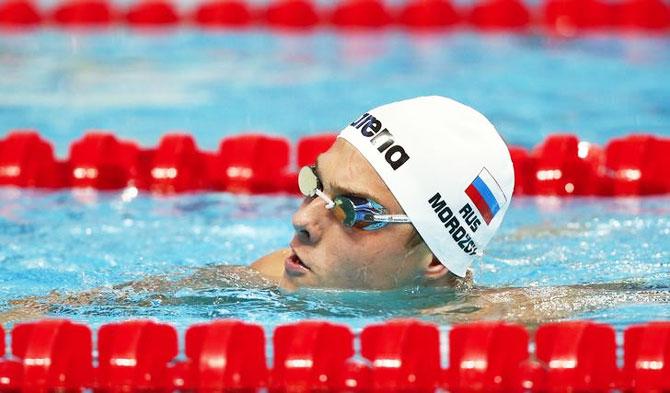 IMAGE: Russia's Vladimir Morozov reacts. Photograph: Hannibal Hanschke/Files/Reuters
Russian swimmers Vladimir Morozov and Nikita Lobintsev have launched an appeal against the ruling banning them from next month's Rio Olympic Games even though they have never failed a doping test.
The duo want the Court of Arbitration for Sport (CAS) to overturn the decision of swimming's world governing body FINA to ban them for not falling within the IOC's new criteria on allowing Russian competitors to compete.
The criteria states that only if they have not previously failed a drugs test and can prove they are clean and not associated with the country's doping regime are Russian athletes eligible to take part in the Games.
Lobintsev and US-based Morozov were part of Russia's bronze-medal winning 4x100m freestyle team at the London 2012 Games, while Lobintsev also won a silver medal in the 4x200m freestyle relay at Beijing 2008.
The two swimmers were suspended after they were named in relation to the "disappearing positives" revelations -- false reporting of positive samples -- in a World Anti-Doping Agency (WADA)-led independent report into doping in Russia.
Neither swimmer has ever served a ban for a positive test, and both have repeatedly said they are clean athletes.
Their bans came after the International Olympic Committee (IOC) last week handed the responsibility of banning Russian athletes back to the relevant sports federations.
Any Russian who has served a doping suspension is automatically ruled out but others were also to be banned if they could not effectively "prove themselves clean".
A statement issued by CAS on Saturday said the two swimmers had asked sport's highest court to declare the IOC ruling "invalid and unenforceable."
They also requested "that the IOC validates the entries submitted by the Russian Olympic Committee" - thereby reinstating them into the Russian team for the Games.
Lobintsev tested positive for meldonium earlier this year but was then cleared and given a "no fault" finding.
That was because of the decision by WADA that there was not enough information about how long meldonium takes to leave the body, and that athletes using it before it became illegal at the start of the year could not be punished.
Former world junior champion Daria Ustinova, also banned by FINA and who was given a warning over steroid use when she was 14, and four other swimmers who have previously served doping suspensions have not appealed.
Whistleblower Stepanova again asks IOC to review her Rio ban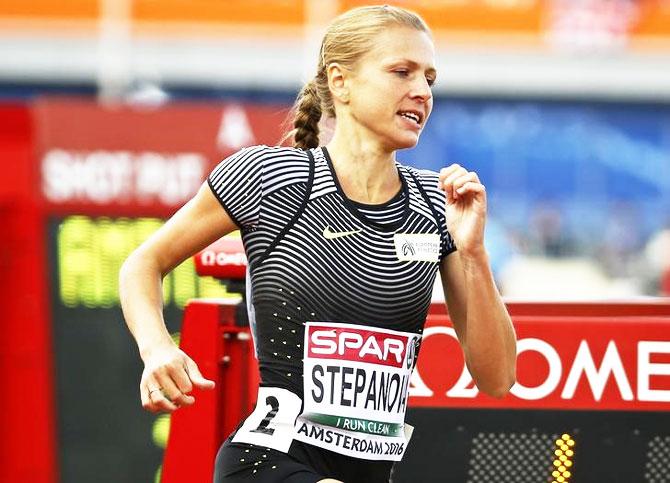 IMAGE: Yulia Stepanova of Russia competes. Photograph: Michael Kooren/Reuters
Whistleblower Yulia Stepanova, who helped expose state-backed doping in Russian sports and has fled the country, asked again on Saturday for the International Olympic Committee (IOC) to reassess her exclusion from the Rio Games.
Stepanova's hopes of running at the Olympics, which start next week, as an independent athlete where dashed when the IOC ruled earlier this month that no Russian with a doping background could take part.
In a letter to the IOC, Stepanova and her husband Vitaly, however said the middle-distance runner had earned the right to compete after having been cleared by the world athletics federation, the IAAF, and praised for her actions.
"We would herewith once more like to ask the IOC (Executive Board) to re-assess the decision on Yulia. As we have been able to show... there have been mistakes and omissions by the (IOC) Ethics Commission.
"We trust that we could also clarify that the IOC ruling on previously banned Russian athletes does not apply to Yulia as she was declared eligible to run."
But the IOC later on Saturday rejected any review of her case and had not discussed the matter at its Executive Board.
"The final decision by the IOC Executive Board has been taken already," said IOC spokesman Mark Adams when asked whether Stepanova's renewed appeal would be reviewed.
Stepanova has rejected an invitation to attend the Olympics as a guest, with the IOC arguing her drugs-tainted past made her ineligible to compete in Rio.
The athlete, who provided evidence of doping in a series of documentaries by German broadcaster ARD, has fled Russia and is living in hiding at an undisclosed location in the United States, fearing for her safety.
As a result of her revelations, Russian track and field athletes have been banned from the Games with many Russians from other sports also excluded over past doping offences.
The IOC has said any Russian athlete with a doping past, including Stepanova, would not be allowed to compete in Rio as it tightened controls following the fallout from the doping scandal involving their country.