'It was a good performance with two ridiculous mistakes'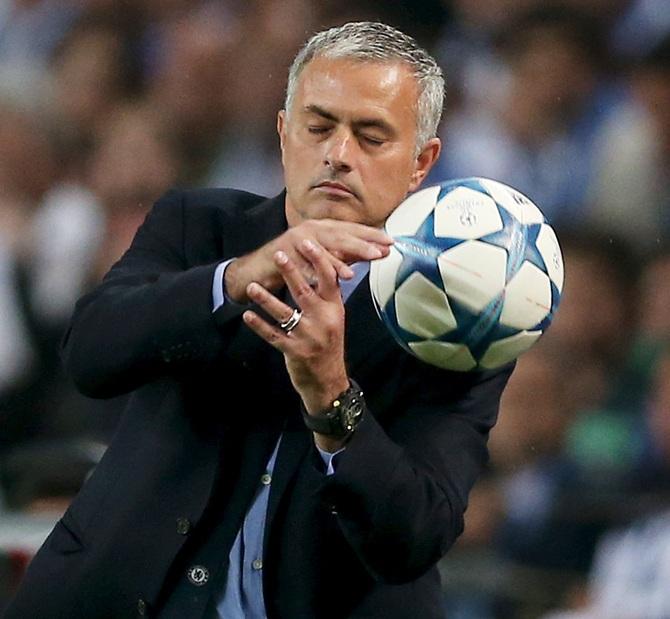 Chelsea manager Jose Mourinho reacts. Photograph: Matthew Childs/Reuters
Jose Mourinho lamented Chelsea's defending from set-pieces but was otherwise satisfied with his team's display after they suffered a fifth defeat of the season on Tuesday, 2-1 at Porto in the Champions League.
Champions League PHOTOS: Porto sink Chelsea; Arsenal lose again
Porto, the club Mourinho led to the Champions League title in 2004, scored in each half through Andre Andre and Maicon while the 2012 winners replied through Willian on the stroke of halftime.
"It was a good performance with two ridiculous mistakes," the Chelsea manager told reporters. "Sometimes you make those mistakes and you are not punished, we were punished.
"With the second goal it's a ridiculous mistake. We watched dozens of repetitions of Porto taking corners, I thought we were completely ready for that and at a moment when the game was under control and were preparing to make a change we conceded that goal.
"We had another similar mistake when they hit the post. Apart from that I thought we had balance, defensively we had no problems and the defenders played well," added Mourinho.
"The basic thing in football is a defensive set-play, the ball is there, you know the movements, control the spaces."
Dynamo Kiev and Porto top Group G with four points from two games. Chelsea are on three while Maccabi Tel Aviv have yet to get off the mark.
The Londoners are also way off the pace in the Premier League and Mourinho has criticised his side at times during a difficult start to the season.
On Tuesday night, however, he refused to 'point the finger' of blame at his squad.
"I don't think my players deserve me to be critical of them apart from the two mistakes," he added.
"It's a difficult opponent and a difficult place to play. The Champions League brings a different emotion to matches, to the crowd and opposing players. I think the team played well."
Porto's first-half scorer Andre hailed a memorable performance by his side.
"The most important thing is that the team keeps winning, no matter who scores," said the midfielder.
"I would be equally happy if we won and I was not the one scoring. We are all very happy, we played a great match and now we have to savour this victory."