Last year's Wimbledon runner-up Tomas Berdych survived a major first-round scare at the Halle Open on Tuesday, saving three match points to struggle past 169th ranked Belgian Ruben Bemelmans 5-7, 7-6, 6-4.
World number seven Berdych, who won the German grass court tournament in 2007 and is the highest ranked player left in the draw after the withdrawal of Roger Federer, was made to work hard against the 23-year-old at the Wimbledon warm-up event.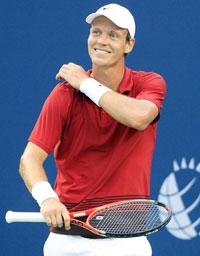 "Today it was experience that gave me this win. But I believed I could do it and I just hung in there," said the Czech who arrived late in Halle and lost his luggage on the way.
"Now it can only get better," Berdych told reporters.
Bemelmans carved out three match points in the second set tiebreak but Berdych held firm, first firing a winner that bounced just in, then hitting a volley before grinding out a baseline rally to stay in the match and win it in the third set.
World number eight Gael Monfils had far less trouble against fellow Frenchman Florent Serra, easing into the second round with a 6-4, 6-3 victory.
Former world number two Tommy Haas ran out of steam in his ongoing comeback, losing to Italy's Andreas Seppi 6-2, 6-7, 6-3.
The injury-ravaged 33-year-old German, currently ranked 896th and on yet another comeback after a 14-month injury break, got an early break against the world number 51 but Seppi raced through the next six games to win the first set.
Haas seemed to have rolled back the years in the second set, cutting down on unforced errors on a sun-drenched afternoon and fighting off a match point to clinch the second set tiebreak with an overhead smash.
But Seppi proved fitter breaking him at 3-2 and holding serve to snatch the match.
"After two hours I was starting to run out of steam," Haas told reporters. "I feel some pain in the lower back but that is no excuse for this defeat."
The loss of fan favourite Haas was more bad news for the organisers who on Tuesday said they were "shocked and disappointed" that five-time Halle champion Federer pulled out at the last minute on Monday, a day after losing to Rafa Nadal in the French Open final.
"Everything had been prepared for him. From a private jet to a nanny, we had everything prepared for him," said tournament director Ralf Weber.
"We will now approach other top players like Nadal and Novak Djokovic. They have both been here before and they have no contract with the Queen's tournament (held at the same time in London). Their management teams has signalled they are ready to talk."