Tokyo well positioned one year out from Games after early troubles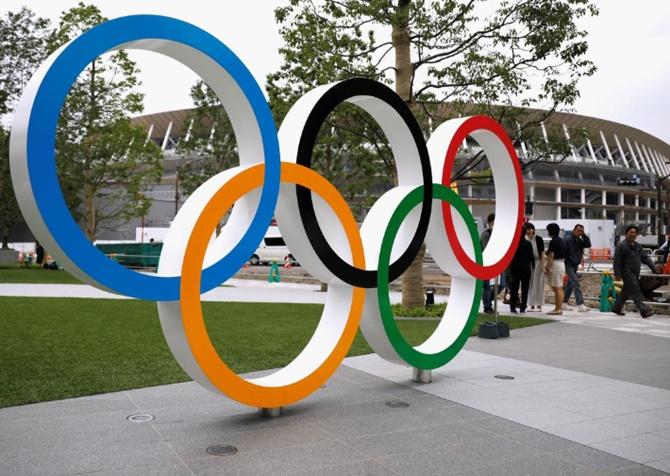 When Tokyo was awarded the rights to the 2020 Olympics in Buenos Aires six years ago, it was hoped Japan's reputation for efficiency and the bid's promise of a "compact games" could ensure a smooth buildup to the event.
Tokyo has mostly delivered on that hope, despite some early teething problems.
Wednesday marks one year until the opening ceremony in the almost-completed National Stadium, and organisers believe they are on schedule to deliver a unique Games.
In particular, they point to the unprecedented demand for tickets, with 3.22 million sold during the first domestic sales phase last month, surprising organisers so much that their sales policy has had to be amended.
Over 200,000 people in Japan and abroad have also applied to be volunteers at the Games in a further indication of the excitement building in the country.
Unlike in Rio de Janeiro three years ago, where the Olympics were met with widespread disdain over the use of public funds, the Japanese public have embraced their chance to show off on the world stage.
Local sponsorship revenue has also passed $3 billion, more than any other previous Games, which is necessary as Tokyo 2020 organisers battle rising costs.
The latest budget figures, released in December 2018, put the total cost of the Games at $12.6 billion, well above their original estimate at under $7 billion.
With all the newly-built and refurbished venues on track to be completed on schedule, organisers may be heading into the final straight with few major headaches but it has not always been plain sailing.
Earlier this year, Tsunekazu Takeda resigned as president of the Japanese Olympic Committee following allegations of suspected corruption related to the 2020 bid.
In 2015, organisers had to scrap the original logo over accusations of plagiarism and the original design for the centrepiece National Stadium was ditched because it was deemed too expensive.
There are also fears over how hot Tokyo may be for athletes and spectators.
A record heatwave in July 2018 killed over a dozen people in Tokyo, with monthly average temperatures reaching more than 30 degrees for the first time since 1998.
Warm, muggy and wet weather will likely greet International Olympic Committee President Thomas Bach in Tokyo on Wednesday for the landmark celebrations that will see the designs for the Games' medals unveiled.
Toyota fetches new way to use AI, self-drive tech in Tokyo Games
Miniature remote controlled cars have proved to be a crowd pleaser at track and field throwing events, but for the Tokyo 2020 Olympics Toyota Motor Corp is upping the game with a hi-tech way to fetch javelins and hammers: pint-sized, self-driving A.I. robot cars.
The Japanese automaker on Monday unveiled a prototype of its next-generation field support robot, a miniature shuttle bus-shaped contraption based on its "e-Palette" ride-sharing vehicle under development, to be used at the Tokyo Games.
The vehicle, roughly the size of a toddler's ride-on toy car, can travel at a maximum speed of 20 kilometres per hour and sports three cameras and one lidar sensor which enable it to "see" its surroundings.
Draped around the top of its body is a band of LED lights which illuminate when the vehicle uses artificial intelligence to follow event officials towards the equipment hurled by athletes onto the pitch during shot put, discus throw, hammer throw and javelin events.
After the equipment, which can weigh as much as eight kilograms for hammers, is loaded into the vehicle by the official, a press of a button located towards its front sends the car zipping back to athletes for later use.
"Humans are better suited to picking up heavy equipment from the field, but for quickly transporting them to their respective return depots, that's a job that's best performed by robots," Takeshi Kuwabara, a project planning manager who oversaw the robot's development, told reporters.
"Our aim was to leverage the strengths of both humans and robots."
The trend of using miniature cars to fetch equipment at Olympics throwing events goes back to the 2008 Beijing Games, where firey-red, rocket-shaped cars scurried along the green to collect hammers, javelins and discuses.
At the 2012 Games in London, BMW developed and operated a fleet of blue and orange miniature Mini Coopers to collect the discarded equipment, while pint-sized green pick-up trucks performed the task at the Rio games in 2016.
A major sponsor of the Tokyo Games, Toyota also plans to dispatch virtual reality enabled humanoid robots and mobile telepresence robots which will enable spectators who cannot attend the games in person to experience events and meet athletes remotely.
A fleet of robots on wheels developed by the automaker which can perform household tasks for elderly people and hospital patients will also guide guests to wheelchair seats and serve refreshments at events.
Toyota plans to use the games to showcase its new vehicle technologies ranging from fuel-cell buses to on-demand, self-driving taxis, as it competes with industry rivals and tech firms to develop affordable autonomous cars and electric vehicles (EVs), along with on-demand transportation services.