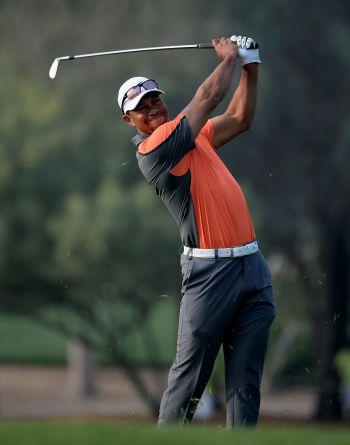 Shiv Kapur, who could be one of the lucky few to get a chance to play with Tiger Woods on his private visit to India, feels the World's No. 1 golfer's coming to the country would make a huge impact.
Tiger is scheduled to visit the Delhi Golf Club (DGC) on February 4 and play with Pawan Munjal, the CEO and Managing Director of Hero MotoCorp.
"Without doubt, Tiger's visit to India is going to make a huge impact and there is a big buzz already not only in Delhi but the whole country," Kapur, who is a product of DGC, said after shooting a third round 70 in Dubai.
Kapur is currently playing in the Dubai Desert Classic, where he is four-under 212 and placed tied 47th with rounds of 72-70-70.
"I know the members at my club (DGC) are very excited and there is going to be people climbing all over the walls just to get a glimpse of Tiger. While the format of the round or play is not clear, it seems a few corporate and personal guests of Munjal will get a few holes each with Tiger and a couple of professionals will possibly figure with Tiger in a 'mini match' over 3-4 holes," said Kapur.
The event will be out of bounds for both public and media.
"But the interest he will generate even in his short visit...it not just from a golf perspective but basically he is one of the biggest celebrities in the world and with him coming to India for a first time is going to generate a huge amount of interest in golf," said Kapur.
"I can only see an upside with more attention to golf. With Woods coming to India, it can only increase the fan base. All the members and juniors at Delhi Golf Club will be watching with enormous interest, and while it will not be open to the media it's all about promoting the game, Delhi Golf Club and golf," said Kapur.
"As everyone knows cricket dominates sport in India, so for at least one day the world's top golfer is going to steal all the attention away from the Tendulkars and Dhonis. It's all going to be about golf and Tiger Woods," he added.
Kapur said a lot of youngsters in India are taking up golf mainly because of Tiger's influence on the game.
"Tiger's already had such a big impact on golf in India because seven or eight years ago we never saw young kids in India taking up golf. And now in India those playing the game are getting younger and that's predominantly due to Tiger," he said.
Image: Tiger Woods
Photograph: David Cannon/Getty Images