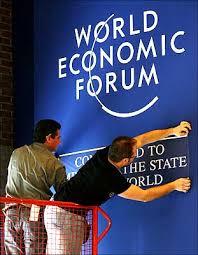 As this Swiss ski resort town gets ready to host World Economic Forum's annual meeting, some high profile participants have already announced their no-shows at this much-awaited talk fest of rich and powerful from across the world.

Pakistani Prime Minister Nawaz Sharif has cancelled his visit to WEF annual meeting after a deadly Taliban attack in his country.

He was scheduled to participate in a session on 'Eurasia: The Next Frontier?' at WEF, and was also expected to hold a number of private meetings on the sidelines.

These meetings would have been significant as it was to be Sharif's first outing to such a large global business summit ever since he won an historic election in Pakistan last year.

German Chancellor Angela Merkel, who was one of the star attractions here last year, also had to cancel her trip after a skiing accident.

From India, industrialist Kumar Mangalam Birla will not be attending the meet, despite his initial confirmation.

Besides, his compatriots Chanda kochhar and Anand Mahindra had already decided to skip this year's WEF annual extravaganza despite being regulars here for the many past years.

Among Indian businessmen, it remains to be seen whether Vijay Mallya manages to make it to the summit, as troubles at his now-defunct airline venture Kingfisher has resulted into problems for his other ventures and have also cast a shadow on his big-ticket sale of majority stake in United Spirits to global liquor giant Diageo.

The top officials of Diageo are also among those expected to be present and those scheduled to meet them include Maharashtra Chief Minister Prithviraj Chavan, who is on his maiden foreign visit as head of the Western Indian state with eyes on foreign investments.

Among other Indian leaders, Tata group chief Cyrus Mistry and Reliance Industries head Mukesh Ambani are so far expected to be present, but neither of them are as yet scheduled to participate in any officials sessions.

However, both of them are expected to be separately attending a number of private meetings with businessmen and political leaders from across the world, which assume significance in the wake of overseas revenues accounting for a bulk of the respective top-lines of their groups.

The two top Indian industrialists are expected to come face to face also at a number of dinners and receptions hosted on the sidelines of WEF summit, including one hosted by Mistry himself on behalf of his group's IT arm TCS and an India Reception by industry body CII.

India to have strong presence at WEF Hundreds of top-notch chief executive officer will discuss state of global economy among themselves and around 40 heads of government at the annual talk-fest
of rich andpowerful people from across the world here for five days, beginning Tuesday.
At this Annual Meeting of World Economic Forum, being held for 43rd time in the Swiss skiing resort town of Davos, India will be represented by a nearly 125-member delegation, including senior ministers and top corporate leaders.
Besides economic issues and hardcore business talks, problems in Syria, Iran's possible return to global diplomatic tables, as also the ever-evolving future of euro zone is expected to hog the limelight during the summit.
The 40 heads of state or government expected in Davos include those from the UK, Australia, Japan, Iran, Israel, Brazil, Italy, Mauritius, Republic of Korea besides Switzerland itself.
The Indian leaders expected to attend the meeting include Finance Minister P Chidambaram, Commerce Minister Anand Sharma, Planning Commission Deputy Chairman Montek Singh Ahluwalia and Minister for Urban Development & Parliamentary Affairs Kamal Nath.
Minister for Heavy Industries and Public Enterprises Praful Patel, Power Minister Jyotiraditya Scindia and Maharashtra Chief Minister Prithviraj Chavan are also scheduled to attend the meeting.
Besides WEF meetings, the Indian leaders are also expected to hold bilateral and multi-lateral meetings with their counterparts from other countries, as also with the CEOs of many top companies from across the world.
Among over 100 corporate leaders expected from India, the prominent names include Tata group chief Cyrus Mistry, Reliance Industries chairman Mukesh Ambani, as also other top businessmen such as Azim Premji, Adi Godrej, Gautam Adani, Rahul Bajaj, Sunil Mittal, Kris Gopalakrishnan, Prashant Ruia, Shivinder and Malvinder Mohan Singh, G M Rao, Pawan Munjal, Naina Lal Kidwai, Naresh Goyal and Uday Kotak.
WEF says that its 44th annual meeting would be attended by over 2,500 participants from almost 100 countries, including 1,500 business leaders, and this year's theme would be 'The Reshaping of the World: Consequences for Society, Politics and Business'.
Only once was the WEF meeting held outside Davos and the Co-Chairs of the Annual Meeting 2014 are Kris Gopalakrishnan (president, Confederation of Indian Industry and Vice-Chairman, Infosys), Marissa Mayer (Yahoo CEO), Aliko Dangote (CEO of Nigeria's Dangote Group), Jiang Jianqing (Chairman of Industrial and Commercial Bank of China), Joseph Jimenez (CEO of Novartis), Christophe de Margerie (CEO of Total) and Judith Rodin (President, Rockefeller Foundation).