Bajrang kept himself away from a cell phone for seven long years
Has never gone for sight seeing during competitions abroad
Doesn't even know how a cinema hall looks like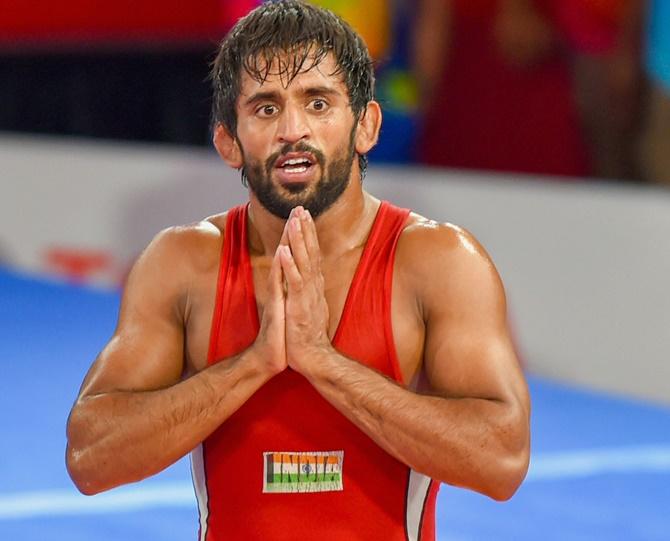 Bajrang Punia has established himself as the undisputed superstar of Indian wrestling but the road to glory was fraught with temptations which he had to overcome with strong will.
The Commonwealth Games and Asian Games gold medallist and the only Indian grappler to win two World Championship medals, Bajrang kept himself away from a cell phone for seven long years, has never gone for sight seeing during competitions abroad and doesn't even know how a cinema hall looks like.
These are small temptations but Bajrang thinks they can easily distract, so it was necessary to keep a strong check on himself. And the result of that is for everyone to see.
The 24-year-old Bajrang has savoured an extremely successful 2018 season, winning five medals including three at Major championships.
"There are a lot of things I wanted to do but controlled myself. I always wanted to have a cell phone. But When I started playing international events in 2010, Yogi Bhai (his mentor Yogeshwar Dutt) advised against it, saying it was a distraction. Even now when he is around, I hide my phone," Bajrang said in a free-wheeling chat.
"He knows that now I have a mobile phone but I never use it in front of him. If he is with me for 10 hours, I will not touch my phone for 10 hours," Bajrang said on the sidelines of Haryana Gaurav Cup, organised by Yogeshwar Dutt Academy in Sonepat.
"In 2017, Yogi Bhai got busy with his academy and I was mostly training at Bahalgarh Camp, so to keep in touch with him, I had to keep phone. Now I can watch wrestling videos on my phone but I use it only in absence of Yogi Bhai."
When pointed out about his active Twitter handle, he said it's managed by one of his friends.
Bajrang has travelled to more than 30 countries for competitions and training but his stay in those countries has been restricted to venue, hotel and airport.
"I have never gone for sight-seeing after my competitions abroad. Now Yogi Bhai does not travel with me, but I prefer taking rest and concentrate on practice. Even at this year's CWG and Asian Games, athletes would go out after their bouts but I did not," he said.
"Even at CWG when media found me at the Games Village after winning gold, they asked me why I have not gone out with compatriots. But said I have Asian Games and World Championships approaching, I can't afford to drop my guard, I have to prepare."
"Now I have understood all this discipline is paramount for an athlete. It has become a habit now. I eat on time, practice on time and sleep on time."
Further he revealed that, "I have never been to a cinema hall. Whatever movies I have watched, I have watched on television."
Talking about the heart-breaking defeat in the World Championship title clash against Japan's Takuto Otoguro, Bajrang said he had no option but to digest the result.
"I have to make myself understand and accept it. I have learnt from my mistakes. I was trying for counter-attack, but I could not do it. It was his day and not mine. It was an exciting bout, going up and down. No one knew who was going to win."
"There was no time to watch the videos of his bouts, so I could not strategise. Also, he was tired and was taking frequent breaks. If he had fought without breaks, I would have bridged the points gap and done better."
Bajrang said he was surprised by Takuto's consistent leg-attack.
"I have to wrestle with him again at the Worlds and Olympics. I have been advised to work on defense and counter attacks. Yogi Bhai said, overall, it was a good performance and whatever mistakes have happened, should be worked out before Olympics."
"Shako Benitidis (his personal coach), was happy with silver. He feared that if I had won gold here, I would not have worked hard for Olympics. Now this defeat, he thinks, will rankle me and push me harder for the Olympic gold."
"I am more determined now. First, I will make up for this opportunity lost at the 2019 Worlds and then prepare hard for Tokyo Olympics. I have not started training as yet, there is an injury."
Three foreign coaches – Hossein Karimi, Andrew Cook and Temo Kazarashvili -- will soon join the India camp to help out the wrestlers.
Bajrang said although there is not much difference between Indian and foreign coaches but the latter do help them in finding quality sparring partners abroad.
"Foreign coaches will surely help. The biggest benefit is, they are well-connected. Their network is strong. They help in getting good sparring partners when we train abroad."
"When they are here, their full focus is on wrestlers in camp. In India, the coaches have family and job obligations as well. But foreign coaches can spend 24-hours with us," he added.