Djoker hits the books, video to study opponents
'It's my job to know my colleagues, tennis players, especially if I get to play them'
'I've got to do my homework, sit down with the team, prepare myself well with the video analysis'
Novak Djokovic of Serbia blows a kiss to the camera for his mother's birthday after winning his third round match against Fernando Verdasco of Spain. Photograph: Mark Kolbe/Getty Images
Top seed Novak Djokovic has justifiably been nicknamed 'The Djoker' on the men's tennis tour with his comical impersonations of fellow players but on Saturday he revealed he is also a bit of a swot.
Djokovic safely negotiated his way into the fourth round of the Australian Open with a 7-6(8), 6-3, 6-4 victory over the feisty Fernando Verdasco to set up a fourth round clash with Luxembourg's Gilles Muller.
Seeking a fifth Australian Open title, Djokovic said he had never played Muller before but had already accumulated quite a dossier of intelligence on the lefthander.
"He's been on the tour for many years. Best junior in the world. He's got a great serve, lefty," Djokovic said when asked about what he knew about the 31-year-old. "He comes to the net. He has a nice slice serve. That's his favourite.
"He struggled a little bit with injuries last couple years, but I think last six months has been playing some of his best tennis."
The level of discussion of his next opponent surprised many, who are used to players blandly stating they have not even looked at the draw let alone studied potential opponents.
"It's my job to know my colleagues, tennis players, especially if I get to play them," Djokovic said. "So I do my homework.
"To come to the court and play the way I want to play against somebody I never played against before...can be dangerous because of the uncertainty of what he's going to do in some moments.
"That's why I've got to do my homework, sit down with the team, prepare myself well with the video analysis."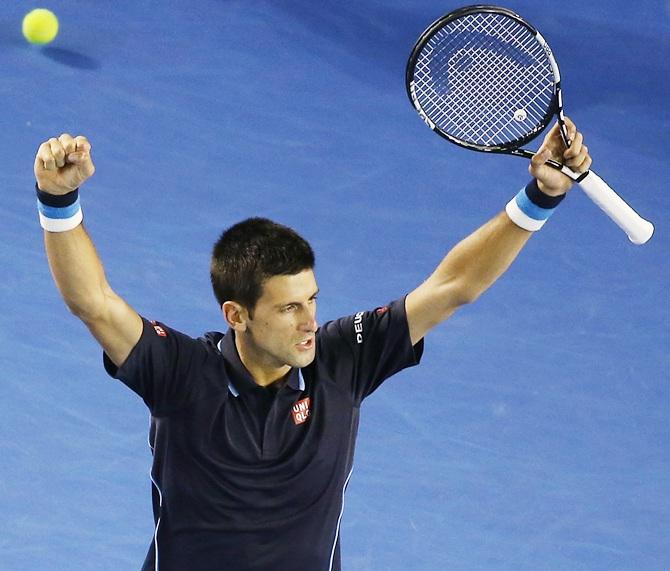 Novak Djokovic of Serbia celebrates his win in his third round match against Fernando Verdasco of Spain. Photograph: Michael Dodge/Getty Images
Djokjovic had no such concerns with analysing Verdasco and was well aware of the threat the former top-10 player posed.
The Spaniard had taken Rafael Nadal deep into the night in a five-hour, five set marathon during the 2009 semi-finals in Melbourne and only trailed the Serb 6-4 in their career head-to-head record.
"It was a big challenge for both of us," Djokovic added.
"He was a former top-10 player. Somebody that loves playing on the big stage, a powerful game.
"(The) turning point probably was winning the tiebreaker as close as it was ... so I'm glad to go through in straight sets."