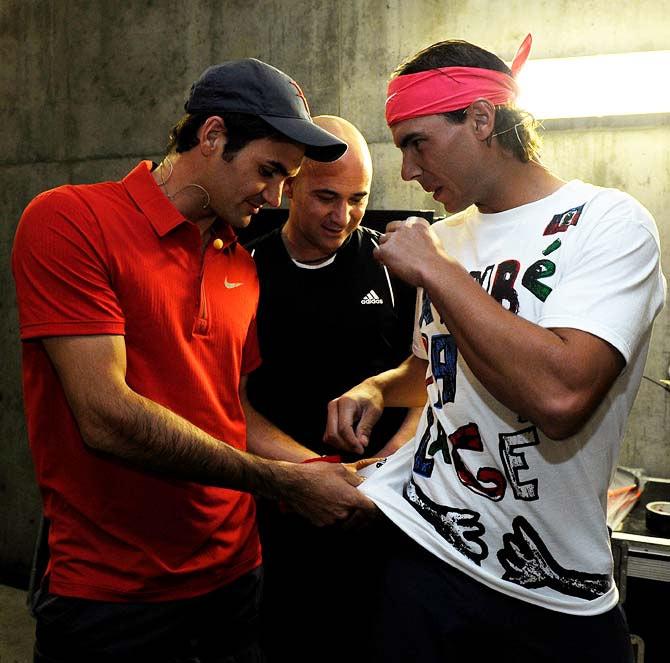 (Left to right): Roger Federer, Andre Agassi and Rafael Nadal. Photograph: Kevork Djansezian/Getty Images
Plotting a path to the Australian Open has never been trickier or more uncertain. Even the best players are baffled about the best way to prepare for their annual trek Down Under.
In a sport where players analyse every tiny detail in the hope of finding an edge and rigidly stick to tried and tested routes to the other three Grand Slams, the world's best cannot agree on the right road to winning the Australian Open.
Even past champions are not sure which way to go, spreading themselves as far apart as the Middle East to the Indian subcontinent, China, Australia and New Zealand.
Some have opted to play only singles, some have added doubles. Some are playing mixed team events, some are playing exhibitions. Some are playing multiple warm-up events, others none at all.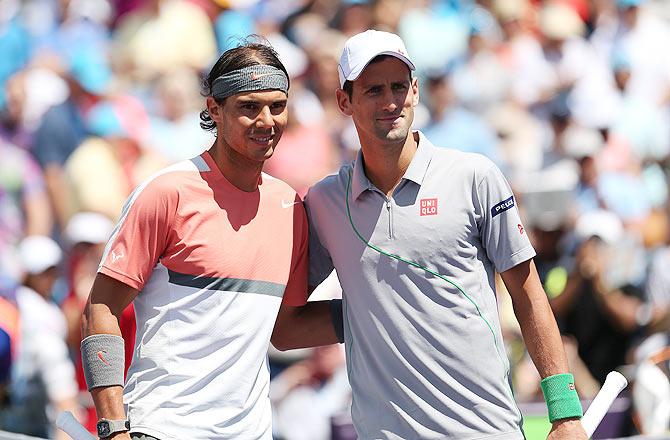 Rafael Nadal and Novak Djokovic. Photograph: Clive Brunskill/Getty Images
Novak Djokovic has won four of the last seven Australian Opens but even the Serbian cannot decide on the best place to play.
For three of his wins, he warmed up at the Hopman Cup in Perth and for the other he did not play at all. This year he is playing the Qatar Open, along with Rafa Nadal.
For Nadal, the Qatar Open could be a good omen as he used that as his warm-up event before he won his only Australian Open title in 2009.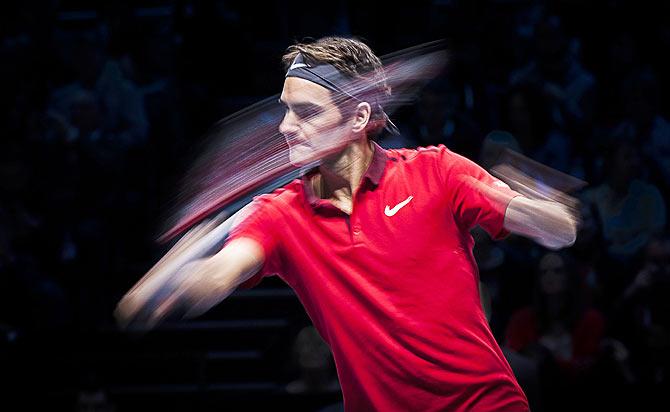 Roger Federer. Photograph: Justin Setterfield/Getty Images
Roger Federer also played at the Qatar Open before he won the Australian Open in 2006 and 2010. But in 2007 he won the Australian Open without playing any warm-up and when he won the Qatar Open in 2005 and 2011, he did not win the Australian Open later that month.
This year Federer is playing the Brisbane International in subtropical Queensland, along with Maria Sharapova and Victoria Azarenka.
The Brisbane International is a relatively new event, having started in 2009, and attracts strong fields, but none of the winners so far has gone on and won the Australian Open the same year.
Stanislas Wawrinka, last year's surprise men's champion, warned up by winning the Chennai Open, and the Swiss is back defending his title in India this week, hoping that if it worked once it might work again.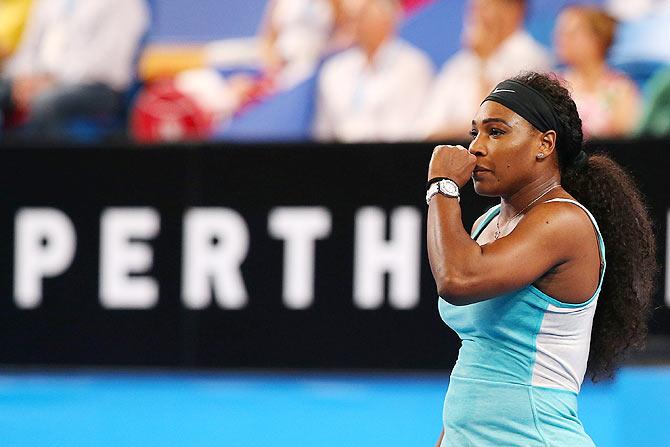 Serena Williams. Photograph: Paul Kane/Getty Images
Li Na won last year's women's singles title after warming up in Shenzhen, adding more uncertainty to the best route to take.
Li has since retired but Petra Kvitova, Caroline Wozniacki and Simona Halep are all heading to China hoping for similar luck as they chase their first Australian Open titles.
The Sydney International has been the most reliable formguide for the women's title at Melbourne, with four of the last 10 Australian Open winners playing it.
Serena Williams used Sydney as her final preparation for two of the five Australian Opens she won. But she also won it twice without playing any warmups, and another time when she went to Hobart and lost early.
This year, she's playing the Hopman Cup, along with Andy Murray, who is hoping the mixed team event could be the tonic for him to win his first Australian Open.